Good Willsmith present Things Our Bodies Used To Have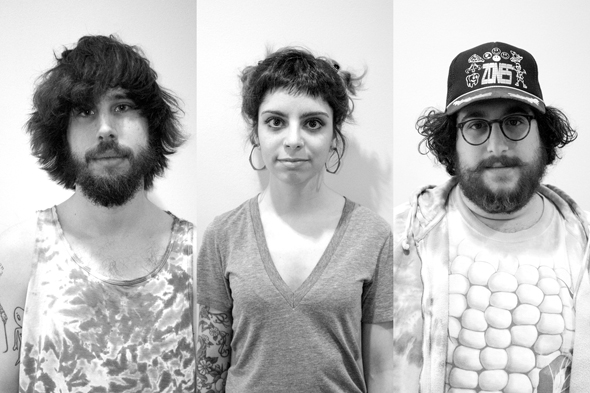 The Chicago trio will deliver a new album to Umor Rex in February.
It's become customary at this point to expect a steady influx of intriguing material from Mexico City's Umor Rex. It was only just over a month ago we were highlighting the wealth of material carrying us into the new year from the prolific label, including the likes of M. Geddes Gengras and Shapes & Melfi. Back in late 2014 a Chicago three-piece known as Good Willsmith appeared on Umor with two albums released in parallel, The Honeymoon Workbook LP and a tape entitled 14 Years Of Desperate Research. Aside from those two outings the trio of Natalie Chami, Doug Kaplan and Maxwell Allison have primarily released on Hausu Mountain, a young but prolific label run by Kaplan and Allison. With a multi-instrumental approach that fuses guitars and physical media with drum machines and extensive processing, the group have managed to wrangle a thoroughly distinctive sound that veers between savagery and delicacy.
This latest transmission for Umor consists of seven tracks that feature the hallmarks of Good Willsmith in all its marauding glory. It's certainly amongst the feistier output that the label turns its hands to, not least thanks to the range of sound sources the group employs. Things Our Bodies Used To Have was recorded in one session at Randall at the end of 2014, and makes its way on to vinyl without any overdubbing or editing. For a brief sample of one of the calmer moments on the record, check out the teaser video below.
Umor Rex will release Things Our Bodies Used To Have by Good Willsmith on Febraury 19.
Tracklisting:
1. These Kids Aren't Lovin' It
2. A Disease You've Probably Never Heard Of Is Killing Kids
3. Not Your Kids
4. But Someone Else's Kids
5. These Kids Aren't Alright
6. What Goes In The Ocean Goes In You
7. Whales Sing Great Melodies With Fantastic Lyrics