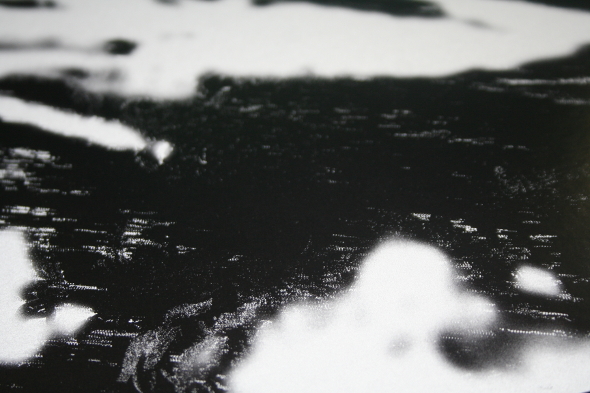 After WT Records releases this year from Florian Kupfer and Entro Senestre, William Burnett's label comes up with a wonderful, left of centre release to close out 2015. Tapan is the work of Serbian duo Nebojša Bogdanovic and Goran Simonoski, and their WT debut, The City, is dense, dark and compelling at nearly every turn.
It starts with the expansive title track that revolves around a slow, lumbering groove, vaguely trance-like synths and mesmerising flute and sax playing from Jamal Alkiswani. These latter elements flirt irresistibly with one another for 10 minutes to create a hypnotic interplay. The end result is like a Balkan interpretation of the kind of slow motion disco of Timothy J. Fairplay or the Giallo Disco label.
"KMD" rolls at a similar tempo but sees Tapan dispensing with Alkiswani's musical input in favour of analogue squeals and squalls that writhe painfully through the track. On "Party Over", the pair stay in the same general area, but explore a different theme. This time, melancholic guitar chords and a gloomy synth sequence unfold over a spacious, cavernous groove, underpinned by dubbed out claps that sound like thunder breaking on a distant mountain top. It's a solemn but deeply evocative arrangement that wouldn't sound out of place in a road movie scene where an intrepid couple motor through a desert landscape at dusk.
The final track, "Šta Ti To Radiš," is the shortest here and sees Bogdanovic and Simonoski flirt with a sound not designed for the dancefloor. Dub techno influences are apparent here, as breathy, half-heard vocals, tinkling bells and hazy guitar lines are fused with a whooshing filter and stop-start beats. The track feels half-formed and not quite as impressive as the other Tapan productions, but overall, The City is an unusual release that's in keeping with WT's endearingly oddball vision.
Richard Brophy
Tracklisting:
A1. The City
A2. KMD
B1. Party Over
B2. Šta ti to radiš