Alpha Recording System – Model 9000 Rotary Tabletop DJ Mixer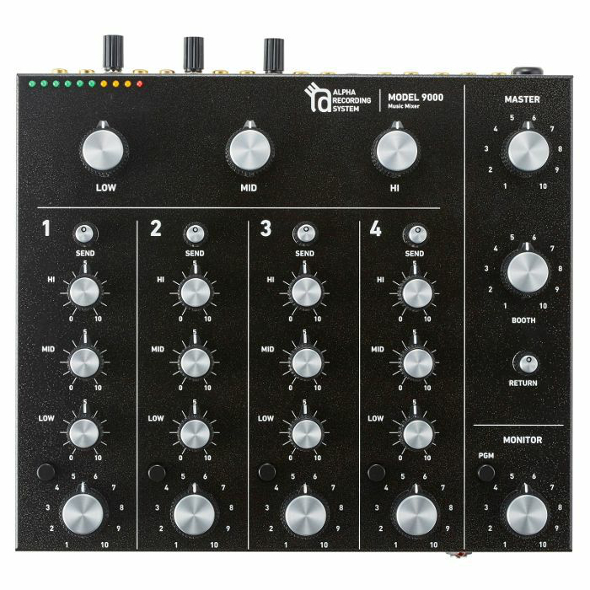 Robin Lee is lucky enough to run signal through the warming circuitry of this ARS rotary mixer.
Arguments over the fidelity of vinyl versus digital have raged for years and whatever side of the debate you find yourself, the question of the equipment that you are playing your music through inevitably comes to light. This is perhaps a good point for Alpha Recording System (or ARS for short) to enter the stage. Hailing from Tokyo, ARS was born out of a love of club music and it comes as no surprise that such a high-end piece of mixing hardware, such as the Model 9000, was developed in the country where audio quality is taken so seriously.
The Model 9000 is a four channel rotary mixer that includes a built in master isolator as well as three bands of full kill isolation on each channel. With master, booth and headphone monitor level controls, cue buttons and a simple 10 segment meter for checking your level in addition to FX send and return – it's an audiophile-DJs dream. It does, however, come at a price comparable to a second hand luxury car.
While it's basic looking enough, attention has gone into the design, because for ARS it's clear quality of the final output is paramount, and anyone lucky enough to use a mixer by the company will no doubt attest to this. In fact the list of recognised DJs to endorse ARS is top tier; Louie Vega, Frankie Knuckles, Theo Parrish and DJ Harvey to name a few.
ARS claim to use only the best components in their hardware mixers, equalizers and crossover models and offer no compromise on cost of parts. If they aren't satisfied with a particular component, they have been known to bring their concerns to their suppliers, sometimes asking manufacturers to produce bespoke elements for use in their designs. Nothing is left to chance and each product is tested multiple times in clubs in the USA, Europe and Japan.
One of the things that struck me about the Model 9000 was the amount of volume to come from each of the outputs. It should be said that the Model 9000 is an extremely loud mixer and pushing the gain into distortion took some effort, but watch your ears (and speakers). Each channel has a FX send knob, three band isolator kill knobs and the all-important rotary gain knobs and cue buttons.
The monitor control includes a button that toggles between master output monitor and programme channel monitoring configurations and the entire unit is helmed by the three band master isolator controls that allow you to kill whatever frequency you want. The rear of the unit sports simple RCA connections with a pair of professional grade XLR outputs for both the main output and booth monitor.
Paris-based E&S have been producing their DJR400 mixer that also includes a master three-band isolator, also popular with the aforementioned DJs, however it only has treble and bass control per channel. America's Rane are also bringing their four-channel MP2015 rotary to clubland, proving popular with DJs like Anthony Parasole, Levon Vincent and Ben UFO, and it's somewhere between these two models you'll find the 9000.
More info/buy
Robin Lee