MeeBlip – Anode Hybrid Synthesizer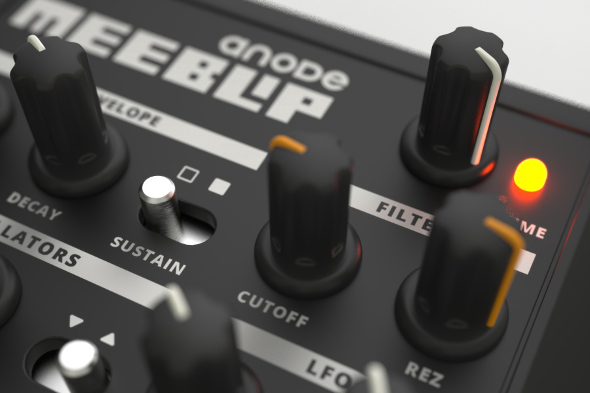 Robin Lee delves into Create Digital Music and Reflex Audio's diminutive desktop synth.
The days of synthesizers only being available to those willing to spend fortunes on large machines are long gone. You can still spend a small fortune if you want to, but for those on a budget there are plenty of options to explore. One of the alternatives worthy of attention is the MeeBlip Anode from Create Digital Music and Reflex Audio. Create Digital Music is an online community aimed at musicians, producers and sound designers with an interest in the more experimental side of things, while Reflex Audio is a Canadian company with a background in MIDI control surfaces.
These two companies came together to create a brand new hybrid synthesizer, part analogue and part digital with dual digital oscillators at its heart. To emphasize character over choice, the designers have opted to limit the sound source to two simple pulse waves with the ability to detune the second oscillator down or up, continuously, by up to eight semitones. There is a control for changing the pulse width as well as a switch that sweeps the pulse width automatically, providing the feel of pulse width modulation.
The filter is an analogue design based on a Twin T circuit, which is actually a kind of band pass filter. However, in practise it acts as a low pass filter with cutoff and resonance control. It creates a satisfying kind of sound that will offer plenty of gnarly resonance as well as a full-bodied bass tone solid enough to offer lots of traction before disappearing into the inaudible range. The LFO is somewhat limited with only the filter and oscillator pitches as destinations, but there are controls for setting the depth and rate of modulation.
The MeeBlip Anode is a monophonic hybrid synth, meaning that it will play one note at a time, with a digital sound source and an analogue filter. The designers fully admit that they are going for character over flexibility and in that case I think they have been successful. This synth has plenty of angry edges to it and that comes as quite a surprise considering its compact dimensions.
There are a few drawbacks to the MeeBlip Anode; for example there is no ADSR envelope to control the amplifier shape. It does offer attack and decay control, as well as a switch for a sustain mode that almost bridges the gap left by a full ADSR. But for someone new to synthesis, not having an ADSR might cause confusion later on if they then have to translate their experiences on to another type of machine.
The designers have limited the connection possibilities to a single MIDI in, which allows you to integrate your MeeBlip with other older machines (save for pre MIDI units that use CV) and more modern units including DAWs via computer. Setting the MIDI input channel is a straightforward operation involving a switch on the rear panel and the bottom row of knobs on the front face of the unit. The MeeBlip has an older sibling called the MeeBlip SE that utilizes a similar control flow to access preset synth sounds and in addition it is possible to automate every control via MIDI CC apart from the filter resonance.
If you are the kind of person that likes to tinker with your gear then you'll be pleased to know that the MeeBlip is open source hardware, meaning that you can hack, circuit bend and modify the unit to create ever wilder custom sounds. Also, there is a programmer port for customising the firmware using an Arduino adapter. For its price the MeeBlip Anode is one of the most affordable synths on the market and the open source nature of the unit makes it a real alternative to similar units from Korg and Waldorf.
The Meeblip Anode certainly has a sound signature all of its own. It's ideally suited to synth users that prefer a collection of unique instruments as opposed to those that want a more expensive synthesizer that might be more flexible, but that also comes with a hefty price tag. If you are the former rather than the latter, you will find that this gnarly sounding synth really bites hard as well as adding lashings of edge to your productions. Costing just over £150, there really isn't much to risk when considering the Meeblip.
More Info/Buy
Rob Lee