Best Of 2015: Top 10 DJ & studio equipment
The best in music technology for the year that was is highlighted by the Juno Plus team.
With our EP and singles, albums, reissues and labels lists now published, it's time for us direct our attention toward the music technology that defined the bedrooms, studios and DJ booths of 2015. Compiled by the Juno Plus team with words penned by resident tech writers Robin Lee and Marco Rodrigues, our list below covers what we consider to be the best in music software, hardware synthesisers and drum machines to mixers and DJing tools like controllers and turntables. And with updates and improvements given to legendary designs of yesteryear, to the introduction and integration of new products it would seem the future of electronic music as we know it has arrived.
Spectrasonics have outdone themselves with the Omnisphere soft synth. If anyone remembers their classic Stylus, Atmosphere and Trinity Bass plug ins then you will be quite familiar with the layout of this powerful sampling synthesizer. You could describe the Omnisphere as a sound designer's dream as not only does it have an extensive library of 10,000 pre made sounds to explore, but it also allows you to create sounds from scratch using over 400 waveforms and eight new filter types. If traditional waveforms seem tame to you then the Omnisphere II allows you to import samples and mangle them out of recognition using the new onboard granular synth engine.
The second instalment of the Omnisphere story also includes an improved arpeggiator, 25 new sound effects, including some modelled vintage amplifiers, as well as improved preview, browse and load functionality.  Spectrasonics have improved the speed of browsing sounds by adding a mini browser to the left of the main panel that is available at all times. It's now possible to lock features of a certain sound such as the arpeggiator or effects whilst searching the extensive library. You will need plenty of space on your computer as the full install comes in at around 50GB but if you are looking for a top notch soft synth that pretty much does it all, then Omnisphere II is it.
More info/buy
Native Instruments Traktor Kontrol D2
Anyone well versed in DJ software will be familiar with Native Instruments Traktor platform. Having developed over the years the new software features four decks of mixing, built in FX, remix decks and the possibility of mixing stems from your favourite tracks. To facilitate all of this functionality, those clever people at Native Instruments have created the Kontrol D2 that features a full colour display, touch sensitive faders and knobs as well as a touch strip that allows you to control other factors such as pitch bend and track searching.
This smart hardware controller is built around a single deck of control but allows you to access the entire four decks of the software. Connected via USB, the Kontrol D2 is as versatile as the software and comes in a rugged housing with rubber feet. Users of the D2 have been happy with the intuitive workflow and the integration of the remix and stem mixing control. This piece of hardware also allows you to connect extra controllers via its built in USB hub, adding a further dimension of control. Shipping with Traktor Pro 2 software this controller is versatile, portable and with plenty of hands on functionality, the D2 makes a strong candidate for the best of 2015.
More info/buy
Pioneer XDJ RX Rekordbox DJ System
The XDJ RX takes the DNA from Pioneer's world beating CDJ media player, DJM mixer and Rekordbox music management software to give birth to an all in one DJ hardware solution that has all of the class and kudos that comes with the Pioneer brand. Stepping into a brave new world, Pioneer decided to leave out the CD playing part of this all in one unit. Instead, we are invited to make use of our external storage devices such as USB memory sticks and hard drives and plugging them into either of the decks that feature the outstanding platter, pitch control and transport controls of the famous CDJs. The outstanding Rekordbox music software gives you the chance to organize playlists, set loop points and organise cue points before you even arrive in the club.
At the centre of this piece of hardware is a two-channel mixer that actually works as a stand-alone mixer if you wish to plug in your vinyl decks or additional media players. Pioneer has been at the forefront of DJ hardware technology for a long time now and it's a brand that most people are acquainted. There is a familiarity to the layout and feel of Pioneer equipment and although they have developed the technology, everything has a safe and comforting feel to it. The XDJ RX features both beat FX and sound colour FX including a new beat slicer that can be triggered using the deck pads and will appeal to a wide range of users including mobile DJs, small clubs and bars as well as those that want that Pioneer familiarity in their home set up.
More info/buy
This vinyl turntable needs no introduction. It has often been cited as one of the most important pieces of technology in the history of modern music, next to the electric guitar and the sampler. The M5G edition of the SL1210 takes up where the MkII version left off. Still intact is the Quartz Direct Drive Motor, the tough aluminium chassis with the vibration dampening rubber feet. Add to this the replaceable blue backlit pitch indicator and a replaceable digital pitch slider. For a design that is (in essence) 35 years old, it's a testament to the staying power of this equipment that it has made its way into this list.
First released in 2002, this version of the classic Technis make has a brake strength adjustment knob under the turntable as well as a button for switching the pitch control from +/- 8% to +/-16%. Considerable improvements to the acoustic damping of the chassis and S-tone arm were made during the design as well as better wiring and more accurate pitch control. Although not the last improvement in the SL1210 range (Mk6 models were released in 2008), the M5G edition was released to coincide with the 30-year anniversary of the original unit.
More info/buy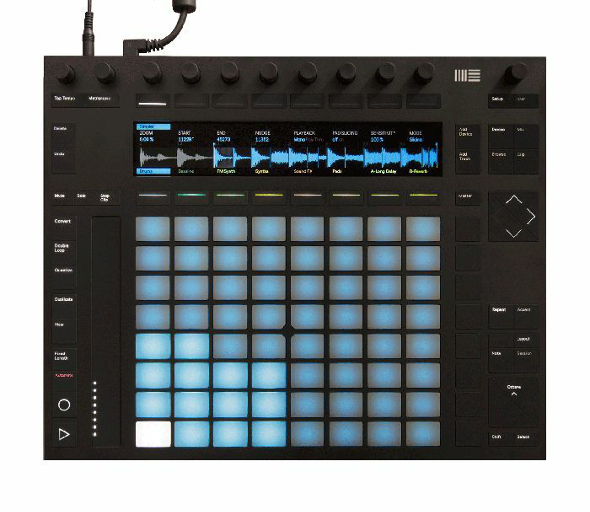 Ableton Live software reaches version 9.5 and their Push add-on is the best hardware controller for allowing users to fully create tracks without the need of even glancing at the computer screen. The stylised Push 2 presents a sleeker looking instrument made without Akai technology. This time the colour display is larger and sharper, allowing for much more visual feedback than before, and the 64 performance pads have a lower profile in the unit which feel more expressive this time around, with improved sample manipulation
Fans of the older unit will be pleased to hear that Ableton have kept the pioneering scale mode for playing hooks and chords in totally new ways. Also intact is the step sequence grid and the clip launch mode. Push is the kind of hardware that is flexible enough to be used on stage in a live environment as well as in the studio, and although this software-to-hardware marriage has a bit of a learning curve, its strength lies in the Push 2's ability to take on many roles, be it for DJing, music production or as a performance tool on stage.
More info/buy
Redesigning a DJ booth classic like the Xone:42 could seem like a really hard task to undertake by anyone's standards. Rather than disappointing, however, Allen & Heath further solidifies its reputation for simplicity, durability and great sound with the Xone:43. Simpler and more compact than its predecessor, it offers a smarter placing of all the features; the panel feels uncluttered and intuitive, optimised to allow DJs to get lost into the mix. The sound quality is clean, with a beautifully fat and transparent sonic signature that resembles higher grade analogue mixers. The filter, much like in previous Allen & Heath models, remains trademark.
The Xone:43 is a must for DJs that value sound quality and enjoyment over limitless manipulation options and tricks. By keeping it simple, focusing on smart design and a great signal path for sound, Allen & Heath created a mixer of choice for DJs with a more old school modus operandi when behind the decks – whether that be vinyl or digital sources. The new Xone also ditches the grey, tech-y vibe of before with an elegant matte black panel with stylish orange guides and smaller, softer-looking backlit buttons.
More info/buy
Arturia BeatStep Pro Controller & Performance Sequencer
Arturia's Beatstep Pro picks up where BeatStep left off, adding the possibility to write two melodies lines simultaneously, as well as providing a separate drum sequencer – all three running independently. It´s a versatle controller, sequencer and composing tool in one easy-to-use, connectible option. Hook it up to virtually any piece of hardware from drum machines to synths, iPad apps or computers: any option, old and new, as long as it comes with USB, MIDI in and out, CV/Gate outputs, Clock in and out, or DIN sync. The two independent monophonic lines of up to 64 steps each for melodies plus a drum sequencer put a myriad ideas at your fingertips and place you in control of however many devices you use for live performance, too.
The Beatstep Pro boasts a weighty, solid feel thanks to its quality build and metal construction but is still small enough to be very portable and hence the ideal studio-to-live tool. With a strongly growing interest in hardware and hands-on electronic setups both for studio composition and live performance, control tools like this become as vital as sound-generating machines themselves, with the BeatstepPro being one of the smartest options available for the job.
More info/buy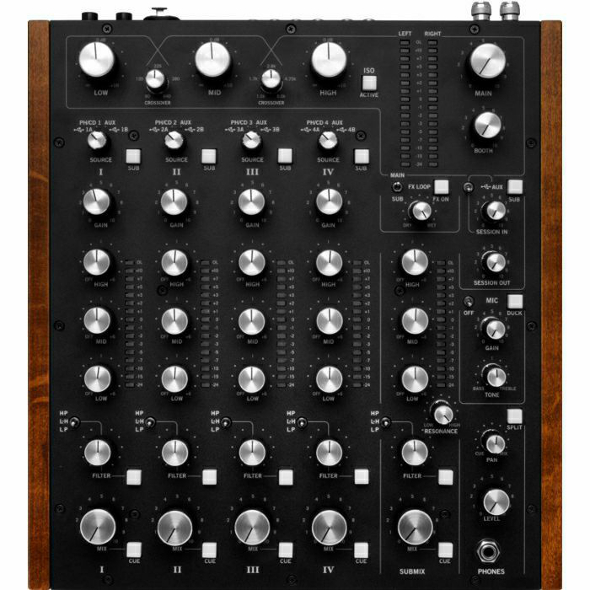 Rather than just replicating the design of legendary Urei and Bozak rotary mixer models, the new Rane MP2015 rethinks the rotary mixer according to new demands. It does so by recombining old and new features into a whole new DJ mixer architecture that features new filter capabilities, two integrated sound cards, with corresponding USB ports, among other features. On top of each classic rotary volume knob, for example, there are three EQ controls and trim per channel, like most modern mixers. There's also a three knob oscillator at the top, for extra Theo-Parrish-style tweaking, and on top of that there are also send/return circuits for FX, mic input and a fifth channel that can be used as a dedicated sub for group processing.
A central element of every Rane mixer that looks back to classic rotary mixers for inspiration is, of course, the sound. The high quality analogue-to-digital signal converters used by Rane on the MP2015 assure the low distortion, wide dynamic range and overall stunning sound quality that we've come to expect from the manufacturer. The most ground-breaking aspect of the Rane MP2015 is precisely that it successfully captures the pristine sound, looks and basic mode of functioning of the classic Urei and Bozak mixers while integrating it in a modern layout, with essential features that are available in a lot of today's best mixers.
More info/buy
Reon Roland Driftbox R Monophonic Analog Semi Modular Synthesizer
Sneaking into the market without a fuss, Roland's conservative refix of the Reon's Driftbox monophonic synth was initially just meant as a limited edition to be used in Aira product demonstrations. The hype quickly caught on though, mostly due to the scarce availability and high demand of the previous version by the small Japanese manufacturer. The Driftbox operates in a strictly no frills way; no USB connections, no MIDI, no digital interference in the signal path (all analogue), no tempo controls and no keys (just a trigger button). The Driftbox R is a proper noise box, carrying two oscillators, modulation, a filter, limited envelope control and a volume knob. Connectivity is limited to jack audio output and cv/gate port for synching.
The sheer beauty of it though is how incredibly simple and fun this box is; the limitations here are precisely what inevitably turns the process into an extremely intuitive and uncontrolled affair. The Driftbox lends itself to experimentation. The sound is tremendous, with an almost Moog-like character; very present but dry and crystalline. Another unexpected and surprising resource is the frequency control on each oscillator harps incredibly wide, allowing for rhythmic interplay between two pulses while on the lowest end of the spectrum. It is a must for artists looking to add a layer of unquantized, uncontrolled sonic mayhem to the mix.
More info/buy
Roland Aira TR8 Rhythm Performer
The birth of the Aira series within Roland proves the Japanese manufacturer is finally aware of the monsters it created in the past, and by re-designing and enhancing some of the its iconic gear through faultless digital emulation, Roland positions itself right at the centre of today's obsession with the roots of dance music. Both the TR-808 and TR-909 are widely accepted as iconic pieces of gear for their defining role in electronic music production, and the prohibitive prices for which they change hands are testament to that.
The TR-8 combines the sounds and sequencing of the two machines into one unit and enhances tuning and envelope capabilities for each one of the available sounds, as well as adding new features such as the scraper – a performance function that allows for real-time manipulations such as reverse, glitch, stutter and other variations while remaining in perfect sync. The acceptance of the TR-8 as an enhanced alternative to owning the original 808 and 909 machines has been passionate and ubiquitous. Original TR masters as well as younger adepts worldwide rave frequently about the authenticity of the emulation and the new possibilities brought forward by the new features.
More info/buy