Institut fuer Zukunft: Zeitgeist
Nic Tuohey travels to Leipzig to speak with the people involved with Institut fuer Zukunft, a DIY venue with a fast-rising reputation within German clubbing. 
I'm in a taxi and have just been driven ten minutes south of the downtown Leipzig. We have arrived at my requested address and are greeted, typically, by a deserted industrial zone and an enormous and presumably empty warehouse. The driver (who bears an uncanny resemblance to Pope Benedict XVI, minus the garb of course) is as perplexed as I am and assures me there's no such nightclub here. He remembers another one down the road, in another abandoned lot, and takes me there. We arrive at one of those tacky open air beach bars, the type with a Latin, hip hop themed music policy.
When I try to explain to him in my rather limited German that this surely can't be it, he doesn't seem to care (which is fair enough given the rigmarole he's just had to endure) and promptly asks for payment before ushering me out of his car. Luckily, I'd had a previous email exchange with Franz Thiem, one of the directors of Institut fuer Zukunft, just days before and he gave me his phone number in case of any issues, so I gave him a call.
He assures me that the club is a mere few minutes away and gives me adequate directions on how to get there. I realise that sure enough it was, in fact, the massive industrial warehouse in the abandoned lot which I arrived at earlier. He tells me to make my way around the side to the main entrance where he greets me and we make our way inside. Admittedly, I'm rather excited, I've never actually been there before and given the clubs growing reputation, my expectations were high.
Institut fuer Zukunft has fast made a name for itself in the last year alone for being one of the premier destinations in Germany for electronic music. Why? Exceptional programming, receptive crowds and a high end Kirsch Audio sound system. Resident DJs such as Subkutan, Solaris and Perm have in the last few years been recognised as some of the country's rising stars and their skills have taken them beyond Leipzig.
Of course, the club's reputation, which is still shrouded in a bit of mystery and known for its long operating hours (almost comparable to those of clubs in the capital), make it an ideal destination for Berliners looking for a weekend away or indeed visitors from the over the border such as Austria or Czech Republic, who attend quite frequently.
I'm let inside by Franz and his close associate Julie Petty, and meet some of the staff and resident DJs. I'm surprised by how small the main dancefloor is, after having only seen it in what few photos are available on the web. A lower ground basement area that could comfortably fit about 100 people. The space looks well designed and appears more than adequate. The pair later explain little bit of the history surrounding the building. "During the former GDR, this was storage for vegetables, so the rooms we are in, they were for the refrigeration," Julie says to me in their office space. "Right here, there used to be huge steel baths full of chemicals so we had to take them out," she adds. The two main warehouses as seen outside were said to be the main market area where the stock was later sold to the public. I'm told the rooms adjacent are now studio spaces leased to local artists, giving the place a livelier atmosphere during the week.
During our interview many of the staff and close associates come through the office to say hello and interrupt to ask questions. There's an obvious punk aesthetic to their appearance, and adds to the left-wing mentality that feels rather prevalent. Both Franz and Julie are quick to confirm this strong political undercurrent in the city.
"Leipzig definitely has a strong 'lefty' community, particularly in nearby Connewitz, which you could say is like the Kreuzberg of Leipzig; there was a big squatting scene once too." Franz says. This too is most likely the reason why they share such a close affinity with Berlin club ://about blank, something which Franz confirms. "Yes, we have a strong connection to them, so from time to time we do our exchange. Our DJs play for them, and vice-versa."
I explain to Franz and Julie how I discovered a IfZ flyer in my pocket after Berlin Atonal 2013, which turned out to be my introduction to the club. "We came up with the idea two years ago but we didn't know how to finance it, so the idea popped up to do a fundraiser campaign called Another Sound Is Possible," Franz tells me. There were a few different local organisers that joined up to make it happen such as Vertigo, Aquaealis and Homo Elektrik. Julie adds that as much as they were all different in their approach, they no doubt share a vision. "It was time to do something fresh, something that was our own," she says rolling a cigarette. "Even the name, Institut fuer Zukunft, was a collective name for our group."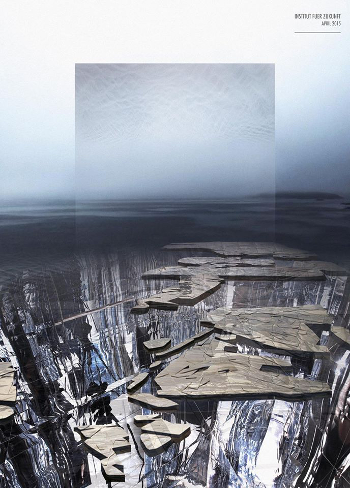 During the nine months the club was under construction, a couple of other local institutions pledged their support too. Members from Conne Island, another social centre in Leipzig, were said to be a great help, as Franz is quick to assert. "Without all the different crews we wouldn't have been able to open the club." When it comes to the club's division of labour, Franz is first to explain. "I'm involved mainly in the programming, as well as accounting and administration," while Julie says her role is more focused on the association. "I organise workshops, planning those sorts of things," she adds, and indeed, I assumed there would be socio-cultural aspects of IfZ, giving their status as registered voluntary association, or what's known in Germany as eingetragener verein.
"Our culture forum organises a lot of lectures on various topics, particularly last season," Julie says. "Next weekend our workshop will be on the topic of BDSM actually." But beyond lifestyle forums there are other pressing and serious issues IfZ addresses, as Franz is quick to confirm. "Right now the topic of refugees and migration is present, so we're working together with other initiatives to make things viable, or support people."
Just that week the club actually held a benefit gig named 360 Degrees Support, for the recent influx of refugees that had come to the city where all proceeds went to towards investing in local shelters. Franz explains the story. "A friend had the idea; we did it a few days before the actual reopening, it turned out really well. It was a nice coming together of different people and at least one refugee DJed too. We actually try to involve them and give them an opportunity." It's these acts of compassion and support for their local community which was paramount from the very beginning. "Actually the idea was not just to open a club, it was how can we critically take a look at ourselves?" Julie confirms with conviction.
Given IfZ's involvement in such a niche scene in a small city, with already prominent places such as Conne Island and Distillery – the latter being Germany's longest running club who just celebrated their 20th anniversary – many, at least locally, would wonder what it was they could offer as a club that was different. "Actually when we had an idea to open the club, it wasn't like there was something crucial missing," Franz says. "Just the desire to have a space and to do our own thing." He finishes rolling another cigarette and continues. "Distillery, they're cool guys and one of the longest running clubs here, but there were no 'associations', as such. And sure, a lot of crews, but no designated space for techno music in particular." Julie adds, "We wanted to start something fresh. We weren't looking to replicate a club from the past, or like anything in Berlin, we just try to do our own thing."
I mention that in Berlin you often hear of people singing praise for the small East German city's rising scene, but they often also tell you to keep it a secret. It's met with laughter: "Hypezig!" Julie proclaims. Unbeknownst to me, this is the city's newest nickname, given so for the high propensity of start-ups flocking there in increasing fashion. "Well it's an ambivalent feeling," Franz says. "Being hyped so much contributes to gentrification. This causes rents to rise and I actually had to move out of my last flat, because it became too expensive," he says. But they are both optimistic about the city's attraction and its growing popularity, seeing both positive and negative consequences.
"It's happening much faster than in Berlin though; five years ago gentrification was just a possibility, but now it is really happening," Julie elaborates. "You have the east part of Leipzig with lots of new clubs and locations popping up. A lot of these people are from the capital, who came here complaining there are no locations left to start clubs there."
Further to this they explain how a collective group of investors from the capital recently bought an abandoned art nouveau building and refurbished it as a hostel and club, now known as Ost Apotheke. And as Julie tells me, only five years ago nobody had Leipzig on their mind. So, should we believe the hype? "Yes," Julie confirms, "we even have friends moving back after six or seven years in Berlin. It's freer here; there are more possibilities, but still they are a little disappointed. It is still a small town," she says. "You don't have the same amount of culture and the people are not so open-minded outside of the party. The pace is much different and you are only just recently seeing immigration." Julie explains this has resulted in the emergence of a more multicultural Leipzig, something Franz agrees with completely and are both optimistic of this cultural shift.
Avoiding the allure of Berlin, only a short train ride away from Leipzig, is a sign of Julie and Franz' fortitude, and "it's just smaller and more familiar here," they feel. "I met these guys and I just fell in love with them and this project," Julie says, taking a drag from her cigarette. "Berlin's very near. First I was there for study and then to live. But now? I have no need to move back there." Franz also gives his perception on things, "I lived there for a year which was nice. For some time I used to go there every weekend for some time," but, he adds, around the time that the Institut fuer Zukunft started to take shape, he didn't feel the pull of the city state so much anymore. "Leipzig is nicer. It's also cheaper and there's more space," he says "There's so much going on in Berlin now that it's hard to find your niche. But here, there's so much more opportunity still to do something."
Leipzig is a University town, so there's a lot of young adults around and I really noticed it during my short stroll around the downtown prior to coming here. As the street name Am Tier Kliniken would suggest, the club is actually across from the veterinary sciences faculty of Leipzig University. It's one of the highest ranking institutions in Germany and the one of the biggest employers within the city. In addition there is also HTWK Technical University and HGB Art University. We should also mention Halle and Weimar, also university towns and only half hour away on the train where I'm told a lot of other punters at the clubs come from on weekends, discovering new forms of electronic music at IfZ.
"There's so much going on in Berlin now that it's hard to find your niche. But here, there's so much more opportunity still to do something."
Later on, I get talking with a girl at the bar who is actually there on her night off. She spent several years living in Montreal before making her way to Leipzig, having heard of its reputation as a magnet for young artists, and low cost of living. She explains how the city has changed rapidly, with more people, many from Berlin, flocking to the city in recent times. She too acknowledges the noticeable rise in rents in the last couple of years, but is still optimistic, even of gentrified areas such as nearby Connewitz and some parts of downtown.
"Only a year ago you could walk through some parts and see hardly anyone, it was like a ghost town" she tells me. "But now, I go into town to run errands and I seem to run into people I know all the time. It still feels weird."
With Fritz Kola my drink of choice, I proceed downstairs to the ground floor near the entrance. There's a small bar area which appears closed for the time being (it would later host a six hour set by DJ Sotofett) so I venture down to the main dancefloor in the basement where resident DJ Perm is playing the warm up for about a dozen or so people. It's an all-vinyl affair and he's preferring the dusty subterranean grooves of labels like Mojuba, Ornaments and local imprint Kann. He would end up playing for the next three hours building up the vibe in rather spectacular fashion. The moment where he dropped "Extraction Force" by Adventice (aka DJ Deep & Roman Poncet) was when most knew they were in for a big night. The headliner; Northern Electronics boss Abdulla Rashim took over proceedings a little later, followed by Subkutan.
Other notable resident Solaris is sadly not on the bill tonight. The club makes a concerted effort to empower women in electronic music, as Franz goes on to explain. "On most line ups they're just guys and we make sure with all our line ups there are always women. He adds "There's no 50/50 quota yet, but still we try to make it not just guys and look beyond that." Another concept they have in place is for safer clubbing, as Julie is more than happy to explain.
"So we don't have to shut our eyes to it. It has happened here, so we try to bring awareness to safer consumption," she says. "We try to make a difference for our guests, it's really a part of our club and maybe some other clubs will do the same." Moreover, the club has no door policy as such, "Just no idiots," Franz says, laughing. Also, of course: no photography. The few photos I could take had to come from well outside the club's confines.
With the re-opening only just taking place recently, it appears proceedings are in full swing for IfZ, with some exciting events planned, and Franz is enthusiastic in giving me the lowdown. "One of the main highlights is Mykki Blanco, he'll be doing a show for us in October and we're also looking forward to another Raster-Noton showcase in December." Los Angeles industrial duo Tearist are also to play, I hear. He also lets me in on plans afoot to do an experimental music and art festival, possibly in the very near future. But the usual residences such as Vertigo, Sunday Service and No Show are in full tilt and there's plenty of time to get down there if you're interested, as they're happy to confirm. "We usually close at 2PM, but we always see how long it goes." The pair's plans to establish long parties until Sunday night haven't turned out so well yet, however, "once a month we'll do one and its works fine, going well into Sunday, noon."
I make my way out of IfZ around 7AM and daylight is fresh. I feel rather awkward as you do, venturing outside after a big night. The effects of sleep deprivation are getting to me already but nothing a pair of shades won't help disguise. As embarrassed as I may be, I see another punter leaving, who walks past me looking like black metal icon Fenriz; his face covered in corpse paint with a generous splash of fake blood, and I'm happy now knowing my journey home won't be nearly as awkward as his will be. I wander down past the university faculty, towards the tram stop on the main road and admire the building one more time, as well as the unique communist architecture en route; relics of a former Germany really not so long ago. How could I forget that the fall of the wall movement actually started once upon a time in this fine small city?
Leipzig and IfZ's energy and determination to create something, a vision, is still evident, and left me feeling optimistic about the future, that's for sure. And something that still resonates was a comment Franz and Julie told me earlier that night: "we run the club as a collective; we're faceless, it's more than just the two of us."
Interview by Nic Tuohey