Tony Poland and James Manning touched down in Krakow to witness some of the surprises at this year's edition of Unsound festival.
With a unique spectrum of cultural, artistic, to subversive and controversial elements adding to the theme of Surprise at this year's Unsound, being inside Hotel Forum during the festival's peak time stages did indeed feel like entering a powder keg of verve and moxie waiting to be lit. There is of course so much more to Unsound than what takes place at the Hotel Forum – an imposing brutalist structure built on the banks of the Vistula river – and across the five nights spent walking the tungsten glow of Krakow's streets, it did feel as though Unsound tendered the city with a vibe sub rosa to what you might feel getting to know Edinburgh's fringe.
Daytime presented options to take yourself down a mine with Lawrence English for one of his Field Recordings workshops, drop in on a Landscapes of Communism talk by architecture writer Owen Hatherley, or, with a coffee (or Tyskie) in-hand, be a tourist and take in Krakow's Market Square and surrounding streets. Mid-week panel discussions ignited debate on topics like 'decolonised dancefloors' and 'club culture(s)' to refined subjects like 'The Ways Of White Folk: Polish Views of the African-American Musical Legacy'. However, Unsound does offer some kind of respite, or at least an alternative from too much chin stroking stimuli through other events like late-night movie marathons or afternoon yoga classes run by new age music legend Laraaji in his 'Peace Garden'.
Academically, the week-long event offered every chance to catch critics like Philip Sherburne or Adam Harper entertaining theories on 'digital accelerationism' and 'transevangelism', while artists like Aurora Halal could be quoted saying "I hate how things get translated from a real feeling to a symbolic thumbnail of a feeling," in regards to festival sponsorship. Highbrow rhetoric would simmer however, and you could simply catch people like Jacek Sienkiewicz or the Zenker Brothers simply discussing their record collections.
It's clear Unsound is a festival intent on pushing boundaries and challenging the norm of what a music festival can provide, and refreshingly, it feels as though whatever you are to get out of Unsound will be the result of what you've put into it. Immerse yourself in the festival programme and you'll be rewarded with a host of unique venues that house the many events, adding extra flavour to the Krakow experience.
None more so than the Wieliczka Salt Mine, an undoubted highlight of the festival programme. Those lucky enough to call themselves journalists were treated to a guided tour of the vast underground salt expanses, descending a seemingly endless twist of steps (600 and counting) before traversing only a small portion of a most magical mine. Detailing all you might find down the depths of Wieliczka would ruin the magic of the place, but "it would take a month to cover all the areas of the salt mine," the guide chirped along the way, encouraging all to take a lick of the walls. The notion of settling for a weekend of excess on the Croatian coastline or being penned in a European forest certainly seems less inviting after experiences such as these, and perhaps that's why you'll meet more festival returnees than debutants during Unsound.
Things learned at Unsound: it's possible to run a Wi-Fi network 100m underground. Of course you all know this too, as it was swiftly transmitted to the greater world that Burial might be somewhere on stage playing the salt mine's giant ballroom. As surprises go it was one of the more fulfilling of the week, the denials sounding more or less a smokescreen. Ital later suggested it may well have been the elusive producer, stating he arrived late at the salt mine and crossed paths with festival organiser Mat Schulz hurriedly ushering out a man with his face hidden by a towel. The fact this mystery act remains the sole name still redacted out on the Unsound website only adds to the intrigue. Casting the sheer brouhaha over the brief performance aside, the sounds of swarming wasps and Burial's typically crestfallen tones filled the vast expanses of the venue unlike DJ Richard's buffeting two-hour set beforehand which slightly missed the mark when being billed as 'ambient'.
The theme of surprise arrived in several forms as Unsound unfolded. A typically outlandish performance from Prurient was certainly a jolt to the system after the preceding secret guest Yves De Mey's controlled live set which offered both thrumming bass and delicate splinters of high-end frequencies. But was the presence of Dominic Fernow at Unsound a true surprise? Similar responses could be meted at fellow unannounced acts like Kode 9. Powell and Lorenzo Senni could be seen marauding around Krakow during the week – the former replete in newly acquired XL bomber jacket and the latter in his 2015 ninja-wear. So it was not so much of a surprise that they were in town to perform, though Unsound did commission the two to collaborate together as Hot Shotz at Thursday's Invisibility Cloak event at Hotel Forum. The two are clearly close friends and Hot Shotz was very enjoyable, but it did feel a little unrehearsed, and not everything it could have been.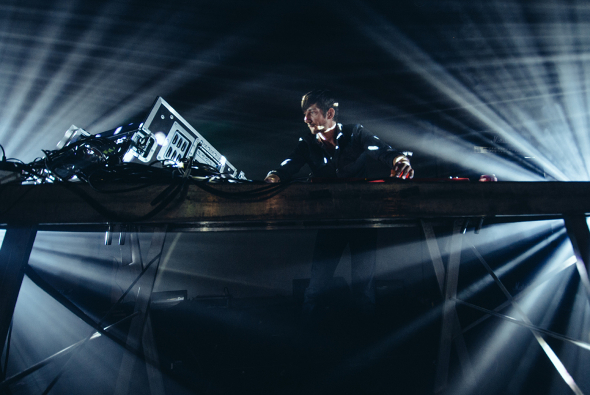 Some unannounced performers could be described as welcome surprises; seeing Xosar bang out a relentless live set after Aurora Halal had done similarly in Room 2 for an hour on Saturday night. Or Gatto Fritto, one of today's most under-rated selectors, granted an extended set of odd house, rippling electro and vicious techno behind the decks of Room 3 as part of the programming by local Warsaw club night Brutaz. Earlier that night the room played witness to speed dating, Dungeon Acid playing live, and the recital of gay poetry that positively encouraged some illicit field recordings. Room 3 was rife with subversive treats over the trio of nights Hotel Forum was open; on Friday night, this room had played host to what was a surprising shock to the collective system, a vicious set of gabba by DJ Tiger which provided comic relief to some, while offering others a chance to revel in something different, even loved.
Surprise sometimes took form in the reaction to people being underwhelmed; an example being those less than enthused as Aaron 'Fit' Siegel rifled through a rampantly fun six hour set (Luke Hess' "Renewal" (AOS loop)" spotted) in a deliciously seedy Krakow basement club on a Wednesday night – who are these people? Helena Hauff's scheduled main room closing set with an unannounced guest lead to some fun rounds of speculation. "Might it be Surgeon, sticking around after his set with Starlight?" "What about Lena Willikens?" "No Helena goes hard, Lena is cosmic." "What about I-f?" "No he DJs Abba these days!" In the end Hauff was joined by Skudge and Berceuse Heroique affiliate Koehler, a most leftfield choice and thus the epitome of surprise. Their decision to treat the room to some straight, hard as nails techno delighted many, but frustrated those wanting something a bit different.
The element of surprise was detectably central to this year's festival experience as within the half-hour of a hushed performance taking place it was common knowledge throughout the venue who had played; Lotic and Rabit in room 2, SHXCXCHCXSH in room 3 (noting everyone's take on pronouncing the duo's name proved quite the laugh) to Rrose playing James Tenney's Having Never Written A Note For Percussion at Museum venue Manggha on the Tuesday night. The way this information was received felt very much word-of-mouth, and there was a playful element that came with exchanging rumours, spilling the beans, or having the chance to find out who was in fact playing with the option of denying the message for the sake of Unsound's agenda.
Richie Hawtin playing room 2 was the festival's worst kept, and most unbelievable secret, but a spectacle nonetheless, with Hawtin zoning out rowdy jeers of "come on!" and "where's the drop!" during his beatless 15-minute intro, however some early passages of acid and sonic boom did restore faith in the man many love to hate. The lucid polyrhythmic drumming of masked four piece T'ien Lai flew the flag for their native Poland, causing conjecture as to who was playing, "is this Nisennenmondai and Shackleton?"
The confusion was quickly dispelled when Sam Shackleton and two thirds of Nisennenmondai belatedly took to the stage, embarking on a set that is greedily received by a hungry audience. Shackleton energetically boped away behind his screen as minimalist techno movements shorn of his usual polyrhythms consumed the room. Incandescent lights behind the figures weaved all too effectively with the music, which took on a form that can best be described as how you wish Factory Floor had evolved.
Thoughts of the blood rave scene in Blade came all too easily during Nisennenmondai and Shackleton's set, so before they sunk in properly and became a central theme of this review, the chance to catch Low Jack playing live in Room 3 was taken. Arriving midway through the Parisian's performance, it was clear the room's sound system had some pretty punishing capabilities. Musically, Low Jack's set of largely unreleased productions and edits refused to sit still, and thanks to the thick bass, almost teetered on the brink of collapse. A brief respite followed before James Donadio laid down one of Unsound's most grin-inducing sets as Prostitutes, happily rummaging through his machine's collection of brutish drum beats and '90s mid-western house and techno tropes.
The honour of Unsound's best performance however goes to RP Boo, returning once more to a festival he calls "family", and he's clearly a fan's favourite too. Minor technical difficulties stalling his set saw a cool-headed MC holding down the vibe of a room stifling in 200 per cent humidity with lines like "who want some jokes," and "make some noise for Burial." The footwork legend was introduced to the sounds of "I Put a Spell on You" by Screamim' Jay Hawkins, before schooling everyone present in how to footwork a room, rounding up any stragglers like a shepherd would stubborn sheep. An hour into RP Boo's set, the stage lights flash up to reveal a Guardian journalist atop somebody's shoulders absolutely going for it. The addition of two footwork dancers synchronising their body hustle with the music ignited more cheers in a set that proved to be Unsound's biggest spectacle.
The next night Jlin provided some choreographed SharQui-like movements of her own in a debut live set that delivered a shaper, futuristic slant on RP Boo's traditional footwork style. Striding into cavernous expanses of Hotel Forum's main room, the sheer physical force of JLin's music hitting you in the face cannot be fully justified with words. Her set, alongside Andy Stott's, provided some of the biggest surges of bass this room was subjected to. Innovative 'bass music' was certainly the vogue of Unsound 2015, and at the cutting edge of deconstructing everything was Amnesia Scanner.
Affiliated with the Janus collective, the shadowy duo did much more than deconstruct breaks, jungle and hardcore; these sounds were chewed up, mangled, and spat out into thrilling, visceral new forms over waves of bass that felt like a succession of slaps to the chops. At one point the suggestion was made Amnesia Scanner sounded like Modeselektor with hints of Siriusmo but by the time that idea had settled the duo had veered off in a whole other direction.
Proving less appropriate for the sheer scale of Room 1 at Hotel Forum on Saturday's Night Vision spectacle was PAN artist Visionist. Louis Carnell's sub-bass frequencies impressively worked the sound system, but the twinkling melodic motifs played out atop lacked the rhythmic dynamism to really engage the assembled audience. It was here that the all too familiar spectacle of people standing and audibly chatting amongst themselves during an akward performance reared its head for the first time at Unsound. Perhaps Visionist would have been more suited to the smaller, more intimate confines of Room 2?
Providing more of a downbeat soundtrack was Untold, and his dank, dubby sound washed Room 1 in a wet vibe, only to accidently shock everyone out of their wading state with a split second malfunction that literally blew everyone back, and racking their nerves in the process. Untold's recovery systems shot into action, and with a wry grin and subtle apologetic wave, recovered well, settling the room back into a mellow groove. Moments before someone was overheard swearing and exclaiming "this is one of the best things I've ever heard," and rumour has it Untold shattered one of the glass decorations hanging from the ceiling during his sound check.
It was moments like this, to Richie Hawtin being heckled, missed DJ mixes and over corrections, to micro technical glitches, that gave performances the feeling of being on the edge, giving the overall experience, for both viewer and artist, an extra visceral element that felt as though everything could potentially fall apart at any second. And although in many cases it was hard to truly understand how those performing were controlling their equipment, there was an understanding and appreciation that the music being played was very much live.
Sunday's closing party at Kamienna, another interesting, hard to find space situated in the north of the city, had a nice mixture of attendees. Most had left Krakow that day haunted by the fact Monday would see them back at their desks, so those who gathered at Kamienna made for a nice carefree atmosphere. The Black Madonna was the only announced act, and the tightest DJ of the whole festival. The Chicago resident was in the midst of a European tour but showed no signs of being tired as she hit a hungry dancefloor with her 'laser beams', including early Daft Punk, KDJ's mix of Norma Jean Bell, Joey Beltram's "Energy Flash" and so much more.
The celebratory vibe on and off the dancefloor was perhaps the best of the whole festival. Those who danced did so with smiles and had ample space amidst the big wooden columns. Those who drank or smoke did so amidst a jovial mood, happily taking the chance to catch up with people not seen over the course of the week or establish all-new friendships. Leaving Unsound and Krakow at this moment was sad, but there was full satisfaction having experienced a festival that delivered many times over.
Tony Poland & James Manning
Images courtesy of Unsound's Anna Spysz, Camille Blake