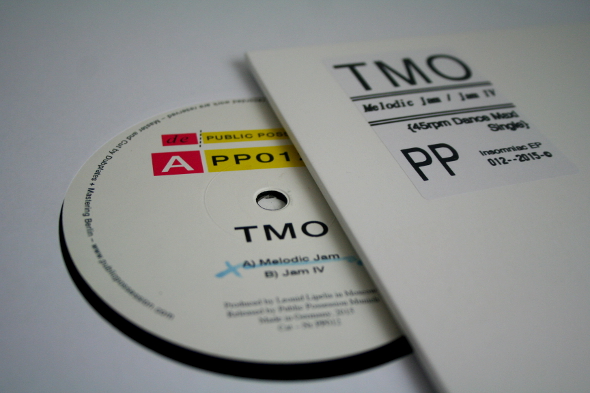 It used to be relatively common practice in electronic music circles for hardware-embracing producers to record tracks in one go, jamming their boxes, usually samplers, drum machines and synthesizer straight onto DAT or quarter-inch tape. While this methodology was originally a product of the pre-software age, it has since been embraced by a wide variety of producers. Jonah Sharp's first two albums as Spacetime Continuum, including 1994's ambient classic Sea Biscuit, were both produced in this way, as were his collaborations with Move D under the Raegenz alias. Famously, Paul Woolford's triumph of 303 abuse, "Erotic Discourse" also had its roots in a lengthy jam session, with the Leeds producer simply editing down the results afterwards.
This brings us neatly on to TMO, one of a number of recent "hardware jam" projects emerging from producers bored with spending their time staring at a computer screen. This one comes from experienced Russian producer Leonid Lipelis, whose recent projects could be seen as an attempt to rid himself of the baggage of his shiny nu-disco past. The Moscow-based producer first donned the TMO guise on last year's Selfinteracting EP. While rooted in acid house, the release's three tracks also doffed a cap to early deep house and vintage Detroit techno. What was most notable, though, was the restless energy and undoubted spontaneity of Lipelis' tracks. These were well-crafted machine jams built from dusty bits of kit that not only banged hard, but also demonstrated the Russian producer's ability to wring maximum emotion from a range of little black boxes.
Fourteen months on, he returns to the project, delivering a fine pair of mechanical workouts on Public Possession. According to the label, both started life as genuine jam session recordings, with minimal post-production editing or tweaks. Of course, while both cuts have an inherent looseness and fluidity that one would associate with machine-made music, most wouldn't be able to detect the methodology behind the production on first listen. Regardless of how they were made, both are fine slices of far-sighted dancefloor warmth.
There is little quite as ragged and robust as the tracks showcased on Selfinterfacing, but both "Melodic Jam" and "Jam IV" explore similar sonic territory. The lead cut, in particular, is a joy to behold. The drum machine rhythms are faithfully fuzzy, with hissing, Motor City-leaning cymbals helping to move the action forward. The Detroit techno comparisons don't end there, either; Lipelis' use of spacey pads, twittering synthesizer solos and intergalactic melodies – combined with a bold electronic bassline and some psychedelic electronic touches in the track's second half – recall the original Motor City ethos, even if the cut itself owes as much to Larry Heard-styled Chicago deep house, and the more futuristic end of '80s boogie. Either way, it's a fine slice of emotion-rich dancefloor futurism.
Flipside "Jam IV" largely dispels with the A-side's overtly melodious and picturesque approach, instead delivering the kind of subtly wonky creepiness associated with his debut TMO release. Really, it's little more than a dancefloor box jam built around relentless looped electronics, hustling drum machine grooves, occasional acid flashes and deep space synthesizer flourishes. It's a heady brew – think early '90s 'intelligent' techno, equally inspired by the ragged acid of Chicago and the far-sighted techno mentality of Detroit, and, arguably the more obviously dancefloor-centric of the two tracks. Even so, it's the yearning beauty of the A-side that impresses most.
Matt Anniss
Tracklisting: 
A1. Melodic Jam
B1. Jam IV