Acting Press returns with Attitudes In Error
The low-key label form another configuration featuring core artists All Rest No People and C3Deee.
So far this year Acting Press has entered the fray of boutique independent labels with an enviable combination of aesthetic consistency and favourable attention. We here at Juno Plus have already been excited by the recent PLO Man release Stations Of The Elevated, and as was hinted towards in that previous news item, a hitherto unknown quantity named Attitudes In Error was slated for a release on the label in the Autumn. As it transpires, Attitudes In Error is in fact a Vancouver-based collaboration formed out of the collective responsible for Acting Press. PLO Man, All Rest No People and C3Deee all play their part in CC Not, who kicked off the label at the start of the year, but the latter two have splintered off with their own project, which first manifested with a tape entitled Plus Research by Vita Graft 4, supposedly limited to a whopping ten copies. Good luck finding one of those.
You may have more luck catching up with the sound of Attitudes In Error by way of the impending VPlay EP, which has been described as being "ready to hit the streets". Considering the buzz Acting Press has garnered so far, one suspects that copies will fly out so it will be worth keeping your eyes peeled for availability. Musically and visually the release follows on from the previous Acting Press releases, not to mention aligning neatly with fellow West Canadian concerns such as Mood Hut.
Acting Press will release VPlay EP by Attitudes In Error soon.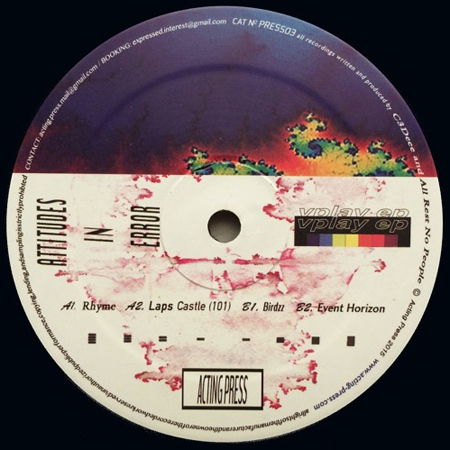 Tracklisting:
1. Rhyme
2. Event Horizon
3. Birdz
4. Laps Castle [101]
Acting Press on Juno