Berlin Atonal 2015: in review
Nic Tuohey and Rose Mardit reflect on the most recent edition of the revived Berlin festival, picking out six highlights of the programme.
Now in its third year of running after a 23-year hiatus, Berlin Atonal is firmly entrenched in the annual festival programme alongside Unsound, Dekmantel, et al. The factors that go into the running of a successful festival are many, but Atonal has two key elements on lockdown. The main Atonal space, Kraftwerk, a disused Berlin power plant located on Heinrich-Heine-Straße, is a venue that immediately captures the attention; a vast structure that positively encourages sound and visual elements to be thrown around it. This year saw a second stage erected within Kraftwerk, which along with the relaunch of the associated record label is a sign of Berlin Atonal's positive growth. The curation appears flawless too with cutting edge electronics, one-off projects, label showcases, and avant garde ensembles all combining for a mouth-watering programme spread over five days.
Juno Plus despatched two of our Berlin-based correspondents, Nic Tuohey and Rose Mardit, to take in the festival and the pair have returned with their thoughts, selecting six personal highlights of the Atonal programme.
Alessandro Cortini
The opening concert on Wednesday night presented headliners Alessandro Cortini & Lawrence English with their latest commission Immediate Horizon. Just as the title of their performance suggested, English and Cortini stood as two dark and mysterious shadows in the foggy headlights, no visuals required, and executed their chilling arctic drone on the audience. The sound of demonic spirits; howling and squealing in the wind, with the occasional passage of haunting pads were the only thing even slightly musical. It was a truly complex, intricate and haunting soundscape. The wall of bass generated at times was intense. It built up to a crescendo of screeching and soaring guitar feedback reminiscent of Godspeed You! Black Emperor. However the set seemed remarkably short compared to the other performances that evening, but it was brilliant nonetheless.
Cortini's solo performance on Saturday of his brilliant Sonno album from last year didn't have to try particularly hard to be amazing. The soaring drone of "Variabile" through to the tunnelling trip that is "E del Controllo" But who could forget the unmistakable, mesmerising melody of "Voltaggio Solitario" They were an honour to hear live on the Kraftwerk soundsystem. Cortini's deep, cavernous acid morphing into drone was haunting and seductive, gradually accelerating into overdrive and distortion with such grace and accompanied by equally vivid and drifting visuals. (NT)
Max Loderbauer + Jacek Sienkiewicz
In the context of a multi-day affair like Atonal, pacing takes on a greater significance than it would for a standalone club night, or even for a marathon weekend. The festival organisers needn't have struggled too much in achieving the "perfect" order, however, because this year's programme was simply that strong across the board. Still, witnessing modular synth virtuoso Max Loderbauer in creative dialogue with experimentalist composer Jacek Sienkiewicz on the opening night lent a feeling of things having gotten off to an especially auspicious start.
Here, their talents came together to craft a four-part live set around Ridges, their two-track ambient EP which was released on the latter's Recognition label this past spring. Even for those in the audience who were unacquainted with the release, the mountain imagery intrinsic to Pedro Maia's accompanying film-inspired visuals made very clear which kind of landscape the pair had in mind.
Almost instantly, a ghoulish, reverb-filled wailing and a thunderous drone announced that this would be a dangerous excursion without earplugs. It felt as if broken audio circuitry was being disconnected and reconnected, though with slight variations, ad infinitum, everything mounting toward an ear-splitting screech. The energy in the air, the chorus of other-worldly voices, it was equal parts dream and nightmare, a wholly immersive sonic bath. This, coupled with the flickering, abstract, black and white video footage, made the experience reminiscent of floating, perhaps in something akin to amniotic fluid. In moments, these visuals became so intense that it was easier to take in the soundscape with eyes closed.
Melody was hushed yet ever-present, and hard to follow clearly, but with punishing drum hits coming seemingly from out of nowhere, it created an aural texture in which the spaces between sounds were just as interesting, just as important. Echoes of voices and the barking of a Jovian dog faded out with a sonorous rumble, until the sound morphed into a piano melody so touching and darkly beautiful that it might as well have been bottled and held onto for posterity. To hear something so hulking be punctuated by the lightest, most gentle plucking and pulling of sound, it cemented this performance's place not only as an early festival highlight, but as an overall festival highlight as well.(RM)
Diagonal label showcase
Getting the Diagonal showcase on Stage Null started in spectacular fashion was Blood Music, whose pounding percussive workout reached near tribal moments accompanied by a grinding analogue pulse, to much fanfare. Not Waving's pumping, improvised, EBM party vibes were a wild ride through analogue absurdity with even some moments of acid and a true highlight of the evening. The label's eccentric flair continued with An-i and Alessandro Adriani's pummelling onslaught of smashing beats, modular snarls and white noise. It was a force to be reckoned with but such a shame their set was so short. Proving again that humour is at the heart of everything they do, they introduced label mascot Russell Haswell. His HDJ set on a MacBook, probably using iTunes, complete with the "click click" sound of said device when he raised the volume. His brash mixing was as ridiculous as you'd expect, taking in acid and early nineties warehouse techno, even bringing in moments of modular noise over the top. And even a bit of breakbeat and gabber.
Label boss Powell finished proceedings, however, his most memorable performance of Atonal came on the main stage on Friday night. His jagged and muscular live performance was the bastard child of no wave, glitch, techno and god knows what else; an unholy mixture which he's built his reputation on and turned the Kraftwerk's main floor into a raving frenzy. Parts of "So We Went Electric", "No U Turn" and "Sylvester Stallone" could all be heard in his violent mash up, not to mention cheeky samples ("Aphex Twin!" or "Something I learned in '89") spat out randomly like Tourette's Syndrome. (NT)
Varg presents Ivory Towers
When the former power plant where Atonal is based was still in operation, it provided heating to a sizeable cross-section of East Berlin. Naturally, the building is cavernous. With wall-to-wall concrete and imposingly high ceilings, it's the ideal backdrop for this kind of programming. The smaller of the festival's two stages can still be regarded as striking, in a way, but in contrast to the expansive hall where the main stage is housed, Stage Null feels poky and underwhelming. With this architectural reality in mind, Friday's highly-anticipated Northern Electronics showcase was a let-down – the space didn't do anything for the music, and the music didn't do much to elevate this lower-ceilinged, compact space either. It felt like this could have gone off just as well in any anonymous club.
A separate performance involving NE affiliates and held the night prior, on the other hand, was far more impressive. Spearheaded by Varg aka Jonas Rönnberg and titled Ivory Towers, the ensemble was rounded out by members of Copenhagen's Posh Isolation family and other artists from the Nordic underground: Frederikke Hoffmeier (Puce Mary), Loke Rahbek (of Damien Dubrovnik and Posh Isolation), Ossian Ohlsson (Vit Fana), and film score composer Erik Enocksson. All were dressed in stark-white collared shirts with long sleeves and black pants – or, in Hoffmeier's case, a skirt which reached the floor. The identical outfits served as an appropriately unifying visual marker considering the artists' varying backgrounds in experimental electronics, noise, punk, film scores, black metal, and performance art.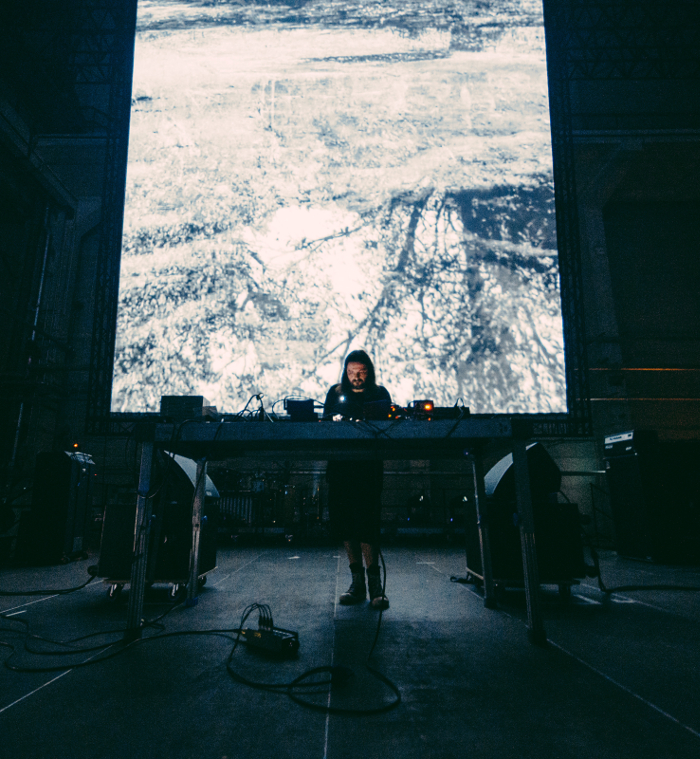 Over a deafening hum and borderline nasty feedback, the distorted, mechanical-sounding vocals provided by Rahbek seemed Kafkaesque, his intensity working in contrast with the otherwise languid, though not at all tedious, progression of sound. Up above, visuals were bleak in mood but bright in tone, moving between windswept flora in close-up; the milky-white stretch of skin on an arm against a black leather couch; the silhouette of a woman overlooking an airport, SAS aircraft inching along the runway. With the rest of the group either hunched over kit or thrumming the strings of a bass guitar, they generated buzzy clattering and careening screeches, melancholic synth lines and a deadened thumping felt low in one's chest. I would later learn that the most menacing effects were the result of Rahbek pushing a microphone, quite aggressively, into Hoffmeier's mouth; there are a handful of videos of this floating around on Instagram, if you're curious. Many moments were jarring – ugly, even – but they were foiled by occasionally gorgeous injections of melody, such as one haunting lullaby in only four tones. This collective exchange was trance-inducing and impossibly nuanced. Yes, they'd built an ivory tower indeed. (RM)
Contort
Sundays programming curated by Contort proved just like previous years to be one of the best days of the festival with a stellar line up including Sheffield industrial legends Clock DVA; who coincidentally, played at Berlin Atonal 1990, ambient maestro Lustmord and the live A/V of Raster-Noton/Editions Mego affiliated COH + Frank. Australian Ben Frost also presented his tremendous live A/V A U R O R A to a highly anticipating crowd. But it was co-curator himself Samuel Kerridge with his new performance entitled Fatal Light Attraction which proved to be one of the days leading lights, literally. Utilising a lighting source which responded in real time to the audio, the system projected Kerridge's silhouette, strobing erratically and violently against the backdrop. As he bluntly stated to me a few days prior; it was going to be loud; he wasn't wrong. Musically, the best analogy was described by a companion as "someone trying desperately to escape a concrete mixer, but armed with only a butter knife!" A grinding, textured and abrasive session of noise that truly plundered the depths of hell where industrial strength jackhammer rhythms faced off against electrical storms. (NT)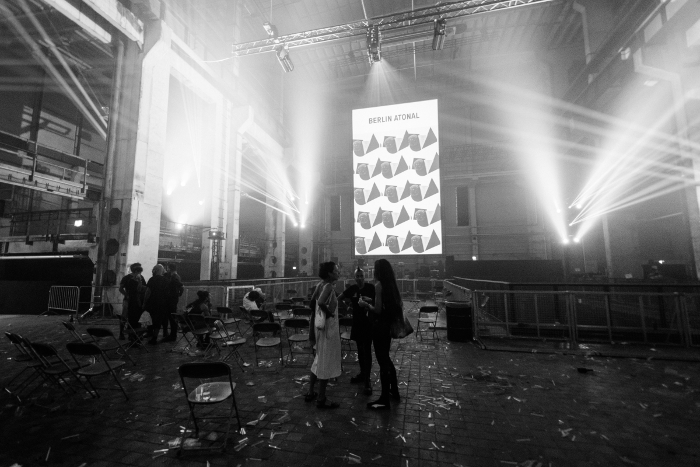 Mike Parker
On Friday, Mike Parker took to the main stage to deliver a masterclass in industrial techno. It's been more than 15 years since he last performed live – and he's been busy, no doubt, between producing music, creating visual art, and working as a university lecturer. In a 2013 interview with Resident Advisor, the upstate New Yorker alluded to the idea of putting together a live set in the future, but he was clear about wanting to find a way to do so without needing so much of his gear. The result was well worth the wait.
One of the more satisfying uses of sound in the space that I had heard yet, Parker demonstrated a relative lack of movement or deviation from a theme, but it was driving, with a powerful low end that swallowed the room. He seemed pretty stoic, leaning over or in to fiddle with knobs and tease a new texture, ever so subtly, out of the sound. After veering into a brief period of a sparser, but still heavy, ambient reverie, the rhythm advanced and pummelled the room in a crescendo of beastly ticks. This was the proper techno set that the crowd had been waiting for, and the whooping and whistling interspersed throughout showed it. There was nothing particularly engrossing about the visuals, which were the sort of generic, black and white abstractions that are very much the bread and butter of the more experimental electronic music festivals, but in this case, that was a boon, because there was little to distract from what was going on musically.
It was exceptionally-well paced. Even in a section of syncopation, the steady kick drum didn't let up and prevented any veering off into awkward rhythmic territory. As white bands of light swept the room, illuminating what had become a massive dance floor, things moved into full-on rave territory; the techno stompers were out in full force, with acid stabs and a rolling kick drum acting as the perfect metronome. While far from being the most ground breaking performance of the festival, if one could even be pinpointed, Parker's generated the kind of applause and enthusiasm that only true fanatics could offer in thanks. (RM)
All photos courtesy of Camille Blake