Damon Bell – Striving To Be Who We Are
Following the release of his debut album, core Deepblak member Damon Bell is in a relaxed mood as he discusses his production methods, inspirations, the art of collaboration and more. 
In the opening notes of Damon Bell's new album, vocalist Khalil Anthony's words ring out: "As the sun falls from above us, and the dark night rises from the earth, all is calm." It feels appropriate for my midnight interview with Damon Bell, who hasn't been sleeping much lately since his temporary move to Berlin. The Oakland-based artist is recovering from a gig last night at Tresor that left the abandoned power plant's walls coated in a film of sweat, and is currently trying to decide if he can squeeze in a few hours of sleep before trotting out to DJ another Berlin club at 7am.
The following days don't let up for Bell, with a four hour in-store set at Bass Cadet Records celebrating the release of his debut long player, Blues for the Libyan, and a stint on the locally-minded, globally-reaching Berlin Community Radio station. He also tells me that "the crew's in town", which means when he's not hanging out with Levon Vincent and Ron Trent, he'll be locked away in a studio somewhere alongside Deepblak label mate Afrikan Sciences. He's just sealed deals for three new EPs, a Paris and London gigs lining up on the horizon, and a collaborative project with Deepblak founder Aybee looms.
Bell should be dead on his feet, yet he appears anything but as we casually acquaint ourselves over Skype. He's certainly no stranger to an intense work ethic. As an integral member of Aybee's Deepblak label, Bell's releases have spent the last six years performing sorcery on the cosmic, soulful elements of house music; meshing broken beat, hip hop, metronome-defying polyrhythms and techno into glowing soundscapes. But another explanation for his seemingly endless energy is that Bell is now the father of a two-year old son – what better preparation for staying up 24 hours a day and working like crazy than having a child?
"Yeah, no shit, man," he says, laughing in agreement.
Bell attributes his prodigious work ethic, at least partially, to the city he's currently spending time in. "In terms of the environment and lifestyle, Berlin's been great," he tells me. "You don't have certain stresses that may bog you down like in the US, things that may hinder your creativity. I come here, and shit kinda just falls away, and I'm free to just jump in. I'm fortunate enough to put myself in a position where I can just wake up and work," he says, adding "it's resulted in plenty of material." Bell does a quick calculation, and estimates that he's created roughly 20 tracks since he's arrived in Berlin, averaging three songs a day or so.
Fortunately for Bell, the relationship with the city has been reciprocal. "What I have noticed is that, historically, Europe in general has always been a centre for 'African American' musicians," he says. "The music's always been embraced, whether it's jazz, blues, soul; now it's more dance music." Similarly, Bell isn't worried about Berlin offering an appropriated or watered down version of his music. "I don't really see anyone doing what we're doing here at Deepblak," he warmly suggests.
Bell's self-assurance is well-deserved. Having performed alongside everyone from Erykah Badu to Dead Prez, each note in his body of work rings with confidence. This has been the case since the release of 2009's Kush Musik Part 1, especially the genre-defying anthem "Ezuku" which dips between house, broken beat and dub reggae so masterfully that trying to pin it down feels like throwing a rock at the sun. Yet, there's something about his debut album that distinguishes itself from anything else he's ever done. It's a roaring declaration of identity. A work that it feels like Bell went into it with a singular vision.
"The things that have been happening in the States have been happening forever, and this is part of what puts emotion into what I'm doing in productions."
He agrees that much has changed since his early productions. "My work definitely feels different in format from where I started," he admits. "Kush Musik was early, early, early, work, and since then I've grown much further musically in what I'm doing these days. I've even grown further past this release now," he says, laughing to himself, explaining that pressing plant errors delayed the album two years from when it was recorded. He's got many more new ideas percolating that I can tell he's giddy to get out into the world.
"But Blues for the Libyan is definitely a body of work that embodies the styles of music that I'm listening to, where I'm coming from," he clarifies.
Curious, I ask Bell about what the title signifies. "Blues for the Libyan, as a title, came to mean blues for all," he tells me. "The title came to me in the midst of research and personal searching – a lot of stuff has happened to Libya recently, but that's not where I'm coming from, it's not meant from a political standpoint". Instead of directly commenting on the Libyan revolution, the overthrow of Gaddafi, and Libya's bloody resistance movement against ISIL, Bell insists that the title is meant as an inclusive calling-in; a recognition of origins, histories, and a shared ancestry. "Libya, at one time was kinda referred to as the whole of Africa. So the term isn't necessarily talking about Libya as a country, but moreso the whole of Africa, a place of origin."
Structure-wise, each sonic element of his album is intended to serve as part of a larger whole from the get-go, and Bell describes each track as "sharing a similar feeling which all coincides" to a final, holistic product. In past interviews, Bell has admitted his productions summon an extension of his personality, and I ask him what kind of feelings make it into this album. "I really pull from the world; from my surroundings, it really has to do with the vibrations that are happening around me in the world," he explains. "The vibrations that I feel, digesting what's happening around me and putting that into music," adding he pulls from "external sounds and this and that, but the feeling of it all is kinda where I get my inspiration." Bell states the music is an "extension of himself because he's really putting a lot of thoughts and joy into the process."
Pulling inspiration from the world, however, doesn't always result in joy, and as I touch on politics, suggesting that America is reaching horrifying levels of racism and police violence currently, Bell replies "yup" without missing a beat. Elements of dysfunction, pain and hardness are present throughout Blues for the Libyan too. "Blood" treads along on a disjointed militaristic shuffle, and the radio-scrambled strumming of "Broken Feathers" borders on a rhythmic annihilation, ending in a squelching transmission that seems like it's being launched down a wormhole. Reflecting on these darker elements of the record, I ask if his work intended as a cultural commentary.
"The things that have been happening in the States have been happening forever, and… this is part of what puts emotion into what I'm doing in productions," he responds. "I use a lot of the titles of my songs as a tool, as a teaching point, or a footnote, like "Kampala" is a song about Nigeria, and "Chromosome Replacement" is a title more about changing yourself."
Bell's titles don't always lend themselves to direct political response, or even easy comprehension, but he admits that this is intentional. "I'm really into history, into biology, into the study of man, into the study of the universe, into cultural milieu; this all gets absorbed in my titles." He continues, "someone may not know what that word means, and maybe look into it, and maybe discover something culturally."
Bell's linguistics certainly resonate with my listening experience. As jagged organ keys soar over gnarled polyrhythms on "Chromosome Replacement", Khalil Anthony repeats the phrase "promised land". In a split second, a rush of connections and memories form, and I think of the Joe Smooth track of the same name, the middle passage, the idea of the dancefloor as an oasis from suffering and loneliness. Are these the themes Bell intended me to stumble on? It's unclear, but it's undeniable that the words, symbols and signs throughout Blues for the Libyan ignite a spark, create a flickering light that makes you turn over meanings and memories in your mind.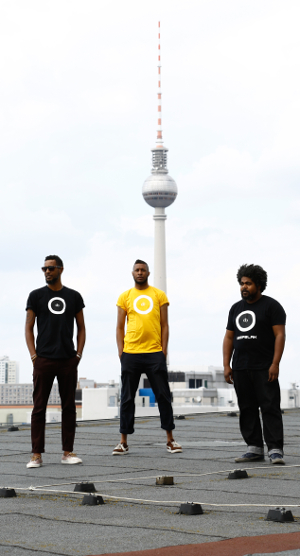 As much as Blues For The Libyan is deeply personal for Bell, the album is marked by a series of standout collaborations between Afrikan Sciences, Khalil Anthony, and the mystery-shrouded Son of Ororo – each track marked by how unified the collaborators seem in purpose. However, asking Bell about it, and he shrugs off the idea that there's anything complicated about the process of working together. "We've been working for a long time together and all vibe naturally together as friends – we all have similar spirits," he says, chuckling. "Us collaborating usually starts with hanging out in the studio – where one of us starts something up and one of us jumps in. It's a really natural pattern for working together."
I ask in particular about the formation of "Libyan Ether", which bubbles with the same unpredictability as a cave of primordial ooze – coming apart at the seams, rebuilding its own image. I'm desperate to know how Bell and his shadowy collaborator make something so disparate come together.
His response is so laid-back it's almost dismissive. "Oh, we just came at it as something pretty natural – pulling some shit together," but Bell does admit that the introductory percussion on the track come from one of his favourite Cuban American percussionists, Daniel Ponce. Asking about how he developed his intricate knack for percussion, he opens up a bit more. "All of my songs have percussive elements – that just comes out naturally. Sounds and tones I use are pretty much just part of my ether. I studied African percussion and played Afro-Cuban percussion with a lot of different people in my youth, so polyrhythms have always been in me. I use percussion because it's how I hear music."
As our interview progresses, I admit to Bell that as I've been listening to his record prior to our interview, I've been getting nervous. Blues for the Libyan is packed with so many different sound palettes and cultural influences that I worry my limited musical knowledge won't allow me to unpack everything contained within. Bell laughs, and explains that he doesn't expect total comprehension from the listener, explaining that his musical upbringing means that he may be coming at production from a different angle than many listeners. "Jazz was actually the first music I started Djing," he explains, "playing rare groove and jazz records as a younger guy, those influences are embedded in me. I imagine it could be strange for a lot of the current people who might have come into dance music through dance music, not necessarily having the extension of the history of all these other genres."
Even if the listener doesn't comprehend everything, sounds, where they originated from and what they mean, seem incredibly important to Bell. "Yeah, they really are," he confirms. "Partially because everything that's in this record reflects parts of the music I grew up listening to, from the reggae and soul music I inherited from my parents to hip hop, which, growing up in America, was obviously a heavy influence in our community. Those things still resonate in these records."
Does that make this one of his most personal releases yet?. His response, much like his music, encompasses himself, and something larger at the same time. "When I talk about histories I just talk about world histories, even though there are specific histories pertaining to Africa or being African American are definitely in there – but that's still the world's history. I try not to keep it separated, because it all matters."
Interview by Brendan Arnott
Images courtesy of Marie Staggat
Deepblak on Juno