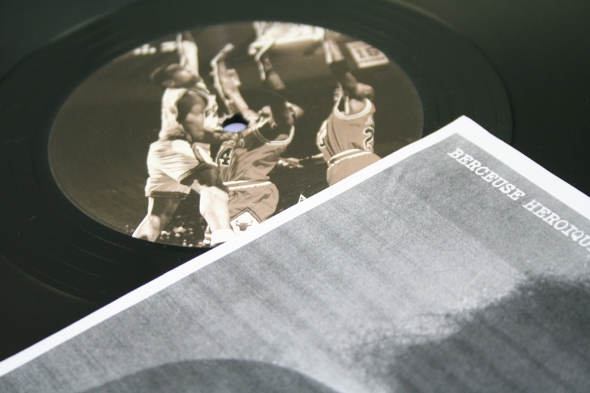 Rightly or wrongly, Liverpool DJ and producer Mark Forshaw has toiled in the shadows of his peer and occasional collaborator John Heckle. That situation looks likely to change with the release of The Fuck. While Forshaw has put out a small body of work on labels like Mathematics and Tabernacle, it is not hard to imagine his debut on Berceuse Heroique turning heads. This has nothing to do with Forshaw suddenly becoming the latest in vogue producer and everything to do with the radical approach he explores on this record.
At the most basic level, the title track is a corrosive acid jam, but that only tells part of the story. Without being privy to Forshaw's production techniques, it sounds like he recorded the arrangement inside a jet engine, first as it powers up, shuts off and then gears up for take-off once again. The overall effect is disorientating and once the kicks and claps sweep back in around the four minute thirty mark, the listener could be forgiven for thinking that they had been sucked into a turbulence-induced nightmare.
There is no one better to rework a track of this intensity than Jamal Moss. Working under his I.B.M. guise, for the first time in his career, the Mathematics boss delivers a remix that is less intense than the original. The groove is relatively straight and pulsing – this is after all from the same artist who released the mangled Eat My Fuck album last year – but Moss does add a gritty, slightly distorted edge to the percussion and throughout, twisted riffs and clicks make themselves heard above the general din.
Maybe Moss was conscious that on this release, it's all about the original. Irrespective of the explanation, this release marks Forshaw's coming of age and the inevitable reaction to it is sure to consist of a 'What' prefacing the title track, followed by a question mark.
Richard Brophy
Tracklisting: 
A1. The Fuck
B1. The Fuck (Jamal Loves His I.B.M. Remix)