Erdbeerschnitzel – The Attendants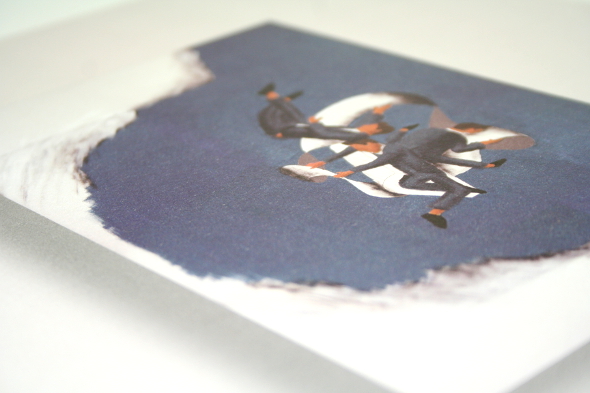 It's almost become a cliché to describe Tim Keiling's work as Erdbeerschnitzel as "hard to pigeonhole". Unfortunately, there's a grain of truth in the oft-used phrase. While his releases have, for the most part, been rooted in deep house and far-sighted techno, his tracks rarely fall foul of the sort of functional formulas often employed by dancefloor-focused producers in those genres. His 2012 album on Mirau, Tender Leaf, is a perfect example. While it included many sounds familiar to those who keenly follow techno and, in particular, deep house – think warm chords, soulful vocal samples, woozy electronics, twinkling pianos and such – the rhythms were often jazz and off-kilter, as influenced by MPC style hip-hop beat-making and R&B as the metronomic pulse of dancefloor-focused grooves.
As for his two more recent outings on Delsin – 2013's Cushion and last year's The Ample Waters – they seemed as fixated with mood and melody as dancefloor weightiness, providing as many eyes-closed moments as heads-down rhythms. Both also played around with beat patterns, including looser, warmer and more downbeat rhythms amongst the shuffling 4/4 grooves. Suffice to say, his dedication to the dancefloor is not total. Even so, it's still a relative surprise to find this The Attendants, his first work of 2015 and the belated follow-up to Tender Leaf, is almost devoid of any club-focused material.
It does include one glorious chunk of dusty, dusky deep house – the lilting, loose synthesizer melodies, brittle beats and liquid bottom-end of closer "Seyden" – but for the most part it inhabits much more becalmed territory. Of course, there are rhythmic motions elsewhere, but these are more experimental in outlook and on the whole concerned with creating a mood than making people dance. The sludgy, off-kilter grooves, metallic hits and Autechre-ish beat programming of "Fendrick" and the skittish, broken computer rhythms of the track that follows it, "Corbinian", are both perfect examples of this outlook. Put simply, The Attendants is an album fixated with picturesque, left-of-centre electronic music. For the most part, it's all the stronger for that outlook, too.
Certainly, it contains some of Keiling's most beautiful and beguiling music to date. There's a spine-tingling, stripped-back simplicity to the unfurling melodies, symphonic electronics and spacey, stretched-out chords of "Tenmental", while "Girus" – a masterful exercise in hip-hop influenced IDM complete with twisted, head-nodding beats, sparkling vocal samples and watery electronics – is as intoxicating and beautiful as any Boards of Canada record. Similar accolades could be spoken about the soft focus marimba jazz-meets-electro flex of "Hessian Arc", or the moody, intergalactic shuffle of "Relief".
Perhaps the most startling thing about the album, though, is not Keiling's expert use of mood and melody – those come as standard, regardless of his focus – but more how the album feels as a whole. While previous productions have often felt grandiose and pleasingly intense, The Attendants seems sparser, with more room for individual musical elements to breathe. In some ways, this emphasises each track's inherent beauty further, and brings to mind another cliché: when it comes to electronica, less really is more.
Matt Anniss
Tracklisting:
A1. Feiler
A2. Hessian Arc
A3. Fendrick
A4. Corbinian
A5. Tennental
B1. Girus
B2. Relief
B3. Druse
B4. Seyden