Frak bring Primitive Drums to Lux Rec
The madcap Swedish veterans will debut on the Zurich label with a new single in September.
There has been no shortage of great music released by Frak in the past couple of years. After decades spent in relative obscurity from their inception in 1987 through years dabbling in acid, hardcore and Djax style techno, it was the surge of interest in techno from Sweden that gave the trio from Karlskrona a well-earned dose of recognition. Key albums for Digitalis and Psychic Malmö have been bolstered by a wealth of singles on labels such as Kontra-Musik, Sex Tags Mania, Midlight and their own Börft label, the most recent of which being the Realismo 12" released last month. With individual members Kord and Villa Åbo increasingly focusing on solo productions, it's good to hear that there is still time for fresh Frak material to surface.
Lux Rec is a logical home for the primal machine jams that the trio made their name on, as Daniele Cosmo's label has an insatiable appetite for just that kind of foundational experimentation that is Frak's raison d'etre. The Primitive Drums single sports all the hallmarks of the Frak approach, from stripped down beats to unsettling synth rumblings with a dash of surreality thrown in for good measure. Lux Rec has been busy setting up the MRT sublabel, making this the next release in line for the parent operation after Momentform's Grave. You can check the full tracks for the Frak release in the SoundCloud player below.
Lux Rec will release Primitive Drums by Frak on September 12.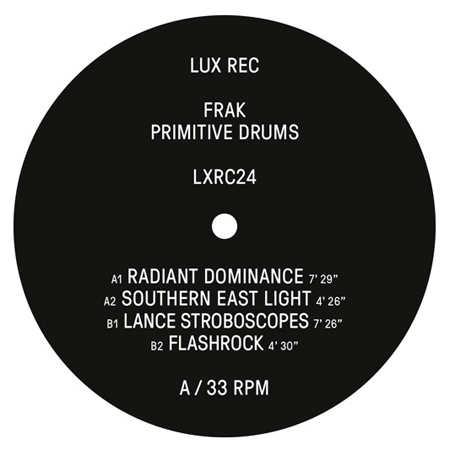 Tracklisting:
A1. Radiant Dominance
A2. Southern East Light
B1. Lance Stroboscopes
B2. Flashrock