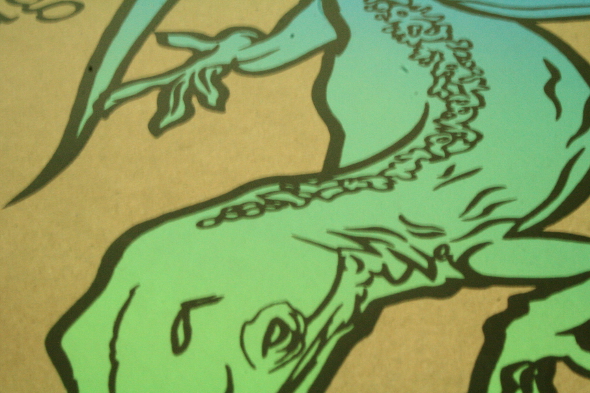 Despite his penchant for cheerful genre hopping, there's no denying that Ruf Dug has a sound that he can call his own. While it's taken him some time to really flesh it out – it's six years since his debut release on Popular People's Front, fact fans – you can now spot one of his colourful, analogue-heavy jams a mile off. While he's still a fan of stylistic shifts and audible nods to a multitude of genres – be it Latin freestyle, melancholic synth pop, Larry Heard style deep house, electronic dub or breezy Balearica – the Mancunian's tracks ripple with melodious positivity, whilst retaining a raw dustiness that reflects his love of battered cassettes and cheap recording equipment.
His grasp of mood and melody is, in particular, superb, and his recording method – seemingly built around live jamming – guarantees that has tracks always feel fresh, exciting and immediate. Plus, he's always seemed just as comfortable making the sort of quirky, curious downtempo jams – often tucked away on B-sides, or the in-demand Ruf Kutz series – that suit home listening more than dancefloor revelry. One man to notice Ruf Dug's seemingly natural ability to create mood-enhancing home listening fodder was Danish Balearic sort and Music For Dreams label founder Kenneth Bager. Early last year, he asked the Manchester-based producer to record a debut album for the label.
Ruf Dug agreed and promptly jetted off to the Caribbean island of Guadeloupe to record it. He apparently took with him two synthesizers, a couple of effects units, his laptop and a four-track cassette recorder. Over the course of 12 weeks, he recorded the album in a rented villa, presumably stopping for long walks at sunrise, skinny-dipping at sunset, and rum-based cocktails at night. The resultant full-length, Island, is brilliantly evocative; a humid, sticky, hazy, sun-kissed exploration of his musical passions. In particular, the dub-meets-synthesizers vibe of Wally Badarou's work at Compass Point Studios in the Bahamas with the nine tracks every bit as colourful, vibrant and enjoyable as you'd expect.
While there's one successful attempt to move outside his comfort zone – a memorable, soon-to-be-ubiquitous Balearic sing-along with Manchester-based singer/songwriter Nev Cottee – for the most part Island is surprise-free. As a result, we're treated to a series of synthesizer-heavy workouts that place smiley tunefulness and expert mood setting at the heart of the action. This is clear from the moment the album yawns into life with the sunrise aping slow awakening of "Tendacayou" – all quietly unfurling melodies, sparse electronic percussion and delay-laden pads – and remains evident throughout.
There is much fodder throughout for those who appreciate the daydream-inspiring potential of electronic music. The, chugging, Italo-inspired slo-mo playfulness of "Speedboat" – an exercise in angular synthesizers, eyes-closed '80s guitar solos and relentless arpeggios – sounds like it was designed for a windswept sunset photo shoot, while there's a rum-laden drunkenness to the Latin rhythms, slap bass and synthesized pianos of "Mosquito". It actually sounds like it could have blessed the soundtrack of an early '90s Amiga adventure game about pirates. And so it goes on, variously delivering dubbed-out, life-affirming mood pieces – see "Dominica" and the smugglers' cove spookiness of "Mangrove Dub" – and hard-to-define audible sunshine ("Shoreline" being the most notable example). As debut albums go, it's a belter.
Matt Anniss
Tracklisting:
A1. Tendacayou
A2. Speedboat
B1. Dominica
B2. Mangrove Dub
B3. Mosquito
C1. Shoreline
C2. Rasta Beach
D1. Le Rayon Vert
D2. Thank You Wally