Separate Mind – State of the Nation: Electro in 2015
Richard Brophy profiles current transmutations in the world of electro with The Exaltics, DJ Stingray, VC-118A, Ultradyne and more under the spotlight.
Two years ago, Juno Plus ran a feature from this writer that looked at the new wave of electro artists and producers. Despite having no club network or hardly any well-known DJs to support it, at the time there was a notable amount of producers and labels putting out forward-thinking electro. What is the situation like now? Since that article, electronic music has continued to fragment and splinter.
Techno and house are increasingly divided, tenuously-linked sounds and styles. These genre names are now so vague and home to music so disparate, both sonically and culturally, that they are as general and ineffective as the term rock. Nowadays, everyone from I.B.M to Pfirter make techno. It's about as revealing as labelling Status Quo and Joy Division rock bands.
What about modern electro? Like techno and house, in the past it has followed well-determined paths, arguably due to cultural and geographical reasons. In many instances, electro sticks to these tropes, but in other cases, these traditions are also falling apart and the fragmentation is greater. However, the key difference with house and techno is that electro has a long history in mutating. As Kurt Baggaley noted in a 2013 article: "Electro visits other genres and transmutates with it… electro is different to different people and it changes over time".
Certainly, while some may lament the loss of a location-specific sound like Miami Bass or Detroit electro, the counter-argument is that producers from all over the globe are following the proud tradition of transmutation and are leaving their own footprint. This means that house and techno now exist as only the loosest of terms, so too does electro act as a most superficial descriptor to the wide body of music released under this banner.
There are exceptions and some artists have stayed true to a purist vision. This stance is clearly audible on The Truth 2008-2013, a compilation of music from German producer Robert Witschakowski aka The Exaltics. Released on his Solar One label, The Truth 2008-2013 sees the label retreat to a largely Detroit-inspired sound having recently put out grungy, acid and wave-fuelled records from Andreas Gehm and Helena Hauff. This anthology shows just how singular Witschakowski's vision can be; even on more musical outings like the atmospheric "Journey to Jupiter", the chilling strings of "My Language" and the title track, the rhythms are steely and robotic, the bass pounding and constantly hitting the reds.
Elsewhere, the German producer allows some outside influences to inform the project. "The Crash" is like an electro take on Den Haag disco, its robo-drums and steely rhythm supporting an arpeggio bassline and tragi-comic hooks.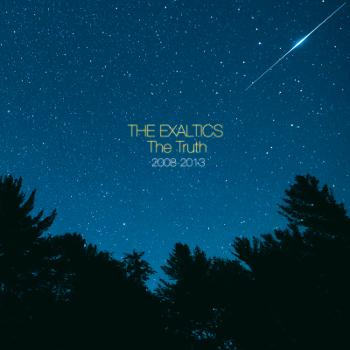 But The Exaltics work has a tendency towards purism; the warm bass and mysterious synths waves on "IMOEH" is Witschakowski playing at Drexciya, while tracks like "Instinct" and "Compressed Thoughts" share the same dystopian feelings as Dopplereffekt or early Anthony Rother. If you haven't heard The Exaltics before, The Truth 2008-2013 makes for a wonderful introduction to his shadowy world.
The 2013 article explored the notion of the form developing as a home-listening parallel to club music, and cited records from Versalife and E.R.P provided that kind of esoteric alternative. Fast forward two years and there are releases that fulfill this role, including the title track on Costelloe's Inflex, released on Signal Code. The work of Irish artist Aaron Costelloe, the artwork features an astronaut floating on his back in space, which gives the listener an idea about what to expect from the music. Indeed, the title-track is reminiscent of Gerard Hanson's E.R.P project; a snaking bass supports ethereal melodies that sweep across the spectrum before disappearing over the horizon and exploding into a starburst of a thousand electronic bleeps.
The release also features a deep techno track, "First Light", and two robust remixes of "Inflex" from Marco Bernardi, where the original version's melodies are set to rumbling, acid-caked drums. However, this release is all about the title-track.
Aaron Costelloe makes no secret about his admiration for Hanson's work. "I really love that clean retro sound he (Hanson) has. It's present in a lot of electro these days, stuff like Plant43 or Versalife," he says. " E.R.P. has had a huge influence on electro – not everyone would know about it but people who are get obsessed with it," Costelloe adds.
Costelloe adds that one of the reasons why he has taken inspiration from Hanson is because contemporary techno had become so dull and monochrome.
"A lot of techno music these days has lost that futuristic sound which for me is what is so special about it," he explains, but adds there is far more financial risk involved in releasing an electro record. "When I was putting out the first electro release on the label, the distributor warned me that it'd be tough to sell. It's the same for a release like this. It's hard, these days when people have limited money, they can't afford to buy too many records. A banging four-track techno record will never have trouble selling it seems but anything beyond that is risky," he says.
Back in 2013, this writer posited the theory that electro's vinyl sales were being supported by an older age group of people who no longer regularly went to clubs but had disposable incomes Costelloe feels that this is still the case.
"Techno today sounds nothing like it used to and I think for older guys stuff like ERP/Convextion and Submersible Machines recaptures that sound. I have often thought of booking these acts for Dublin, but I don't know if it'd be possible to get people off their armchairs as it's an older following."
In a similar vein is Plant43's Return to the Sentient City on Semantica, the third and final installment in Emile Facey's series for Svreca's label. Although the rhythms are leaner and the mood slightly darker on "Ubicomp Malfunction" and "Ascendant Machines", the esoteric sound that is E.R.P's signature is never too far away. It surfaces on the downtempo closer, "Amphibious Architecture", where hushed synths and cheesy keys make for a sweet home listening experience and it's also audible on "Chain of Machines", where a prowling bass, spiky beats and rainy-day melodies make for a slightly ominous but mournful track.
"Techno today sounds nothing like it used to and I think for older guys stuff like ERP/Convextion and Submersible Machines recaptures that sound."
For every act inspired by traditional esoteric sounds, there are others who are pulling the form apart and bringing new influences to bear on it. Chilean producer Nicolas Estany works as Visonia and under this name he collaborated with Dopplereffekt in 2013 on the Die Reisen release. Visonia's latest release, Nausicaa, on Electronic Emergencies, is a solo effort, but is no less impressive. It's clear from this release that he is inspired by a range of sounds – "Blue Mirrors"  in particular is his take on hardcore techno  – and is keen to unite many of them. Indeed, the most impressive tracks are strange, improbable amalgamations.
The title track marries epic Vangelis synths with crisp drums for a melodramatic finale, but before that Estany has fused cinematic sounds with a hoover bass on "A Lonely White Wolf" and applies Miami Vice-style reveries to brittle techno rhythms on "Forgotten Feelings".
The standout track however is "The Moon Doesn't Want to Look At You", where all of these elements are brought together and old school techno stabs, pitched down, ominous vocals and shimmering synth breakdowns all compete for the listener's attention in Estany's own, hugely enjoyable theatre of the absurd.
A similarly off the wall approach comes from The Valley and The Mountain's Outer Reaches for Shipwrec. Inspired by ambient and acid as much as electro, the mysterious act's latest record is a series of tripped out, slow-motion jams.
It starts with the indistinct vocal samples and heavy claps of "Uncharted Systems", while jets fly overhead gurgling rivers of acid on "Chasing Magnetic Particles". "Rockfall" is an austere, slow motion synth workout, while the title track follows in a similar vein with its slow motion drums, indistinct samples and fuzzy acid.
No one really knows who is behind this project – could it be a well-known Detroit act in disguise? If this is the case, then "Detxploit", with its warbling bass, insistent but understated acid builds and vocal narrative asking 'who are the Detroiters' suggest that the city home to Cybotron, Model 500 and Aux 88 is never too far away from developments in electro.
The most recent release on Tabernacle, Propulse by VC-118a, is also testament to the shifts and twists in contemporary electro. In contrast to the original electro and techno artists, Dutch producer Samuel Van Dijk is interested in aviation rather than space travel, naming his debut album International Airlines and debuting on Tabernacle in 2013 with Flight Control. Indeed, the inlay art for his new record features a 1950s-style illustration of a woman wearing an oxygen mask.
"The project has a definite reference to aviation – my very personal airline and flight number," Van Dijk says. "VC-118a started from a fascination for aviation – literally and imaginary – and happen to evolve over time with a more significant character and developed style. There is an actual US airplane (the Douglas DC-6) that has this name but the project is not attached in any way to the name VC-118A," he explains.
Apart from the imagery, the title track on his new release also goes against electro convention and VC-118a's eerie synths and lumbering 808s are fused with a dub bass, straight out of the Modern Love school of reverb-heavy techno and also influenced by his own Mohlao side project. The overall sound is solemn and stark, understated but still menacing.
VC-118a expands on this approach on "Central Zone". Lab experiment fizzles and gurgles are shot across microscopic beats, while there is an underlying sense of unease or queasiness thanks to the powerful sub-bass. A powerful bass also prevails on "Virile Frame", and together with steely drums, it provides the backdrop for ghostly synths that remind this writer of The Other People Place.
"I find the term retro-futurism describes the vision of the project quite well. There are many influences such as dub music, ambient, techno and electro that find their way into these music productions but always with hints to the future, while not forgetting the all-important past. A sort of remembrance of a futuristic anticipation while thinking forward," Van Dijk says.
Tabernacle has commissioned Lost Trax to rework the title-track. A group of producers who ostensibly work together, the project has put out a series of excellent releases on SCSI-AV and Tabernacle, with the Saturiun System being this writer's favourite release. Lost Trax's version of "Propulse" is reminiscent of classic UR-style electro mixed with Deepside's "French", albeit without a straight kick drum. This puts the focus on the spiraling acid line, prowling bass and dreamy soundscapes. Like the rest of Propulse, it seems to be designed specifically for home listening. It seems like Van Dijkis also following this path and has recorded four albums worth of experimental music as Multicast Dynamics for the Denovali label, with the first two released in May.
There are a lot of new artists making electro, but understanding where the sound is going also requires a listen to its experienced practitioners. With scant information about them and only a brace of releases since the mid-'90s, mystery act Ultradyne make an unexpected return with the exemplary Resurrection: Returned From The Abyss. Released on the Pi Gao Movement label, this isn't for the faint hearted. "Return from the Edge" starts with mangled drums and glitchy percussion before ghostly synths, somewhere between Drexciya and Kraftwerk, kick in. "More Like You (MDK Therapy)" sees a brooding bass and pounding drums steer the track through robotic squiggles and down
cascading reverb-heavy drops, while closing track "World Made Straight" is a doomy affair as steel piston hisses and slow motion drums underpin a robot on downers natters indistinctly about slavery and the end of the world.
It's hard to know whether Ultradyne is being serious or not, but even if they are, they let their masked guard down on "V1014". In the finest Detroit tradition that includes Godfather, Stingray and Drexciya, it's a high-paced stomper littered with chattering percussion, sonorous bleeps and mystical sub-aquatic melodies. All that's missing is a DJ Assault-style call and response rap.
Ultradyne make even DJ Stingray sound accessible. Fresh from his high-paced split release on Bleep 43, Sherard Ingram's latest record, Cognition, on Greek label Lower Parts, sees him push his sound to a techno audience. Like his releases for [Naked Lunch], Cognition starts with the thudding kick of "Acetylcholine", but what begins as a straight techno track quickly veers into the unexpected. A throbbing bass, background groans and steely 808s document the track's progression through acid builds and those mysterious synth segues that Ingram and his former sparring partners Drexciya were synonymous. By contrast, "Dendrite" is a hyperactive breaker, but its steely rhythm and gut-busting subs are shot through with freeform jazzy progressions.
By the time Ingram reaches the realms of the unpronounceable with "eRbB4", he has departed from the script. The Detroit producer's groove hasn't gone away and the track's tight drums and resonating bass swing hypnotically as he drops a beautiful melody loop and cosmic keys. It's one of the mellowest tracks Ingram has released under the Stingray name and suggests that he has tuned his antenna wider than usual from his electro bunker.
kon001, who appear on vinyl for the first time, are tasked with remixing "eRbB4" and rise magnificently to the occasion. Acid-tinged bleeps flash like lasers in the night sky, the bass and synths bleed together to create searing builds and it is all realised against a lithe rhythmic background. Whoever is behind kon001 has a fully-formed sound. The fact they impress on one of Stingray's strongest records says a lot about them and the state of the electro nation.
Richard Brophy