This week's picks includes new Hidden Hawaii cuts, the first of three SPX wall shakers for Time To Express, a Lena Willikens secret weapon on Hivern, new Xosar and the latest DJ Spider LP.
DB1 – Ohn Titel (Hidden Hawaii)
It's no coincidence that labels or artists whose music materialise out of thin air (or via Hard Wax) are usually the ones we love most. Half way through penning this column a record alert for Hidden Hawaii's first release of 2015 hit our inbox, and seeing as Felix K's label has earned the 'buy on sight' tag, it's no surprise from an editorial perspective we deem DB1's Ohn Titel as 'write about on sight'. It's the artist's third release with Felix K after debuting on a split 12" with Weeveil Neighbiourhood founder Martsman (real name Martin Heinze) in 2012, and DB1 last appeared on part one Hidden Hawaii's Nautili series. The dubby, atmospheric and broken drum and bass vibes continue on this release, and as always, expect an austere collection of sparse, deep and mellow sounds.
Listen/buy vinyl
Zadig – Kern Space Advertures Episode 2 (Syncrophone)
French techno is enjoying a renaissance and it's appearing in more shapes, sizes and colours than what's been seen, heard and experienced before. Prior to this new resurgence, however, Sylvain Peltier was there, supporting the age old form of 909 techno with his own added touch of dubbiness, and his label Construct-Re-Form has helped establish the careers of artists like Antigone and Voiski. This is Peltier's first record on Syncrophone since 2010's groovy Dark Nebula 12" (with Kenny Larkin remix) and here the Frenchman – whose beard challenges the hirsute efforts of Rødhåd – delivers a light, arpeggio-lead and Detroit flavoured "Quiet Orbit Around Gladia", while the B-side holds down the muscle with a thumping, tom drum heavy "Hunted By The Cosmic Assassin".
Listen/buy vinyl
SP-X – Moving Through Mirrors (Time To Express)
There's every chance SP-X is Peter Van Hoesen, but there's still no concrete evidence, yet. By and large the SP-X sound has always had a grittier aesthetic than Van Hoesen's material under his own name, and the majority of the alias's releases have come through Komisch. Our personal favourite can be traced back to 2011 when Time To Express released that great Voltage 12" (featuring a PVH remix) which landed around the time you could still talk about the 'Berghain Sound' without getting a funny look. This new record is the first SP-X release in two years and it's the first 12" in a three part series Time To Express will release in the coming months, so expect dense, functional drum tracks made for DJs, techno clubs, and ultimately: dancing.
Listen/buy vinyl
Red Axes – Pil Sagol (Hivern Discs)
If you're a regular reader of Juno Plus you'll know we're huge fans of Cologne selector Lena Willikens. Both times we've seen her DJ this year, in Hackney Wick and on her home turf at Düsseldorf venue Salon Des Amateurs, Willikens has played one track in particular that stood out in our memories of those nights. If you've seen Lena play yourself or heard one of her club sets you too will probably have been beguiled by the rickety percussion and steam engine-style flutes of what turns out to be "Pil Sagol" by Tel Aviv pair Red Axes. Our thanks to Hivern Discs for allowing this strange gem of a track the wider release it really deserves, backed with two other oddball extensions from Dori Sadovnik & Niv Arz that are just as good.
Listen/buy vinyl
DJ Spider – Upon The Gates Of The Great Depth (Plan B Recordings)
DJ Spider is an unstoppable wall of music and this week saw the release of an EP on TTT with Marshallito and his third studio album. Like all of Spider's music, especially what comes out on his own Plan B, Upon The Gates Of The Great Depth features many of the subversive and ambiguous themes he likes to lace through his music, and his fascination with science fiction and horror films, politically-charged conspiracy theories and macabre truths are once again abound. It's not only track titles like "Misanthropy", "High Level Violence" and "Mysterious Structures On Mars" that serves you these motifs, but the samples and snippets you'll hear in "New World Resistance", and "Dystopia", to the eerie, spaced out soundtrack of album closer "Post-Human".
Listen/buy vinyl
Xosar – World Of Illusion (Pinkman)
After she rained down sonic terror upon unsuspecting souls with the grotty tones of the Let Go release on Black Opal, Sheela Rahman turns back to more measured house and techno on this release for the increasingly impressive Pinkman label. The Xosar sound has undoubtedly edged towards darker fare compared to her early Rush Hour singles, but there's an equal amount of cosmic positivity rubbed into the muscles of both offerings here. The title track builds gracefully with a myriad of spooky and serene elements, peaking with playful trills of lead lines that will surely delight the minds of any dancers in the right kind of nightspot. "Phasers Of Eden" has plenty of old-skool sensuality at its core, thanks in no small part to the fine slices of diva vocal purrs that sit amidst a fine set of box jam drums and some trancey synths, bubbling into the perfect late night tonic.
Listen/buy vinyl
Dominatrix – The Dominatrix Sleeps Tonight (Get On Down)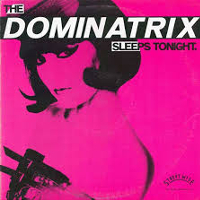 New wave synth classic "The Dominatrix Sleeps Tonight" has a fascinating back-story involving the early days of Stuart Argabright's musical career, as he juggled forming Ike Yard with working as a landscape gardener for the likes of Mary Tyler Moore. A reported relationship with a high-class dominatrix and a Cold War backdrop inspired Argabright to create the 1984 classic which came to light on Arthur Baker's Streetwise label, capturing the effervescent explosion of electro grooves that was taking over New York at the time. It's a track that, despite a controversial (and, by modern standards, comparatively tame) video found great success in nightclubs the world over, and with good reason. It's the perfect combination of light-footed synth lines and crisp drum machine lines that is highly deserving of a reissue. More details on the story of this record can be found here.
Listen/buy vinyl
Move D / Jus Ed – Brother's EP (Underground Quality)
Anyone who keeps up with the movements of both Jus Ed and Move D will be well aware that the pair frequently enjoy DJing together, and keen eyed souls will have peeped a collaborative track entitled "It's A Struggle" that surfaced on Youtube many moons ago. Now the US-German connection has been consummated with an EP including the aforementioned track and another three sprightly house jams in line with the unmistakable Underground Quality flavour. "Acid Grind" finds Ed getting up on the mic for a squelchy party starter, while "From Bridgeport To Heidelberg" heads into uplifting deep techno territory. "Hustler Suite" takes things into a moodier headspace before "It's A Struggle" rounds the record off on a more reflective tip replete with live guitar played by Move D himself.
Listen/buy vinyl
Green Gums – Black Tongue EP (Diagonal)
The latest salvo of left-of-centre firepower from Diagonal comes from former Factory Floor man Dom Butler and L/F/D/M artist Richard Smith. Already known to work together as Bronze Teeth, their Green Gums project debuts with a nasty selection of mutant machine jams that keep the distortion ever present and the atmosphere alien, adding a worthwhile entry into the gamut of dystopian club music for the most deviant night spots. "ZoZoMoNo" kicks the EP off in a truly evil fashion with ring-modulated acid dishevelment and a whole lot of on the fly effects processing, while "Dag" locks itself into a tribal thrum that places all the emphasis on the booming low end. There is some respite on the B side as "Cestoda's Labyrinth" allows a little more room for some synth lines and detailed percussion lines to enter the fray, before everything breaks down into a wonderfully slow death march on "Tap Dancing Goat Man".
Listen/buy vinyl
Tapes meets The Drums Of Wareika Hill Sounds – Datura Mystic (Honest Jon's)
You can always count on Honest Jon's to bring forth the most exotic selections on any given week, and this time around the London label is pitting cassette-loving upstart Tapes against The Drums Of Wareika Hill Sounds in a collaboration that first laid roots in the heart of Kingston, Jamaica. From an initial drumming session, additional flute and guitar parts were added to "Datura Mystic" by Kenrick Diggory back in London town, before Tapes was drafted in to contribute electronics and then dig deep for a dub mix on the flipside. The A side original is a beautifully lilting affair that drifts along on an expressive bed of percussion, while the dub remix turns up the pressure with a crunchy, rough-edged end result. Whichever side suits your mood better, both versions sport powerful transporting qualities that stand up to any roaming sound to be found on HJ.
Listen/buy vinyl