Jonny Nash – Phantom Actors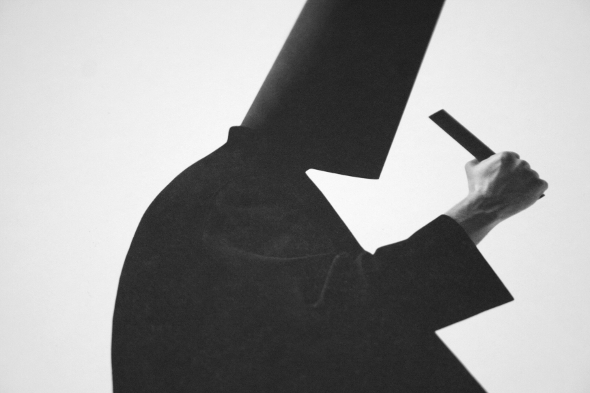 As the recent Gaussian Curve album proved, Jonny Nash seems to look at music making as a communal experience. He's perhaps most famous as one half of ESP Institute regulars Land of Light, whose eponymous 2012 debut album took densely layered, tape loop heavy ambience to new levels of rush-inducing beauty. Aside from this, he's also had spells in a variety of short-lived bands and one-off projects, from ESP eccentrics Sombrero Galaxy and Crue-L nu-disco combo Disco Session, to Thomas Bullock's alcohol themed Spirit Bear Mezcal Ensemble.
In contrast, solo projects have been few and far between. In fact, he has only one full solo release to his name, last year's largely impressive – but arguably patchy – Snaker 004, a collection of ambient, downtempo and Balearic sketches that placed his evocative guitar playing at the heart of the action. Quite why he's released so little solo music remains a mystery – certainly, if this debut solo 12" is anything to go by, he has the compositional skills and production nous to succeed on his own.
Phantom Actors is not only his first solo 12", but also marks the debut of his new label, Melody As Truth. He recently told Test Pressing that he felt a desire to "develop something of my own, something beyond the music", but his intention – for the time being, at least – is to keep it as a home for his own projects. In that respect, it's the start of a new chapter in Nash's career; his opportunity to step out of the shadows and show what he can do once and for all.
From the sound of Phantom Actors, the omens are good. Through his work with Kyle Martin as Land of Light, Nash has proved something of a master at creating evocative, densely layered ambient music shot through with a kind of sun-bright beauty. In fact, the Land of Light material was often so densely layered that it took the duo months to complete a single track. Phantom Actors has an altogether different feel; it's no less beautiful and atmospheric, it's just a little looser, with sparser production and fewer elements cluttering the mix. Notably, it's also rather melancholic, with certain tracks – most notably the heart-aching "Retreat", whose delicate piano refrain is almost breathtaking – feeling more elegiac than any of his previous work.
What really stands out, though, is the stunning simplicity of the five tracks. For the most part, they're made up of just a handful of elements; beautifully slow and emotion-rich piano, some drifting synthesizer chords, an electronic melody here and there, and a dash of Nash's trademark hazy guitar. In Nash's hands, these sparse elements sing, creating spine-tingling ambient mood pieces that stir emotions and evoke images. Both "Shallow Space" and the lazy "Vision Partially Obscured" – whose bluesy guitar solos feel like an audible nod to the more laidback work of original Fleetwood Mac guitarist Peter Green – seem to gently unfurl before your ears, as if you're hearing them being created. The same could perhaps be said of "Year of the Wooden Horse", whose soft chords, twinkling pianos and enveloping pads benefit from occasional bass pulses and a whisper of delay and reverb.
Nash only feels the need to get rhythmic once, on the EP's heady title track. The beats are played down in the mix, of course, and doused in dub delay, but their elegant shuffle adds much to the track's lazy Balearic guitars, claustrophobic pads and darting electronics. However subtle, this groove provides a focal point, something for Nash to build his guitar textures and twinkling pianos around. As a result, "Phantom Actors" is arguably the closest thing on the EP to Land of Light, and certainly the brightest – if you can call Nash's particular brand of enveloping ambient "bright". It's certainly beautiful, and is arguably the highlight of an overwhelmingly emotive EP.
Matt Anniss
Tracklisting:
A1. A Shallow Space
A2. Vision Partially Obscured
A3. Year of The Wooden Horse
B1. Phantom Actors
B2. Retreat