Various Artists – Ten Cities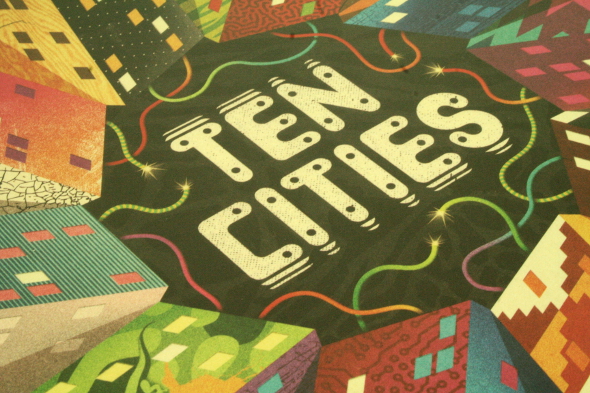 Epic is the word that immediately springs to mind when trying to describe the laudable Ten Cities project. Effectively a stab at grasping the global fusion zeitgeist by fostering links between musicians, DJs and electronic producers across two continents, its' aims run deeper. While this kind of cross-cultural collaboration is nothing new, it's rarely been tried on this kind of grand scale. Of course, it's the musical side of the project that will rightly grab the headlines, with this sprawling compilation on Soundway Records being the conclusion of a three-year process of cross-cultural studio collaborations and suitably celebratory parties and concerts throughout Europe and Africa. Ten Cities also encompasses research and academic publications focusing on the distinctive club scenes in each of the selected cities. A quick glance at the project website confirms the sheer number of people involved behind the scenes – not just 50 or so musicians, DJs and producers, but a similar number of researchers, curators and project coordinators.
The concept behind this project from Soundway is sound, essentially posing the question: what happens when you put together electronic producers from across Europe (Bristol, Berlin, Lisbon, Kiev and Naples) with musicians, vocalists and producers from the African cities Cairo, Johannesburg, Lagos, Luanda, and Nairobi? If Ten Cities is the answer, it might not initially feel as wild and adventurous as you'd expect, but the more you listen the more it's inner qualities rise to the surface. For the most part, the music does a good job in pairing distinctive African elements – percussion, traditional instrumentation, and vocals, in particular – with complimentary electronic music styles.
Interestingly, there are few moments that jar on the compilation, despite the range of styles covered – experimental hip-hop, smoky dubstep, punchy kuduro, and dreamy deep house, and some harder to define musical fusions all appear. It might take a while to get your head round it all, but it's worth the effort. Ten Cities is not without it's immediate anthems, most notably the alien kuduro of "Boom Boom Boom", Octapush's hook-up with Kenyan combo Just A Band, and the Jamaica-to-Africa-via-Bristol-and-Berlin dubstep bounce of Rob Smith, Jah Device and Sasha Perera's "Work!. There is also some fine deep house material, including, surprisingly, a 4/4 track from Bristol dubstep don Pinch, but it's the more unusual and compositions that hit home hardest.
"10 Henry Nxumalo Street" by Dubmasta, Hannes Teichmann and Leon Erasmus stands out in particular. Featuring the distinctive beat poetry of Afurakan, occasional blasts of discordant percussion, dub techno textures, bubbling electronics and sublime ambient chords, it's an unusual but brilliant chunk of cross-cultural pollination. Given his pedigree, its little surprise Ukrainian artist Vakula also impresses with the thrilling, Sun Ra style space jazz of "Jozi Sunset," a collaboration with Planet Lindela. Oren Gerlitz and Karun's "Orange Green" proves to be a fitting finale; a sparse exercise in electronic soul and one last musical twist on a compilation that's full of them.
Matt Anniss
Tracklisting:
1. Octa Push Feat. Isaac – Khuchende Halala
2. Pinch Feat. Temi Oyedele – Are You Coming With Us?
3. Dirty Paraffin Feat. Hannes Teichmann – Choborops
4. Lunabe & Djeff Feat. MC Sacerdote & MC Yola Noivada – Temedo
5. Batida Feat. Cannibal – Mama Watoto
6. Just A Band & Octa Push – Boom Boom Boom
7. Lunabe Feat. MC Sacerdote – Quero Falar
8. Rob Smith Feat. Jah Device & Sasha Perera – Work!
9. Wura Samba & Gebru_der Teichmann – Antere
10. Diamond Version, Bikya & Wetrobots – DV_BK_WR_01
11. Vakula & Planet Lindela Feat. Okmalumkoolkat, Thuli Mdlalose, Tshepang Ramoba & Moonchild – Ten Cities Masala
12. Perera Elsewhere Feat. Aremu – Ebora (Spirits)
13. Dubmasta, Hannes Teichmann & Leon Ersamus Feat. Afurakan – 10 Henry Nxumalo Street
14. Diamond Version, Bikya & Wetrobots – DV_BK_WR_01
15. Afrologic Feat. Aremu, Temi Oyedele & Wura Samba – Omode Mewa (Ten Little Children)
16. Vakula & Planet Lindela – Jozi Sunset
17. Oren Gerlitz Feat. Karun – Orange Green