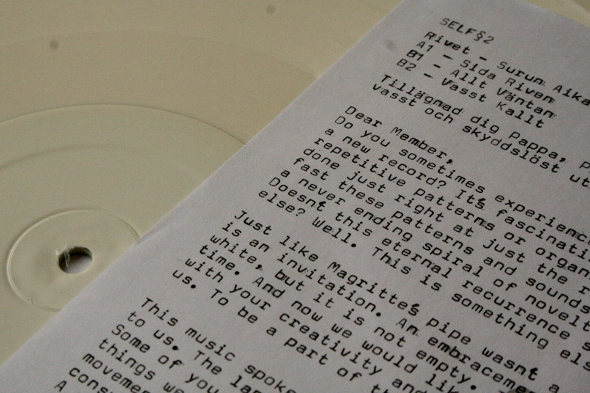 Keeping it Swedish as ever, Rivet makes just his second appearance of the year on this single for the Swedish Electronic Liberation Front imprint, following on from a strong first release for the label that featured fellow Scandinavian dirt-mongers Fishermen. With every release Rivet seems to reveal yet more sides to his multifarious sound while maintaining a dense and hard-hitting aesthetic. Increasingly (as was hinted at on his Bear Bile 12" for Kontra-Musik) he seems to be heading into a corner of techno more in line with early electronica than po-faced floor-focus, and it makes him all the more thrilling to listen to.
"Sida Riven" is a fine case in point, moving as it does in illustrious swathes of high-end production marked out by dynamic and thoroughly alien sounds that reach between organic and electronic qualities as if there were no divide between the two. From the outset it moves like a complex refiguring of electro that snaps and cracks with heavy-set synth stabs, sliced up chants and fiddly percussion, and then a most unlikely of vocal hooks swoops in to inject a strangely gothic lilt to the track. It sets proceedings up perfectly for the blissed-out meltdown of pads, which peal out in extravagant tones with a healthy dose of hands-aloft euphoria, yet never losing that ambiguous edge that makes Swedish techno so thrilling. It's a staggering production that calls to mind the detailed approach of like-minded souls such as Objekt and Lakker, even if the overall sound is resolutely Rivet's own.
There's no less amount of edit trickery and oddball imagination feeding into "Alit Väntan", which dazzles in its intro through a skin-crawling confection of rising bass, detuning synths and infernal filter gurgles. By the time the snare comes piling in, it's hard to fathom how such a complex arrangement can sound so vital and not muddied in the slightest, not to mention brimming with energy without resorting to a kick drum or hi hats. When so much else is darting around the mix, you don't even miss it, and truthfully the thrumming bassline that ruminates underneath the mix gives plenty of rhythmic drive to the track. Never has a build-up sounded so clamouring, intense and utterly thrilling as it does in the latter third of the track, feeding the mania of the music straight into your cerebellum only to take a side-step to continue the musical flow down a different channel.
If "Alit Väntan" kept you on tenterhooks throughout, the lead in to "Vasst Kallt" is even more unfathomable. What does finally emerge from the curious Scandinavian speech and skipping drums is a warm and playful strain of electronica track that hops around with the effervescence of Plaid, using cunning rhythmic applications to make the cheery synths bounce in a crafty waltz with the scattershot percussion pulses. Much like its predecessor, "Vasst Kallt" is not a track concerned with pace and energy as much as a meandering route through a rabble of jovial machines that sound very pleased to be playing with each other. It's a journey that ends up in a very different place to where it started, pieced together somewhat impulsively and unconcerned with losing people along the way.
The thing is, it would be hard to shrug off a Rivet track halfway through, so surprising and vital they are in their mannerisms. It's harder still to not derive personality from the tracks, for they exude it in abundance, and it's this that continues to elevate Rivet to a great height in the techno milieu. There's so much to take in with his tracks, you can feel confident in them standing the test of time when each returned listen will reveal another crafty element, a sneaky melodic touch or inspired hint of effects processing, buried in amongst a legion other equally noteworthy sounds. Nothing is thrown in for the sake of it, and while the first impression can be a little bewildering it makes the listening experience so much more enriching.
Oli Warwick
Tracklisting:
A1. Sida Riven
B1. Allt Vantan
B2. Vasst Kallt