Klara Lewis: Mood and Perception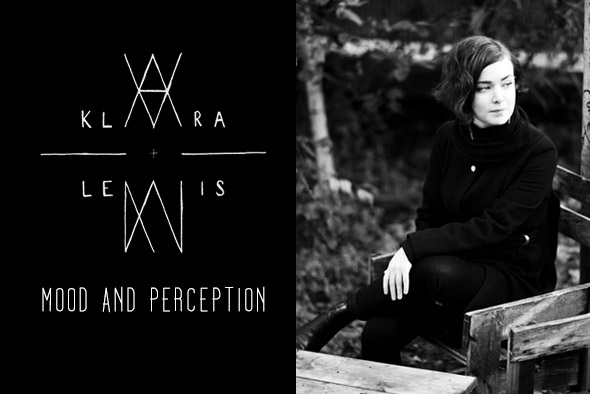 James Manning meets with Klara Lewis, an emerging Swedish artist reshaping the way we perceive field recordings in music.
Klara Lewis quite literally burst her way into electronic music by providing 2014 with a greeted shock to the system. Her debut opus Ett, released in April by Editions Mego, was a centrepiece for the label this year and the young Swedish artist's modest production methods stood tall next to the applauded technical expertise of renowned sound masters within her field. Artists like Mika Vainio, Atom TM and Fennesz, to Florian Hecker, Oren Ambarchi and Mark Van Hoen's rejuvenation as Locust; just some of the names to release on Peter Rehberg's label this past 12 months. And with her head still buried in the books and computer screens of her audio visual studies, Lewis's first official release, in a single swoop, courted more attention than the music of her aforementioned counterparts combined.
On a crisp Tuesday morning Lewis is sitting in London venue Café OTO early for this interview. The night before she performed at Birthdays, a basement venue only minutes away, sharing a bill for The Quietus headlined by Nik Void of Factory Floor. It was her third performance Lewis tells me as we move outside to take a seat in the sun. "I'm not very experienced," she says, "but I'm feeling confident…very concentrated." Lewis opened her London appearance with "Msuic I" from her self-assured Msuic EP, a track premiered by BBC Radio's 6 Music Recommends. "I think Mary Anne Hobbs said someone thought it sounds like a cement mixer falling down a shaft but it's actually just the sound you get when you're connecting your speakers to your computer," Lewis explains.
The basis of Lewis's music is processed field recordings. But as Peder Mannerfelt, an established experimental techno producer responsible for the release of her second record explained to me, "it's not in a way you hear and feel as though they are field recordings." Lewis shields the elemental middle of her productions with an industrial outer shell of musique concrète, combining tonal ambience with organic textures of refined found sounds. "The way I work is just trying to listen all the time, walking around," Lewis explains. "If I hear some tone or texture in a sound I'll record it and try to extract what caught my ear, and just build from that."
Her setup is simple. Her music dense as it is weightless. And although the concept of transforming field recordings into arranged music is not new, Lewis's artistic originality cultivated by academic practice makes her music inherently unique. Furthermore, at two releases young Lewis finds herself in the spotlight on top of being eased into the European festival circuit next year beginning with Berlin's CTM.
This isn't to say however Lewis is a stranger to larger scale performance. She took part in iDEALFEST this year at Göteborgs Konsthall, a Swedish centre for contemporary art. Set up by Börft Records co-founder Joachim Nordwall, sole founder of iDEAL Recordings, "this was his ideal fest," Lewis explains. "There were six acts, all female, and what was really great is he didn't make a big deal out of it, calling it something like ladies night," she says. "He was like, this is a good bill, we're doing this, and it just happens to be all female." Lewis makes it clear putting her own name, not an alias, to the music she makes is a conscious decision. "I'm a woman doing this," she says. "Some people really can't accept it," Lewis continues, "and people ask, do you also sing? And I'm like, no, it's only the music." This, however, didn't stop one radio station introducing her as, 'Klara Lewis, the son of Graham Lewis'.
Her father, Graham Lewis, is the bassist in '70s-formed British punk band Wire, who made their name on labels like Rough Trade and Mute. Although Wire is still a going concern, Graham Lewis reignited his solo career this year with two long players for Editions Mego, All Over and All Under. "It's really special because those two albums are made of material he's been working on for seven years," Klara Lewis explains. "So some of those tracks are things I heard him working on before I started working in music," she says, visibly awed her father's music for Editions Mego was released after her own. Lewis adds, "It's really weird, I wouldn't be doing what I am doing now if his material hadn't been developing back then."
Unlike most, Lewis is graced with very hip parents and she says, "I have been really rubbish at rebelling." Like a lot Swedes of her generation she remembers listening to The Knife, a band which led her to discover the surrealist works of Aphex Twin and film director David Lynch; people she would hear her parents talking about. "I went home and asked about them," she says, "and they were like, 'yeah', we should watch this (Blue Velvet) and listen to this (Selected Ambient Works 85-92)." Years later, Lewis adds, "it was a wonderfully surreal experience," when her music appeared on Swedish national radio between Aphex Twin's "Rhubarb" and a Twin Peaks sample of Agent Cooper.
If you've watched Blue Velvet like Lewis did, or heard tracks like "Gwarek 2" from Aphex Twin's Druqks then these inspirations become all the more clear, but like Lewis explained in another interview this year, she initially took interest in filming things because of how they sounded. "I didn't understand that at first," she says. "I just noticed that when I was looking through the material when I was making a school project." An image on her website shows Lewis recording the murmur of a Portuguese cornfield. "These reeds," she says, "sounded a bit like voices, almost, the way they were colliding with each other." Naturally travelling is reason for Lewis to record what she describes as "a world very different from Sweden."
Sonic flavours captured in Istanbul can be heard on "Meuzzin" from Ett, and Lewis says, "your senses are more alert than when you're at home in your usual environment." But Lewis is quick to assert, "even though a lot of my important recordings are made during travels, I feel like it's not that relevant where the sounds come from, it's their content…" A loud crash echoes from a construction site across the road interjecting our conversation with a bang. Content like that I ask. "Exactly," she says.
Another track from the album, "49th Hour", has a different kind of context, the kind you would only know having been told the story. Based on recordings of trains, this track is a bi-product of spending two days at a Stockholm sound installation called freq_out. Attendees are invited to spend the night (and up to 48 hours) in the city's modern art museum, which Lewis did. "It's a project where a group of 12 artists are allocated frequency spectrums to compose in," Lewis explains. "Each room had different lighting, so there was a completely red room, a blue room…" Lewis remembers. These compositions are then combined and amplified to create the one sound installation or performance, or as Lewis describes, "a very special experience." Following this, Lewis recounts, "I was on the train home from that and I recorded the train's loops after being spaced-out… All of the loops had different links, so they kind of changed every time they came around."
"My main interest when making these tracks is trying to capture a mood, but to leave it quite open to what people may perceive," Lewis says. Visuals are more than an accessory to her live show Lewis clarifies, making it clear the moving images she projects are not a beeline to assist her audience in translating what the music represents. "I try and work on a more abstract level so people can still have their own take on what the song is about," she says. "To hear that one person can think something is really peaceful and positive and someone else can think it's disturbing and nerve-racking," Lewis feels, "is a really interesting space to work in," she says. "The in-between space."
Adding muted development to Lewis's ambiguous narratives is Peder Mannerfelt, one of Sweden's most prominent techno producers excited by her music. It's a great mix to be with Editions Mego and getting in touch with a more arty scene," she says, "and then Peder who's more techno." Mannerfelt, known to labels Digitalis and Paul Purgas's We Can Elude Control, is also an accomplished producer in the traditional sense, working extensively with Karen Andersson of The Knife, while helping produce Blonde Redhead's Penny Sparkle album and other works for English jazz and funk band Melt Yourself Down and Swedish indie rock group Shout Out Louds. "There's definitely a sense of mentorship," Lewis says of Mannerfelt who not only released Msuic EP on his own label but helped to mix down the music too. "He has a lot of skills that I don't know anything about," Lewis says, "I've been working on my laptop and I have a lot to learn production wise so it's been great."
One future collaboration Lewis reveals she'll be involved in is with British actor and Mute associated musician Simon Fisher Turner and French modern classical and ambient composer Rainier Lericolais (most recently known for his Sylvain Chaveau collaboration on the label Type). Together the three will create a foley-inspired soundtrack to the silent 1927 black and white film Berlin: Symphony of a Great City. Based on field recordings from the German capital, audio will be played live and in sync to the film's screening. Lewis also suggests there may be some joint Graham and Klara Lewis material on the way too.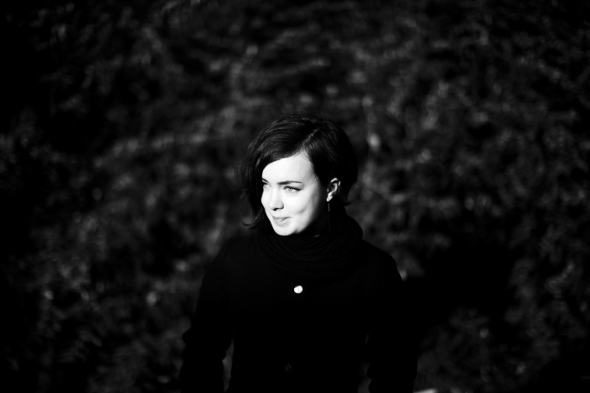 Right now Lewis has everything in front of her and when I ask how she's feeling about it all the response is a chipper "it's extremely exciting." Why? "Because everything is so fast and I'm kind of starting out at a pretty high level at good venues," she says. "I haven't had much of a learning curve, it's been me diving into it all trying to handle everything," tells Lewis. Initially, she adds, her main interest was simply making music, but then "people started asking about the live possibilities."
"I just felt like, well, this will probably be really scary and I'll be really nervous and it's difficult to figure out how you're going to handle it live with the electronics on stage, but it just felt like a really good thing to step out of my comfort zone and learn," Lewis explains. "It's not like I'll just stay at home and make my sounds and be a timid girl or whatever," she adds. "Because if those guys are doing it I might as well do it too."
Interview by James Manning

Black & White photography by Tom Medwell / Live photo courtesy of Erik Wistrand
Msuic EP by Klara Lewis is out now on Peder Mannerfelt Produktion