Juju & Jordash – Clean-Cut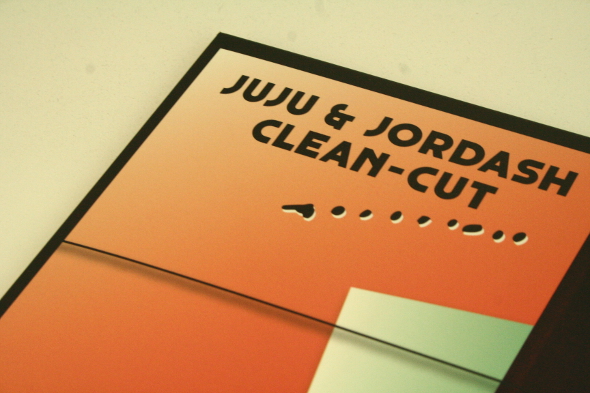 With a title like Clean-Cut and a confident statement about "not hiding behind a hazy screen of FX", you would be forgiven for wondering if Juju & Jordash were heading for some kind of smooth, Balearic yacht confection on their third album proper. Perhaps those countless smoky sessions summoning up deep techno incantations with Move D had finally tipped them over the edge and they made a dash for less woozy climes? Breathe a sigh of relief then as the title track kicks off the album with gusto and a chunky drum machine meets some snappy synth lines with all the rawness you would hope for from such well-schooled hardware heavyweights. Of course the duo's reference to their approach on this album was more about a direct kind of composition and production style, not a complete change in tact, and after the flurry of ideas and experiments that melded into Techno Primitivism, it's no bad thing to find the pair punching their ideas out into fewer but more fully realised tracks.
There's still plenty of room for heavy FX processing and a good few tangents within the tracks. "Clean-Cut" alone plays out like an electro epic, moving through different passages but always held together by the central theme of a strafing bassline. The panpipe synth coos are the closest the track comes to any kind of 80s linen-suit, boat-shoe-friendly easy listening. After the gutsy opener, "Schmofield" heads into a meditative wonderland full of Theremin-like warbles and exotic chord stabs. A dizzying array of meandering synth and basslines interweave through the course of the track with a lilting eastern mysticism, ever-steadily building towards the peak which turns out to be a distorted, straining guitar run through a pitch shifter and tumbling out in free-flowing jazz abandon. Fully realised and immersive it may be, but Clean-Cut it most definitely ain't.
"Whippersnapper" meanwhile jacks like the next logical step on from an LFO-style Yorkshire bleep n' bass beast, most notably in the spooky key lines and motoring bassline, but of course there's a lot more in play sonically here. Whatever the case, it's a full-blooded dancefloor cut that positively bristles with the spread of sounds and the classiness of the production. If "Whippersnapper" seems dynamic in its approach then "DeadwoodCity" is an even more flamboyant proposition. It may start with a fairly sparse arrangement but it doesn't take long to flourish into a swirling, psychedelic melee of hiccupping voice samples, celestial keys, sweeping pads and vibing chords. It's cosmic techno as beamed in from an entirely other place, which is largely what the genre was always supposed to be about.
Not every moment on Clean-Cut is as discernibly locked into a dancefloor pulse. "Maharaja Mark" is a nail-biting piece that conjures up straining VHS memories and soundtrack groans that move through a variety of atmospheric conditions, buffeted by snaking arpeggios but by no means in thrall to them as towering scrapes of industrial texture and tone wrangle out the dramatic message of the track. "Eventide" takes a detour into aquatic electro techno of the early 90s kind and then injects the wide-eyed environment with lurid swells of 80s-flavoured synths; it's a curious combination that works a treat with the kinds of chord stabs and harmonic constructions that Juju & Jordash favour.
What stands out the most about Clean-Cut is that such recognisable sonic traits are woven into the music, and yet through the composition, production and downright adventurous spirit everything sounds so dazzlingly fresh. It's hard to say on reflection of the whole record that it feels that trimmed and toned in comparison to earlier works of the pair. If anything these lavish long form tracks give the perfect opportunity to pirouette off into the creative whirlpool of Juju & Jordash's collective imagination; there's no point where a track drags or stagnates, and in those longer journeys the greater surprises are to be found. In that sense, and despite its immediacy, this is an album that will continue reveal plenty for a long time to come.
Oli Warwick 
Tracklisting:
1. Clean-Cut
2. Schmofield
3. Whippersnapper
4. Swamp Things
5. Deadwood City
6. Maharaja Mark
7. Wheeze Please
8. Anywhere
9. Eventide
10. SP Shakes (CD bonus track)