Machinegewehr – Carradine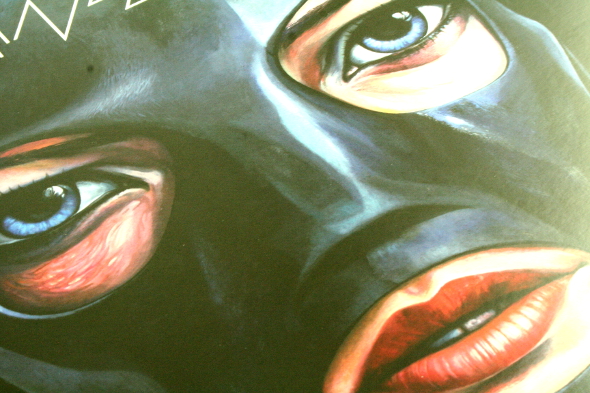 It's been a year full of Italo anthems, many of which have appeared on Bordello A Parigi – but is there a danger that the label is spreading itself too thinly? The Dutch label recently set up a house-focused sister operation called Bitter Moon, and as we reach the latter stages of 2014, the releases keep coming on the mother label. Following on from Carradine, there is a third installment of the excellent Riviera Disco series in the pipeline featuring the inimitable Fred Ventura. So can the label keep on landing the hammer blows?
The answer isn't straightforward; while this writer will tackle the third Riviera release again, let's look at Carradine. Unlike Machinegewehr's debut on the label earlier this year, the follow-up is more reserved. The vocals are kept to a minimum and don't contain the kind of hum along lines like Gees Voorhees' ice queen refrain 'the alcohol is burning' from "Abhinanda". Instead, the unnamed vocalist is relegated to the background to make observations like 'we smell good' on occasion.
The backing isn't as immediate either, with Machinegewehr drawing on the off-beat clank of the electro 808 instead of straight, streamlined Italo beats. That said, the title track is remarkably catchy; the filtered synths are fused with squelchy bass pulses and then pushed into a dreamy break down after break down.
"Guarding the Frontiers" is heavier and clubbier, and sees Machinegewehr flirt with a menacing EBM-style bassline. Is this somehow linked to the woman on the cover with a black eye showing under a leather S&M mask and are Machinegewehr trying to explore darker iterations of Italo? It's hard to tell because despite its sadistic veneer, "Guarding Frontiers" is also full of shimmering melodies that are crying out for Voorhees' vampish presence. In her absence, we'll have to assume that both Bordello A Parigi and Machinegewehr are taking a break before the next onslaught of Italo anthems.
Richard Brophy
Tracklisting:
A1. Carradine
B1. Guarding The Frontiers