Vessel and Ossia launch FuckPunk label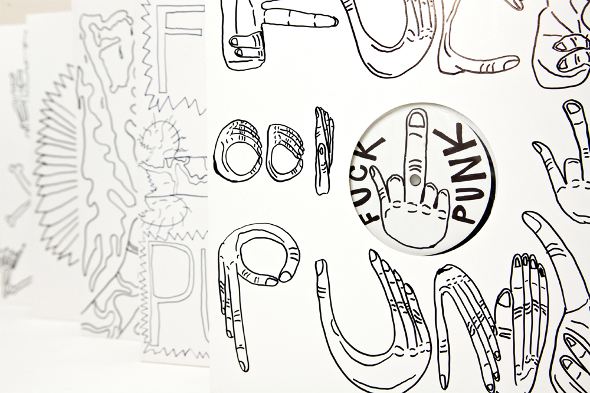 The Bristol pair's new label will be devoted to music "hard, fast and sludgy as fuck".
In case you thought Bristol couldn't squeeze in any more niche labels alongside the likes of No Corner and Hotline, another has appeared promising to fulfill the need for music "hard, fast and sludgy as fuck". As Tape-Echo reports, FuckPunk is the new endeavour from Young Echo members Vessel and Ossia, "instigated by a slap round the head from the old man, and a firm squeeze of the bum by the ancient grandma, yelling – 'Get off your ass and stop making vanilla music, it's time to sort your shit out and get real'."
The label's first release – which can be previewed below – is a collaboration between Vessel and Ossia's DJ Ape and DJ Oa$is aliases, with illustration provided by Young Echo cohort Neek. It comes on a 12″ limited to 250 copies, and features a locked groove and "a shit etching on the flip." The title – Sleng Again – looks as if the label will make good on its promise to take us from "'Pulse X' to 'Bob Marley', from the drum machine to the distortion pedal, from 'Sleng Teng' to 'Stairway To Heaven'."
Future releases include the Pulse Marley 5″ from the unheralded Bob X, records from MX/LX, Giant Swan and The Bots, and a release that sees Vessel on one release together with Ike Yard's Stuart Argabright and noise musician Pete Swanson. The label states it will be releasing music on "5", 7″, 8″, 10″, 12″, tape, CD, iPod, iPad, Ishuffle, my first sony + whatever else," though we'd expect a few of those to be taken with a pinch of salt.
FuckPunk will release Sleng Again on 12″ vinyl in late November.
Tracklisting:
A1. Sleng Again
A2. Sleng Again, Again
B1. Sleng Again & Again [Locked Groove]
Header image courtesy of Tape-Echo.