Making Transitions: The Evolution of Marco Shuttle
Marco Shuttle discusses his thoughts on techno, a growing relationship with Donato Dozzy and the methods behind his new album Visione.
Whether it's a movement catering for the screen-glare desk chair generation of ravers or a scene of subterfuge infecting edgy festivals and brave club nights, it's been hard to miss the rise of confrontational, experimental house and techno as a modus operandi for producers these days. On one level you have the proudly grubby finish of L.I.E.S and such similar box-jam bangers, on another you can find the subconscious-plumbing meditations of Donato Dozzy and a legion of deep techno explorers. Those may be just two sub-generic prongs of a many-headed beast, but Marco Sartorelli certainly holds a literal and aesthetical allegiance to the latter camp.
His debut album, Visione, is arriving via his own Eerie imprint following a rapid ascent amongst the cognoscenti of contemporary techno artists, and his achievements in the past few years have included the pre-requisite gig at Berghain as well as releases on Clone, Time To Express and The Bunker New York. Such signifiers should shape out where his sound fits in to the wider geography of stylistic traits in techno, and at this point in time he finds himself to be part of a considered movement away from monotony and predictability, seeking to test what techno means and what it could be.
"I perceive techno as more of a musical expression rather than a tool to make people dance," Marco explains as we talk a month before the release of Visione. "I think at the moment it's a very interesting time for this kind of music because there are actually a lot of people that are bringing this sound to a different level and there are much more interesting crossovers than a few years ago. I think at the moment it is such a huge blender of different influences and there is a lot of industrial, a lot of psychedelic jazz elements and a lot of producers who are still gravitating to an electronic techno orbit let's say, but really doing something else with this kind of music."
It's an attitude that Marco has certainly applied to his own craft, building on a burgeoning legacy in more subtle strains of serious techno by cutting free of generic limitations and switching his angle of approach in the studio.
"I started listening more to influences other than techno music in the last few years," he states. "I've been really exploring what my inspiration is, and at some stage, after Labyrinth especially – which was a really inspiring experience – I said, 'OK, I really want to start making music getting away from that template of four to the floor groove'."
What started as a few experiments with a focus on textural sounds gradually bloomed into more than an EP's worth of material, with Marco's tentative steps into this uncharted territory assured and affirmed by using Donato Dozzy as a sounding board. From meeting at aforementioned Japanese techno festival Labyrinth the two Italians struck up a friendship borne of mutual ideas about music, eventually leading to Dozzy contributing to "The Chaos…", the first track on Visione, as well as giving rise to Anxur, a collaborative project between the pair that has already yielded a two-track 12".
"On the album [Dozzy] definitely was a reference for me to understand whether what I was doing was good or not," Marco explains. "Somehow my connection with Donato is quite important for me in terms of the final result of the album. We think alike musically, we are very complementary, and he made me more confident of what I was doing."
As should always be the case in times of experimentation, Marco was not thinking in terms of a specific album goal when he first started down the path ending up at this point, and it was only through the insistence from Dozzy that there was indeed "really good album material" that he started to consider working on a bigger release. However, once he was fixed on that idea, he ran with it.
"I've always found albums from techno artists pretty boring in a way," he states. "I don't really want to do a predictable techno album where you do four or five four-to-the-floor tracks with some two to three-minute silly ambient tracks in between. The whole idea was, 'let's do an album that makes sense as an album'."
In many ways Marco's progression has been a logical one over the course of his releases, gradually deepening out the well-dwelling nature of his productions with ever increasing reverb decays and more obtuse textures taking over from straight-forward melodic content. A track such as "Modula" on the first Eerie 12" may have sported warm, musical qualities, but by the time Marco reached the Simmetria Delle Stringhe EP there was already a darker alchemy to his music.
"That kind of atmospheric, slightly cinematic soundscapey approach is also quite a current in other stuff I do," he concurs, "and of course with the album you want to take those aspects to a more extreme level."
There is certainly a patient unfolding to the sound of Visione, and the releases before it. Tracks don't peak and trough as much as ooze their respective audible wares out across the timespan, and it's an approach very much in line with that undulating wormhole techno sound spearheaded by Dozzy et al. Marco's release on The Bunker New York demonstrated this to devastating effect, managing to wield tough, borderline industrial elements and yet create an overall effect that was hypnotic and strangely soothing, thanks to repeated mantras that gently buffet you along through the course of the tracks.
"Modulation is crucial, the way I morph the sound during the length of the track," Marco says. "It's one of the key elements of the way I work. My tracks always have the same sound usually starting from the beginning to the end, but those sounds kind of transform during the tracks, and that creates the narrative of the music. That's why I tend to like pretty long tracks actually."
That's not to say there aren't moments of cunningly crafted drama in his work. Far from being a monochromatic blur of metallic clangs and icy tones, there is always enough colour splashed into the mix to breathe life into his music. "Elephante" looms large over the album in this sense, perhaps symbolising the peak of Marco's evocative ambitions, and it's largely down to a monolithic set of horns that peal out over the track. In its melodic progression there are enough twists and turns to keep the most impatient of listeners attentive.
"I guess "Elephante" is maybe the most cinematic track of the album," Marco muses, "and I do use trumpets and brass as sounds quite often in my productions. I guess there is some reminiscence of Ravel's "Bolero". Since I was a kid I've been completely obsessed with that piece, so I think it kind of came back a little bit on this track with that majestic pace and build up."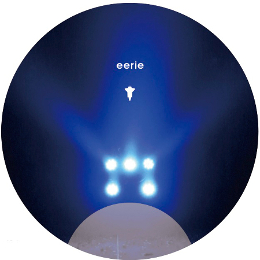 Such vivid and positively daring creations seem in some ways removed from the early days of Marco's musical life. He moved to London around the time of the minimal techno boom, forging connections with the Süd Electronic crowd and hosting his own Sunday session at Café 1001, but after a couple of releases on MiniSketch and Serialism most would agree that the name Marco Shuttle started carrying weight after "The Vox Attitude" dropped. Appearing on little known label Färden, it was one of those moments of confluence where a sharp idea fell on the right ears and prefigured a sound that dancefloors were positively itching for. With its hooky vocals and unbridled techno energy, it was a runaway success.
The reaction to "The Vox Attitude" was "a complete surprise," Marco insists. "I would say it was a diversion a little bit, and that warehouse-y, vocal, '90s sound at the time was just starting, so it probably came out right at the time, but it's still very interesting to try to understand how these kinds of things happen."
"To me what I've done since "The Vox Attitude" is much better musically than what I was doing then," he continues, "but that doesn't mean more people are gonna buy it. At the same time, although that's my most famous track I think I've built more of a sound style on later releases. I'm not a denier though, I love that track. It gave me so much!"
It's certainly fair to say that Marco's reputation as it stands now is not forged on the kind of 'bomb' that "The Vox Attitude" was, and that's testament to the artistic determination he has exercised since. Undoubtedly opportunities came his way as a result of the popularity of the track, but he also acknowledges that he is not making music for a living. With another life outside music as a fashion designer, Marco has always been free to create according to his own whims.
That self-determination in some way feeds into the decision to self-release Visione on Eerie. "I came up with the conclusion that to do it on my own label was the best," Marco explains, "and I can see that this decision has been right because it is bringing attention to my label. I think in the future I would like to make my releases exclusively on my Eerie label unless something really crazy comes up from a label I love. It created a sense of belonging to Eerie and what I started with this label."
In conversation it feels as though Marco is gradually accelerating in contrast to the measured pace of his music. His new-found creative sparring with Dozzy has already yielded another volume of The Anxur Takes ready for release, while the renewed vigour of his solo work that eventually manifested in Visione has left him hungry to delve straight back in.
"I didn't do this for the album," he says of the fresh approach, "it's also for me. I wanted this to take me to another point of view, which it did. I almost want to start working on another album again because it was such an immersive experience. A different way to build tracks. Different techniques. Different starting points. Different ending points as well."
Interview by Oli Warwick
Visione is out next week on Eerie