Various Artists – Rhythms Of The Pacific Volume 1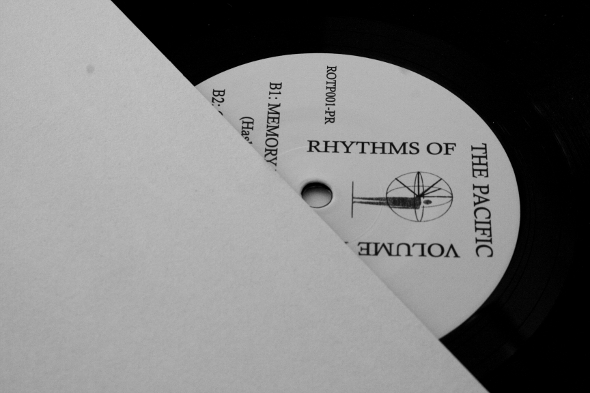 It would be foolish for an outsider sat at a desk across the Atlantic to proclaim any sort of movement happening in Vancouver right now, but it's clear there is a certain vibrancy among the Canadian city's underground resulting in some excellent music. Pacific Rhythm is the latest label to highlight this strain of talent, borrowing artists affiliated with both Mood Hut and 1080p for a fine debut 12" in Rhythms Of The Pacific Vol 1, the first of several planned split releases.
Whilst rumours of Lnrcdroy's masterful 1080p tape Much Less Normal making the transition to vinyl remains just that for the time being, one of its highlights opens proceedings here in newly extended form. Originally three minutes long, "Sunrise Market" was as brief as it was blissful, and aside from extending the track to almost double its length little has changed. And that's a good thing, as Lnrdcroy doesn't need to mess with perfection.
By way of contrast, "Time Zone (Mix 2)" finds the rising talent stripping away the sumptuous and focusing on a bare to the bones club groove, the closest you'll get to a functional dance cut from the Canadian Riviera. It's a track first heard in Lnrdcroy's excellent debut live set recorded at Vancouver night Hotline earlier this year, and given Campbell's stated preference for "trying to create new material for each show" kudos must go to Pacific Rhythm for coaxing it out of him for release here.
The increasingly ubiquitous Hashman Deejay makes his presence known on the flip with a wonderfully crunchy Kassem Mosse-style Libra Dub take on "Memory Man", a collaboration between the unknown Memory Man and local urban recording artist Young Braised. Those that criticise Mood Hut for being too New Age will no doubt reassess such an opinion after getting beat in the gut by the Hashman's ricocheting kick drums on this track. Much the same could be said about the slab of hazardous acid from fellow Mood Hut artist Cloudface which closes proceedings; there is a glorious disregard for subtlety here, as "Panter Bleu" inevitably explodes into full-blown 303 madness in a manner similar to a can of beer shaken vigorously then popped.
Tony Poland
Tracklisting:
A1. Lnrdcroy – Sunrise Market (Extended Version)
A2. Lnrdcroy – Time Zone (Mix Two)
B1. Memory Man – Memory Man (Hashman Deejay Libra Dub)
B2. Cloudface – Panter Bleu