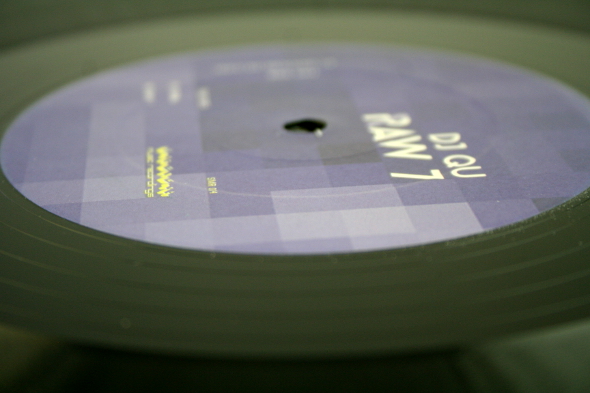 There is a patience to the release of Ramon Lisandro Quezada's music which is befitting of the sounds contained within. Rather than a dizzying salvo of fresh material charting the artistic peaks and troughs of the producer, a gentle trickle of timeless material bolsters the cohesive body of work that Qu has built his name on since first emerging some eight years ago. This is not to say he is a static artist, but rather one that seems unmovable against the whims and trends of contemporary house music as he pursues his own singular, otherworldly vision.
So comes forth the latest single on Qu's own Strength Music, marking his first release of 2014 and a very welcome one at that. "Untitled (Hi-Life)" spreads itself over the A-side with the bold characteristics of a lead track as it winds its way through a summery melodic concern with a nod to the exuberance of the Ghanaian music referenced in the title. Indeed the central synth hook shapes out the identity of the tune, calling out an upbeat phrase which could well suit long balmy evenings on open-top dancefloors. Compared to the moody subtleties of much of Qu's output, it's a stark message of unbridled positivity to which anyone can relate. Around this hook are the elements that give Qu his distinct style, from alien gurgles to erratic percussive scrapes and very subtle slithers of guitar string twang. It's always the sonic decoration that injects his music with that infectious out-there spirit, and here there are even distant wails of vocal and tumbles of congas to fuel the roots message contained within the thoroughly modern construction.
Moving to the B side, "Soma" reaches more to the subliminal through its dubby strains and hypnotic rhythmic interplay. It's the kind of approach to deep house that leaves most allusions to 'depth' feeling paper thin and saccharine, as he sheds any need for emotive melodic constructs in favour of subtle tones and immersive reverb. What is more remarkable is how thrilling a listen "Soma" is despite speaking on such a subconscious level, with the undulations of percussive elements and a delicate three-note refrain sending a shimmer down the spine when it breaks into the calming mists that spell out the exoskeleton of the track.
"Raw 7" brings an altogether different kind of energy as it marches briskly into a nasty techno synth line and an urgent thrust of drums. This is Qu in rave mode, opening up the filters for energy rushes and tweaking the delay on the fly to let the locomotion of the hi-hats flutter in the appropriate places. That central synth rules the roost though, ensnaring your attention as it snarls out a simple and deadly intonation to lose your shit and submit.
Records like this remind you just how diverse and adaptable a producer DJ Qu can be. At times, from a distance he can seem more regularly locked into the kind of shamanistic minimalism that "Soma" imparts, but from the upbeat message of "Untitled (Hi-Life)" to the bristling energy and guts of "Raw 7" this record perfectly demonstrates he knows how to sock it to the dancefloor with the best of them. One way is certainly not preferable over the other, so when you get a spread of the styles across one record you can consider yourself very lucky indeed.
Oli Warwick
Tracklisting:
A1. Untitled (Hi-Life)
B1. Soma
B2. Raw 7