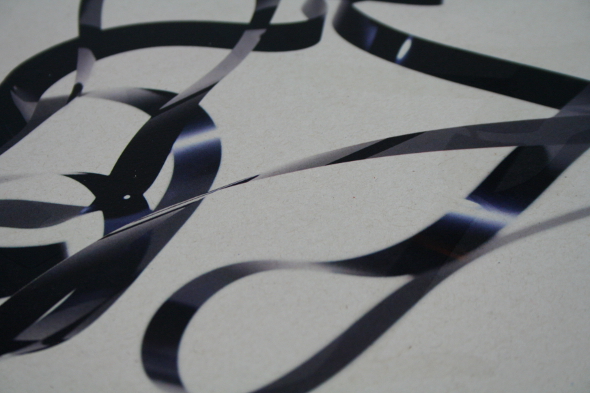 Though his tracks as Objekt probably make most producers green with envy, writing music doesn't come easy for TJ Hertz. He has spoken in the past about his tortuous production process, and each track he makes being comprised of "scar tissue" left by up to 80 iterations of the same track. His first record was something of an accidental hit, comprised of two dubstep pastiches borne out of being stuck in a techno rut. For better or worse, these frustrations and accidents are an intrinsic part of what makes Hertz's music what it is; he's very much the antithesis to stern techno functionalism, an obsessive producer who consistently creates the kind of intelligently jaw-dropping moments that are all too rare in the genre.
Despite expanding Hertz's signature sound into more varied and immersive places, his debut album Flatland doesn't sacrifice what makes his music so great – a feeling of being bombarded with precision salvos of exquisitely punishing sound. As techno albums in 2014 go, it's matched only by his close friend Call Super's Suzi Ecto in terms of sheer imagination, weaving its fair share of expectedly brutalist, pneumatic rhythms together with high-resolution and electro-acoustic tones. It doesn't feel like a coincidence that one of the tracks is called "One Stitch Follows Another"; each track feels as painstakingly put together as someone creating an elaborate techno tapestry, angular in close up and impossibly broad from a distance.
However, Flatland is more than just an exercise in structural trickery. The connections to '90s IDM are there if you want to hear them, but the album's aesthetic feels equally like a deconstructed take on classic Detroit electro. For every stitch being threaded, there's another two that feel like they've been unpicked, leaving Hertz's precarious structures rippling like the magnetic tape on the album's cover. Often Hertz's meticulous arrangements feel as if they're on the edge of shaking themselves apart completely; the algorithmic bleep of "One Fell Swoop" sounds like it's about to be derailed by a faulty set of stabilisers, while "Ratchet" sounds as if he has forcibly attached a warp drive to the back of a Drexciyan wavejumper. Hertz's singles have always been dramatic, but there's an element of unpredictable danger running throughout Flatland at odds with his comparatively ordered singles, and it makes it all the more thrilling.
There's also a new-found lack of reliance on making straight-up club tools throughout Flatland, something Hertz suggested to Resident Advisor recently was part of a loosening up of his creative process. Realising how much he'd come to rely on making straight-up club tracks and working against it has given rise to moments like the abstract Parmegiani-meets-Emptyset structure of "Agnes Revenge", the churning half-step of "Dogma" and tense concrète of "Cataracts". They're far from the kind of lazy experimental tracks populating many techno albums; each is as expertly crafted as his club-focused tracks and marked out by the same microscopic precision and diamond-edged beats – albeit with stranger, more malleable textures churning underneath.
Flatland certainly isn't short of classic Objekt moments where the music reaches terminal velocity or kicks like a mule, but it's this unsettlingly odd reservoir of high-resolution plasma behind the clockwork that really gives Flatland its character. This underlying weirdness occasionally breaks to the fore more explicitly. Hertz may have described 2011's "Unglued" as "quite silly", but Flatland has its own silly moments, like "(Whodunnit?) (interlude)", a track that sounds suspiciously like a cover of Skream's "Midnight Request Line", and "Second Witness", whose Swiss watch mechanism is thrown out of phase by rubbery synths and quivering percussion. Hertz might look on Flatland as equally as silly as "Unglued" in a few years' time, but thankfully for the rest of us, it's full of the idiosyncrasies that make him one of techno's most brilliantly inventive figures.
Scott Wilson
Tracklisting:
1. Agnes Revenge
2. One Fell Swoop
3. Ratchet
4. Strays
5. Agnes Apparatus
6. Dogma
7. First Witness
8. Interlude (Whodunnit?)
9. Second Witness
10. One Stitch Follows Another
11. Cataracts