Roger Semsroth: We Are Not Machines
James Manning discusses Sleeparchive, Skanfrom, Hard Wax, real ale and minimal synth with Roger Semsroth.
As a techno music devotee a trip to Berlin is either a recent memory or about to happen. Some of those travels will no doubt include a venture to Kreuzberg record store Hard Wax, and several years ago I remember waiting patiently, timidly, trying to make my silent presence known to the clerks I was ready to buy a chunk of records. Before any transaction took place it was made clear without so much as a look that one of the clerks (Roger Semsroth, aka Sleeparchive) had to finish what he was saying to the other (DJ Pete) before my existence was recognised. Once their conversation slowed DJ Pete turned in my direction, looked at the records I had held behind the counter, and to clarify he'd chosen the right stack of vinyl to process, unhurriedly, with a discerning raise of the eyebrow, referenced the 12" on top.
Among those records, unbeknown to Semsroth, was his own 'Interpretation' of Monolake's classic "Plumbicon", and three years since my fleeting non-encounter with Sleeparchive, Semsroth explains to me in an East London ale house, "it's like what people say about Hard Wax: it's an institution. Go to Hard Wax; then people sometimes get treated like shit because someone's had a bad day behind the counter." It would be precious of me to say Hard Wax were rude, but the exchange was slightly intimidating, which, Semsroth says of the shop's demeanour, "is OK because we are not machines."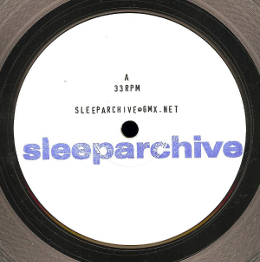 As I presumed, and later found out, Semsroth and DJ Pete are good friends – "he is techno," Semsroth cracks about DJ Pete – and together they perform as TR-101, a live act whose music remains unreleased. As for Semsroth himself, the Berliner is best known for his work as Sleeparchive, a bleepy, monotonal techno project born in 2004. Since his first Elephant Island and Recycle EPs, and the Chinese whispers surrounding who Sleeparchive was, Semsroth, in 2014, is one of techno music's most respected figures. But before Sleeparchive, in fact, before Semsroth could even say he enjoyed techno, he made simple, toy tone arrangements and child-like melodies as Skanfrom.
Usually seen in a swampy coloured Hard Wax crew neck, I met Semsroth the beer enthusiast sporting a black Joy Division t-shirt which I'm told is now far too cliché to be worn in Berlin. "Germans love pils," he says looking content with a full handle of pale ale in front of him, and after a sip, he adds, "I'm really bored of pils, I like this much more, I like to have the taste of beer in my mouth for the next hour." It was here any suspicion I had of struggling for conversation with a perceivably reticent techno producer faded, and instead, with Semsroth's group of friends sitting at the table next to us, our conversation flip-flopped from interview to casual pub talk with some techno thrown in.
"I'll give you a 100 per cent maybe," Semsroth responds to a question I ask about Sleeparchive being a matured manifestation of his early work as Skanfrom. "For me it's easier to make a Skanfrom track because I don't come from techno," he says. "So sometimes when I do something (as Sleeparchive) I have no idea; is it good, or is it really shit." Semsroth's voice of reason? DJ Pete.
"I can understand that people can get a bit bored when I make something because I don't reinvent the wheel," Semsroth suggests of his work as Sleeparchive, but on the other hand, he adds, "this isn't my motivation, really, just making music is so much fun." Semsroth freely tells it was the bleeps of Mika Vainio and Plastikman (and later Jeff Mills) which inspired his music as Sleeparchive, but for Skanfrom it was the Rephlex and Skam labels, and in particular Italian artist Bochum Welt.
"I have a reference to Bochum Welt on the new record," Semsroth reveals. "He did one track on Rephlex called "Asteroids Over Berlin" and I have "Perseids Over Greenwich", because he has a track called "Greenwich"." (Perseids, for that matter, is a 'prolific' meteor shower associated with the comet Swift-Tuttle next destined to pass earth on August 5, 2126.) It's a highlight of Semsroth's new album as Skanfrom, Postcards, and for anyone familiar with the music of Rephlex, Skam and Aphex Twin's more playful productions, comparisons are there to be made.
"I wanted to do music like Bochum Welt," Semsroth expresses. "It's not that I sit there and think, 'now I'm going to copy this person', it's more: 'I would like to make this kind of music.'" Semsroth relates this mode of thinking to his earlier work as Sleeparchive too. Pounding a fist into his open palm, Semsroth, still marvelled by Vainio's music, communicates, "he has the 808 bass drum that's just…and then he has the bleeps over the top, and it's like: what is this?"
"For me it sounds perfect, it's the ultimate thing," he adds. "Every time Sähkö released a new record (by Mika Vainio) I put it on my website saying, 'hey, he's the greatest guy in techno, buy the record'. So I was never like, 'no I've never heard of Mika Vainio', he was an inspiration."
The first Skanfrom record, a blue, six-track 7" called Talking Translator, was released in 1998 on Semsroth's now defunct label A.D.S.R. "I was really lucky at the time because I was friends with two people from Hard Wax," Semsroth begins to explain of how his then fledging label and Skanfrom alias took off.
"We just met for beers and the guys played music to me, I was interested in all that IDM stuff," he says. "They played me some music and I was like, ok cool, and then I played them the music I made as Skanfrom and they were like, 'oh this is great, really good,' and they said, 'you should make a record and maybe we can distribute it." Semsroth made the plunge and pressed up 250 copies of that debut Skanfrom release, and from that Hard Wax accepted 50. Two days later, he says, "they called me and said, 'can you bring another 50?'" Furthermore, Semsroth adds, "I made the next record and Hard Wax said, yeah we'll distribute this stuff, just bring 200."
In 1999 Jason Amm, co-founder of Suction Records who produces under the name Solvent, made the trip from Canada to Berlin where he met up with Thaddeus Herrmann, editor of German magazine De:Bug. Escorting Amm to Hard Wax intent on showing him Skanfrom's music, Amm remembers, "at that time, I thought what Lowfish and myself were releasing on Suction Records was the only stuff going that combined Rephlex and Skam style electronics with blatant synth pop melodies and references, but it turned out that Skanfrom was also on the same tip."
Three years later Amm released a Skanfrom album called Hand-Picked Fragments, a name casually suggested by Semsroth's friend Thomas Morr of Morr Music who happened to be in the room when Semsroth needed a title. As for Postcards, Semsroth explains, it was a track on this new album Amm particularly enjoyed, "it's just a loop which fades in and fades out, like one minute," Semsroth explains. "Postcards sounds nice, so we went with that," he adds.
It's been 12 years since Skanfrom released an album, with Semsroth's energies in the mean time focused on Sleeparchive. In 2009, however, Skanfrom quietly released the Are You Alone 7" on a DIY label he set up called The All-Clear, a personal platform home to other similarly pop-minded projects of his like Government Bookshops, Civil Defence Programme and Television Set. "Since 2009," Amm explains, "I've been checking in with Roger every once in a while about new Skanfrom music, and I let it be known that Suction would love to release a Skanfrom album anytime."
"I think Roger has a definite strategy about when the time is right to discard or resurrect one of his aliases, and I won't be surprised if he has no plans to release another Skanfrom (record) for a while," Amm believes. Of the many uncharted aliases Semsroth has, his most recognised surrounding his predominant Skanfrom and Sleeparchive projects was Bakterielle Infektion, a now disbanded synth punk duo Semsroth formed with Uwe Marx. Active from 1996 until its final In Grief mini-album of 2011, Bakterielle Infektion was Semsroth's entry into music.
"This music is where I come from," Semsroth explains, quickly citing Front 242, The Cure, goth and dark wave to give an idea of his influences. "Bakterielle Infektion is inspired by music that was made in the '80s in that scene," he says. "I was really into EBM and I wanted to do EBM," he adds, "but I wasn't able to make this hard music so it turned out to be more of a synth pop thing."
"I found out there was music from the '80s that's exactly like what I do now," Semsroth says, and clarifies: "this music is called minimal synth."
"Television Set was a project I started to make music exactly the same as this: absolutely '80s minimal synth music," he says. Whereas Civil Defence Programme, Semsroth explains, "is more playing around with the synth (his trusted SH-101), so it's more, maybe…industrial influenced, it's not so poppy."
"I heard Einstürzende Neubauten's "Tanz Debil" from their first album and I taped it off the radio," Semsroth continues. "I was so fascinated by it, it was my earliest memory of that kind of music, I was 10," he remembers. "From that point on I wasn't interested in early radio music." Radio music? I ask. "Yeah, yeah, I dunno, Pet Shop Boys, Tears For Fears, U2," he responds. After 15 years of Bakterielle Infektion, Semsroth came to the conclusion he simply "didn't want to play in that band anymore," and, he says, "You had more fun at the after-party than on stage." Now, he adds, "I have more fun in the studio."
It's been Sleeparchive that's gained Semsroth most attention though, and between 2004 and 2008 Sleeparchive's own productions were exclusive to his own label. In recent years he's developed a relationship with Tresor, while Sleeparchive's last record for Shapednoise's combative Repitch Recordings, a split 12" with Mike Parker, is a destructive slab of rough techno featuring two pummelling locked grooves. Remix-wise he just helped inaugurate Finitude Music, a label run by Tresor Resident DJ Marcel Heese, and over the years he's remixed techno elite in Regis, Adam X (as Traversable Wormhole) and Orphx, the electroclash of Miss Kitten, Modeselektor funsters, seminal electronic dub pioneers Rhythm & Sound, to the glitchy electronics of Raster Noton founder Byetone and the über alien tones of Cio D'or.
"With Sleeparchive you have these luxuries," Semsroth explains. "Someone picks you up from the airport, you have a hotel, your dinner is paid for, then you play and you don't have to be there the whole time, they just pick you up from the hotel 20 minutes before the gig, they give you the money and drive you back, so you don't have to care about anything." But as Skanfrom, he says, "you have to take the train and you don't get picked up, and it's like, 'there's a sausage thing over there, buy yourself a sausage, it's not expensive.'"
"Skanfrom reminds me of where I come from," Semsroth continues. "I don't expect anything," he says. "You have a few 100 people in the world that like it, and that's cool." As our conversation, just like the one with DJ Pete that time, curtails, I ask Semsroth if there's any truth to the rumour no one wants to work the Monday shift at Hard Wax. "It's a bit tough, especially on the shop front," he says. "Especially where I normally work, in the mail order, so I'm happier working on the shop floor on Mondays."
"I work with Pete, and Finn (Johannsen), he's like an encyclopaedia," Semsroth describes of Johannsen. "You say something to him like, 'do you know this singer from the '80s', and he's like (subtly impersonating Johannsen with a low voice), 'yeah, he did this 12″ on this label and on the B-side Robert Palmer did this." So just like Semsroth's music as Skanfrom, the time he spends in the studio as Sleeparchive, to his day job at Hard Wax, simply put: "it's great fun."
Interview by James Manning
Postcards by Skanfrom is out now on Suction Records