Styles Upon Styles introduces BM/CC/CW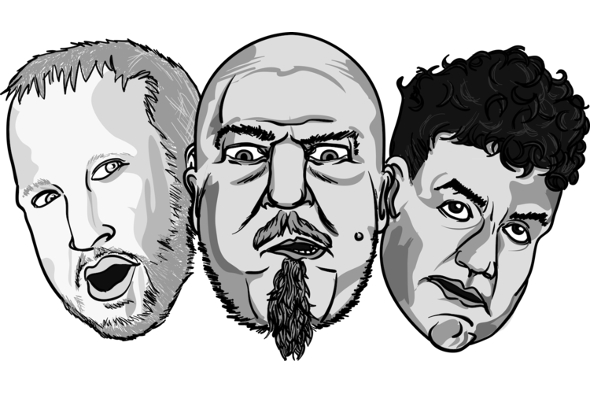 Clay Wilson, Brendon Moeller and Oliver 'Certain Creatures' Chapoy debut their collaboration with the three-track Spectrum 12″.
Following the recent announcement of Styles Upon Styles freshly minted cassette sub-label Memory Foam, the final release of a fine year for the left of field New York label provides a platform for a new project from some familiar names. Pictured above in comic book form, BM/CC/CW is a three-way collaboration between dubby, rhythmic techno mainstay Brendon Moeller, and two artists already affiliated with the SUS cause in former Bangers And Ash contributors Clay Wilson and Oliver 'Certain Creatures' Chapoy.
Said to be inspired by each others' live performances at Brooklyn party Industry of the Machines earlier this year, the label explain the trio "re-convened for an impromptu recording session a week later," with their debut release, Spectrum, culling "three serpentine heavy-weights from that session." Styles Upon Styles have uploaded a full stream of the record's first cut, which you can listen to below, that sounds like a dubbed-out, bleepy remake of Buraka Som Sistema's "Yah!".
Styles Upon Styles will release the debut 12″ Spectrum by BM/CC/CW on November 3.
Tracklisting:
A1. Spectrum 1
A2. Spectrum 2
B. Spectrum 3