Paul White – Shaker Notes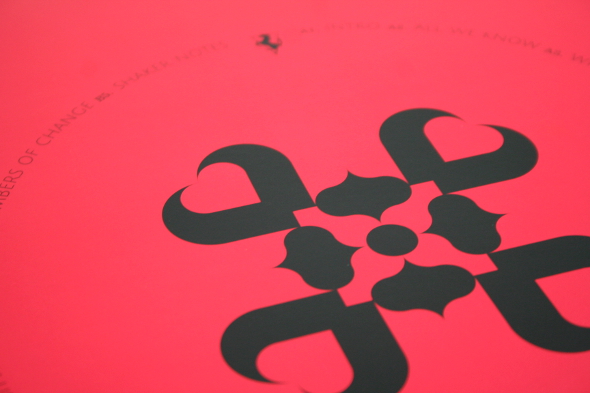 With one of those hefty discographies that could make the uninitiated tremble, Paul White has in five years marked himself out as a prolific and malleable artist. His long-time allegiance to One-Handed Music has given rise to four sturdy albums since 2009, while there are numerous singles released almost exclusively on the London-based imprint. Now though, R&S have called upon him to bring his crossover world of crooked beats, wonky pop, and blues-hued psychedelia to a different kind of crowd, and it could be the move that truly embeds him in the public consciousness.
There's much for many to like about White's music, and Shaker Notes makes that clear from the outset. In its catchiest moments it will turn the ear of Caribou fans with ease; just listen to the playful chimes and hooky vocal of "Where You Gonna Go?" and you'll hear that instantly. In between those toe-tapping qualities even this track is infused with some high-end production skills, as the tumble of organic instrumentation shimmers alongside what sounds like an ice-loaded cocktail shaking emphatically to the musical swells.
For those who like their electronica a little more shoegaze-y, "Running On A Rainy Day" will delight with its laconic guitar, lashings of reverb and wistful vocal hums, while "Is It Up To Us?" equally finds solace in winsome reflection. There's also a masterful handling of grizzly blues approaches, from the sleazy hoedown shuffle of "Honey Baby" to the wonderfully captured guitar picking of "Sitting In Circles".
In between these more accessible assets are some thrilling moments of experimentation, not least with the brief "Intro" which might well scare off unadventurous listeners with its abrasive sound design experimentation. "Fighting To Dance" wields a powerful line in ethnic percussion and fearsome horn and sax blasts that might well be a high point of the album, both in the quality of the sound itself and the way it flows as a natural and utterly unique piece. "Numbers Of Change" is even further out in leftfield, piling on anxious layers of synth around twitching percussive lines with no concern for friendly hooks anywhere in earshot.
By way of finishing up, "Shaker Notes" itself is a majestic, melancholic piece that draws on the vivid sound design and haunting melodic knack that comes naturally embedded in White's music. The album as a whole may well be his most ambitious, highly developed and wide-ranging to date, and this track seems to summon up that notion in a truly captivating four and a half minutes of transporting, intriguing and downright lovely music.
There's a lot of information in every pocket of the album, and more ideas than many producers would tackle across twenty years of releases. White successfully distills all of these into a thrilling whole, and one supposes the real test will be whether it's accessible enough for the poppier end of the spectrum, and not too catchy for those wanting a challenge. It doesn't matter either way, he's triumphed on his own terms and sounds completely out in front in the process.
Oli Warwick
Tracklisting:
1. Intro
2. All We Know
3. Where You Gonna Go
4. Honey Cats
5. Wait and See
6. Running on a Rainy Day
7. Fighting to Dance
8. Is It Up To Us
9. Sitting in Circles
10. Numbers of Change
11. Shaker Notes