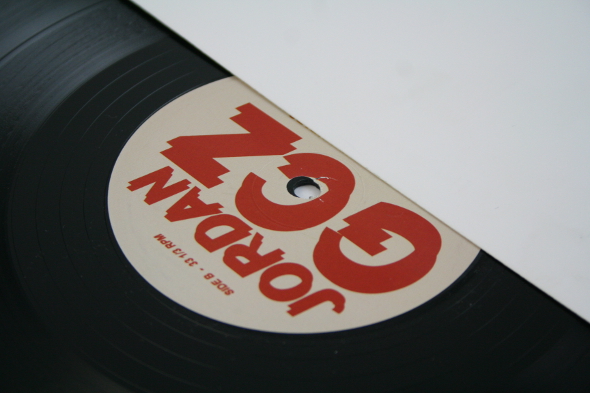 Where to start with this record? If you are familiar with the work of Juju & Jordash and the various projects around them, then you know not to expect anything near staid, immobile, impeccably polished house or techno. But still it's hard for someone with very little in the way of musical ability (hello, me) to quantify all the ideas and processes that have gone into these three tracks from Jordan Czamanski. Given the general fun loving nature of Future Times, Digitalis could be seen as quite a bold move, but who wants to see a label treading the same waters?
"Swingonoguitaro" greedily hugs the A-side, and you feel like Czamanski could have gone on a lot longer if such a vinyl format was invented and available, such is the constant flux in sound and ideas that unfold as a fierce house groove rips out. To these ears there is something a bit Theo Parrish about this track, the contrast between the marauding bassline and the languid guitars which cause all sorts of emotional second-guessing. The best club music is surely that where you are unsure of what kind of reaction it will engender in a crowd, and "Swingonoguitaro" falls very much into this category.
It seems like a bit of a duff move to call the title track "cosmic"; after all, the word rustles up all unfortunate mental imagery of bearded Scandinavians, but there is something otherworldly about "Digitalis". Again Czamanski flirts with contrasting elements; the opening bars are disarmingly cold and unnerving, and only really hint at developing into techno or something like it. Just as you think that's about to happen, salvation arrives via amazing keys left to soak in delay in Czamanski's Amsterdam studio. It's here where it all gets a bit dizzying if you try and pay attention to all the little fluctuations in "Digitalis". Indeed, it's nigh on impossible.
If "Digitalis" might cause you to feel dizzy, closing track "Fusionfuk" is akin to inducing vertigo such is the virtuoso synth work displayed by Czamanski throughout its brief duration. Welcome flashbacks to Magic Mountain High's afternoon performance at Dekmantel Festival manifest in my thoughts when listening to "Fusionfuk" and, as the title suggests, there is definite whiff of jazz fusion here. Yet the confident execution (watch out for that closing synth flourish) would suggest that Czamanski has few issues with playing this style.
Tony Poland
Tracklisting:
A1. Swingonoguitar
B1. Digitalis
B2. Fusionfuk