Kinlaw and Joane Skyler combine for vinyl release on Reckno

We quiz the excellent UK tape operation about its imminent debut vinyl release from label regulars Kinlaw and Joane Skyler.
Overseen by Chris Catlin and Peter St. John, Reckno is one of the more established labels currently engaged in facilitating the revival of interest in the tape format, with a discography that stretches back to 2009. Over this period, Reckno has been responsible for some fine experimental fare from Tuff Sherm, DTCPU, Goodiepal, C Powers, Kinlaw, and Joane Skyler and is now set to expand operations with its debut release in the vinyl format.
As the title suggests, Kinlaw and Joane Skyler finds the two Reckno artists collaborating across some 14 tracks, eschewing the usual split release approach in favour of working together. As Catlin revealed to us over email, "it's hard to tell who's doing what or where one begins and another ends". In order to get a better picture of what to expect from this release and see where Reckno are at in more general terms, we sent over some questions which Catlin was more than happy to respond to. Those wishing to get a taste for the LP which was released today can preview it in full on the Bandcamp player below.
Hi Reckno, you've obviously worked with both Joane Skyler and Kinlaw before, but how did this joint release come together? Was it something they proposed?
Both Kinlaw and Joane had done their first full-length releases on Reckno. We had all been really happy with how Chorus + Mysticus and orz had turned out in terms of sound and the way they looked so it was only natural to say 'sometime in the future, let's do something else'.
Hamish and Jason were both fans of each other's music but had never met in the real realm; after a bit of back and forth the guys met up and found a way of making music together. It was really exciting news for me as I love both their styles. I heard virtually nothing of the work in progress but was amazed how well it all gelled together when the finished recordings arrived fully formed as you hear it now. It's the perfect first record for the label: really 'other' sounding, plus it looks like an alien antique from the future. I couldn't be more happy and proud with how it turned out.
It's not a split release per se, so can you explain the working methods they both undertook?
Exact details are unclear.
All I know for sure is that at one point during a difficult bit of drum programming, Joane's skull turned to smoke, Kinlaw inhaled it and blew it back into the mixing desk an that just tied the dog bark around the champagne cork.
What made you decide to go with vinyl as opposed to the cassette format which has served you well thus far?
It sounds pretty cheesy but I have always loved vinyl and I've dreamed of putting out something myself. There is a magic that surrounds record shops for me. I love the size of the canvas in terms of what can be done with the cover art and the ritual of selecting and playing a side makes me happy. As a purely experimental activity it's always good to try new things and see how the process works. I still love tapes though, this isn't goodbye to tapes.
The artwork looks pretty interesting (no surprise given the attention to aesthetic detail of your tapes) who was responsible for it?
Yes, the artwork only adds to the weirdness. There is no front or back or perhaps two fronts, no back. Or two backs no front and there is no tracklisting included. The idea being that it's as vague as possible with no precise A or B-side. We wanted sides K and J but that would have melted the pressing plant apparently. ALSO there's a couple of stickers that come with the LP. Jason designed those. I think the art represents nature, friendship and harmony. Who knows?!
Do you plan to release more vinyl in the future?
That's a tricky one. I can't really talk about it yet.
In broader terms what can we expect from Reckno as 2014 draws to a close?
There are 3 more tapes almost ready to go: The PMM/Tuff Sherm Split with art by Lando from Decadence Comics, a really personal collection of tracks by AyGeeTee and finally Morkebla's album which has some great remixes by the Opal Tapes crew.
After that, there is a zine that has started coming together with contributions from most of the artists who have done releases on Reckno as well as some new faces but that will probably be next year now. Then ~~~~~????????~~~~~
Kinlaw & Joane Skyler by Kinlaw & Joane Skyler is out on now on LP and digital formats through Reckno.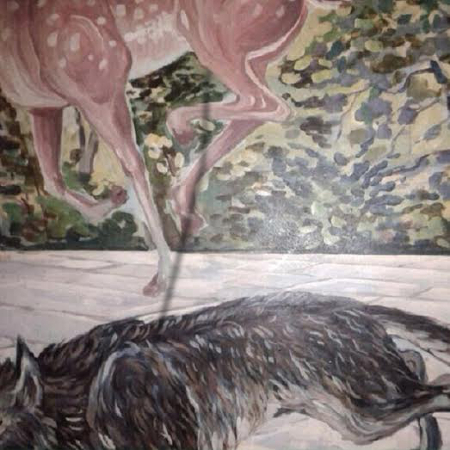 Tracklisting:
1. Mini Boss Moon Bass
2. Partial Recall
3. Higher Than 44
4. くコ:彡
5. Ripe
6. Hiss
7. Vuh
8. Lean Crash
9. Amelia
10. Itoeau
11. RISE
12. Sleep Spell 2
13. Rings
14. LQAHQRL