Five days of adventurous sounds in the cavernous surrounds of the Kraftwerk venue are assessed as James Manning reviews the recent edition of Berlin Atonal.
"Every something is an echo of nothing," believes John Cage, the American composer and music theorist famous for his 'silent' composition "4'33". That piece, first demonstrated in 1952 by the way of a prepared piano composition, shoehorned into western thinking the controversial idea that sound, in its rawest form, is in fact music that's not yet been captured and arranged. It helped reveal to audiences that where music can be heard so can the cosmos of natural foley which inhibits all given environments. Inside the huge cacophony of space that is Kraftwerk, a disused Berlin power plant located on Heinrich-Heine-Straße that Atonal calls home, the Cagean ideal that sound is music and music is sound was ever present.
Whether it be Sendai or Miles Whittaker maxing-out the main room, Peder Mannerfelt flexing his synth and headpiece at Ohm's after parties, or Murcof and Senking surrounding the 4D sphere in a circulating microcosm of three-dimensional panning effects: never was the sound of a door slamming, the scuttle of a plastic cup kicked across a concrete floor, a cough, or a muffled mobile phone alert too far from earshot. Every environmental side-effect the Kraftwerk building omitted or reacted to, regardless of its timing or amplitude, introduced a welcomed anomaly to the cavernous space and soundtrack that was Berlin Atonal Festival 2014. This, for me at least, was just one intrinsic nuance of the building and music that took place there.
This didn't mean, however, that it was a slog of detuned drones, clamour and human interference. There were elegant displays of soothing sound design too. This was of course first experienced during Steve Reich's hour-long, fully immersing, "Music For 18 Musicians" played by the Ensemble Modern – a prodigious group of 19 soloists from around the globe (everywhere from Japan, Argentina, Israel, Poland and beyond) who flawlessly executed a profound piece of advanced classical music. Prior to this was the half-an-hour curtain raiser of polyrhythmic conga stick hitting of Reich's "Drumming Music" (similar in style to "Clapping Music"), and those two performances combined, as avant garde and classical as they were, bore the most oeuvre displays of phasing, tremolo, rhythm and repetition, and ambience, to ultimately create an expression of 'techno music' in a radically pure form.
I was organised enough to arrive at Atonal early on the festival's opening day which allowed the time to take in the Kraftwerk space devoid of much human life – although never for a moment, even when Kraftwerk was a-buzz, did I feel the need for space. Inside, the set up is similar to Berghain – big room with big stairs that lead into an even bigger room – and half way up those stairs was a dark alcove sporadically lit by 16 circulating lights generating the sound of a possessed Grand Prix. They would spin at random or harmoniously to perform what installation designer Macular describes as a generative composition based on swarm synthesis, and viewing "Parsec" for the first time added suggestion that Atonal is as much for the eyes as it is for the ears; a cerebral experience.
Day one drew a varied and pleasant crowd. European parenting was on show with children brought along to get their first taste of Steve Reich, while an elderly couple standing close to me were given seats by festival stewards. Following these two performances, Spectrum Spools founder John Elliott did his part for Atonal by complimenting the mood built by Ensemble Modern with a set of soft, textural movements that caressed the main room and filled the concrete arbours of Kraftwerk with sweet exit music for those whose bed time might be creeping up on them.
Doors would open at 4PM each day where films, seminars and production workshops would take place in an old Soviet looking control room reminiscent of the final scenes of Dr. No. The few moments I saw of the I Dream Of Wires documentary was where modular heads like Vince Clarke and Chris Carter lament the advent of preset buttons on synthesisers, and this, no doubt, is a sentiment echoed by the artists playing the festival this year.
Located on the ground floor of Kraftwerk was 4D Sound, and for the most part it was the first time people had experienced the concept (read more about it here). Jostling for position to see Murcof play 4D Sound for a second year was like making my way through polite crowds of Boxing Day shoppers, and it seemed as though many at Atonal had made a footnote in their personal itineraries to see his set. At one stage, with looming drones, bass pulsations and doom synths ominously circulating 4D's square stage, the Mexican artist's performance, paired with drifting smoke, flashing lights and the fixed darkness of a surrounding Kraftwerk, made me feel like I was one in a huddled group of civilians seeking shelter from a war waged by man and machine outside.
Each 4D set was different to the next, and parts of Biosphere's the following day felt like being placed in a sunny suburban back yard circled by whipper-snippers, buzzing bees and other peaceful sounds of minute wildlife. Before starting his set Geir Jenssen politely imparted, "make as little noise as possible, feel free to move around, and enjoy the show." And contrary to the perceivable gloom of Murcof's performance, Biosphere's set of soft sound design gave a cold and concrete Atonal the synthesised experience of lush flora and warm al frescos in a set where art imitated life.
The true electronic aspect of Atonal was plugged in on the Thursday with DSCRD, a five-man laptop team related to Parisian label Dement3d. Their kickoff introduced the first sign of glitch to Kraftwerk, while the addition of normally mundane CCTV footage; images of life passing by – traffic intersections, bored stylists in hair salons, panoramic shots of smaller city skylines (the latter reminiscent to the artwork of Vatican Shadow's Remember Your Black Day) – rolled by as DSCRD's set moved from minimal and broken to full and undulating.
Like many of the UK acts on offer, Dalhous were a festival highlight. And like many more who played Atonal, their live performances took on a different meaning from their recorded work – this could certainly be said for UF, a so far live collaboration between Downwards artists OAKE and Samuel Kerridge. Dalhous's wonderfully calming yet excitable vibe worked as a buffer between the mass of glitched electronics from DSCRD and the beat down command of Miles Whittaker, and by the time the duo ended their set you couldn't help but turn to a friend or the person next to you and say, "that was great".
As intimidating as the line up and Kraftwerk building are, Atonal was denude of any superstar status. Artists wander around casually with their friends talking and experiencing the music just like everyone else does, talking and experiencing the music. Atonal founder, Dimitri Hegemann, was a constant presence and could be seen enjoying the festival wherever it was happening. Before Atonal's hiatus was lifted last year, it was an annual event which first took place in 1982 at a club called So36, a venue that Nico Deuster of Killekill told me is, "actually the oldest independent club in Berlin – the Dead Kennedys played their first German show there,". Atonal ran yearly until the fall of the Berlin Wall in 1990 where Hegemann went on to open Tresor, and now it seems here now in 2014 the festival has made its way full circle.
Back stage was a ghost town – this isn't the type of festival anyone cares to be out back – and I was front and centre for Yves De Mey and Peter Van Hoesen's Sendai performance, a festival highlight. The pair (pictured above) delivered a calculated set of fizzing electronics and syncopated booms which rammed home why these two are, or should be, considered at the very cutting edge of electronic music. The Stroboscopic Artefacts maxim, "a more introspective, extreme and experimental way of approaching techno music," was there to behold during their live set, while later on in Ohm as Sendai Soundsystem the duo played the extreme techno you'd hope for, incorporating leftfield selections for such a night to break things up. Between heavy techno was Crash Course In Science's Minimal Wave classic "Flying Turns", Chic's "Everybody Dance", jangly Joy Division, Hi NRG house music, some complimentary disco, one immense drum track and what sounded like a Laurie Anderson curtain call. It was one of the greatest DJ sets I have ever witnessed.
The bonus that Ohm and Tresor clubs are connected to the same building as Kraftwerk is conducive to the success of Atonal. Both were free and easy to wander into after the festival which kept several thousand knowledgeable music lovers and joint revellers in the one area (on the edge of Tresor's dancefloor I asked someone if Neel was playing and the answer was a simple yes). So if partying in a power station is isn't enough, two doors down there's one of Berlin's hardest techno clubs – where I saw big sets from Adam X, Neel, Shapednoise and a gnarly opening few tracks by Powell (sadly I missed Stanislav Tolkachev) – or the medium-sized club next door Ohm, which outside of festival activity holds label nights from operations obscure as Samurai Horo and Hidden Hawaii to Sued and Sex Tags Wania (I was told Felix K played in a mask as a secret guest at another party).
Friday was Atonal's big one for the techno head and experimentally minded. From the people I spoke to it was the day many looked forward to most and it was opened by the endless loops of TV Victor. Udo Heitfeld's set could be broken down into three movements and the first, in a very German, electronic music kind of way, fused jazz (via never-ending, hi-hats) with a circumvolution of dubby, textural swirls of cloud-tinted hypercolour. Dasha Rush, one of two female artists on the Atonal bill, presented Antarctic Takt, whose narrative, as you can image, was centred around ice, glacial landscapes and frozen isolation. After the completion of one movement Rush spoke into the mic sharing with the audience her fascination with Siberian-like remoteness, as if inviting Atonal to continue with her on this guided journey through a cold nowhere.
The other female artist to impress was SØS Gunver Ryberg, a Danish producer (pictured. left) who so far has the one official tape release on The Tapeworm, a cassette label that's previously released music from a wide arc of artists that include names like Stefan Goldmann, Fennesz, Old Apparatus and Oren Ambarchi. With her head tilted and hair drooping over her face like a metal bassist, Ryberg unleashed a sparse display of sculpted tones (or were they beats?) that landed closer to each other as her set progressed, and by the end – between a rocking Ryberg cutting shapes with her hands – her set felt like a broken display of solid Regis drums flung with force.
Absolute standouts of Berlin Atonal 2014 however were Abdulla Rashim, Donato Dozzy and Nuel doing Aquaplano Sessions, Richard H. Kirk as Cabaret Voltaire and a very fun In Aeternam Vale on the Contort curated Sunday. Both Abdulla Rashim and Aquaplano Sessions sets bordered on being complete (big room) ambient. A tall and long-armed Abdulla Rashim himself was a looming, almost arch-ice-angel presence on stage, and it was here that his Northern Electronics aesthetic was truly exposed. At the front dancers stood memorised by cold space echoes and streaks of frosty acoustics while toward the back people lay resting, eyes closed, taking it all in.
Aquaplano Sessions was less a performance, and more a fully intense experience. If you weren't there, try and imagine the gutted inside of a huge power plant that's heaving with popping waves of transcendental synthesis as your reality. During a moment of solace I realised for my own sanity I should reconnect with conscious though and take in the physical realm which I did via the below video recording. Everyone had their own assessment on these two acts and feeling wasn't so much divided, as opinionated. Some wanted no beats at all (there weren't many) while others wanted something more up beat. Me, I couldn't ask for more.
Richard H. Kirk delivered the goods as Cabaret Voltaire and sent his machines into overdrive to a back drop of visuals playing archival footage of Princess Diana and '70s Britain, to raw news reels of African war lords and references to Andy Warhol and Campbell's soup pop culture. At one stage it felt like his machines almost got the better of him and his set moved into a impenetrable but tonally pleasing wall of opaque noise. It was a great set. Ike Yard were a formidable presence on stage and they delivered an hour of drones and gothic lyrics, with Stuart Argabright making hand gestures like Alice Cooper.
Bleed Turquoise, a project of Emptyset's James Ginzburg, was also very big sounding, with thick slaps of guitar bass filling Kraftwerk with licks of grunge, but it was original techno punk Laurent Prot, aka In Aeternam Vale, who was most rock 'n' roll. He played each of his songs like band, one after the other. In amongst his hardware set up, which I enjoyed watching Prot noodle with, sonically capturing the parameters he was affecting, was an iPad. At the start of one song he waltzed around the front of his set up and angled its screen to the audience to reveal an application he was using to trigger sounds. For fun, Prot ran through, one by one, what would happen each time he selected another channel, and did this until the track was fully up and running. He'd then jam out the rest, dancing and punching the air. A small legion of fans train-spotted song to song like Gun 'N' Roses diehards do when they first hear the sign of stings in "November Rain". During an electro pop section of In Aeternam Vale's set, a girl next to me laughed and translated the said vocal loop from French into the English words: "I ate some nerves and there's still some left."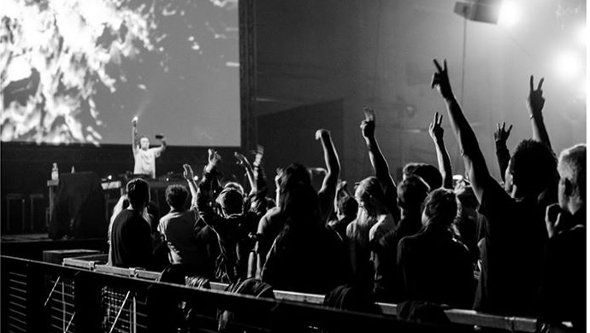 Taking footage of the crowd he just threw records into, sparked lighters were held high and Goldie's Metalheadz classic "Digital" was one of the final tracks played as Source Direct (pictured above) gradually brought Atonal to a close on the Sunday – but never mind, off to Ohm! Atonal is still only young, again, and I left with the feeling, and hope, that it will become as significant as what Unsound is on everyone's music calendar. Regardless of era, Atonal for five days felt like the epicentre of contemporary electronic music at its most raw and avant garde, and like John Cage himself said, "If you develop an ear for sounds that are musical it is like developing an ego. You begin to refuse sounds that are not musical and that way cut yourself off from a good deal of experience."
James Manning 
All photographs courtesy of Camille Blake
Below is a mix inspired by the artists, live acts, DJs and labels that played at Atonal from James to accompany his review with some words regarding what to expect:
"It's a mix that incorporates the techno-not-techno sound of Ohm, the banging beats of Tresor, the experimental edge of Atonal's curation, the live element of the festival, no wave sounds of the festival and generally a slice of the entire vibe – all made in an airport gate, plane and train ride on the way home from Berlin. I won't provide a tracklist just yet as this is my own post-festival interpretation of what a significant part of the festival felt like – that I could draw from my iTunes. I'd rather people take in the sound of the mix rather than what tracks I've used."