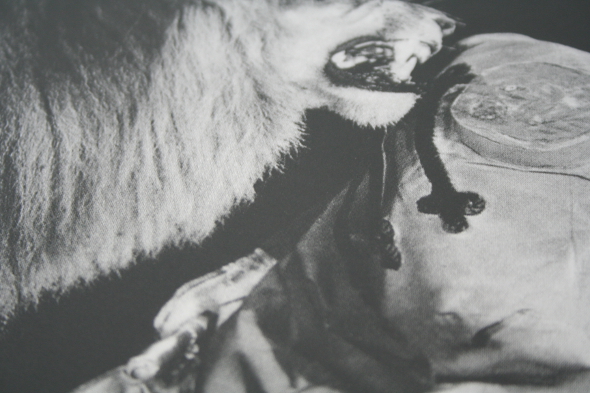 One of the chief joys of a TTT release is that the reputation and 'avant' status hovering as a marker above the label often infers that the producer involved – even highly-esteemed or established ones – will be presenting a slightly different aspect of themselves. Take Anthony Naples; often included within a set of contemporary producers marketed for their roughened and experimental edge, it wasn't until El Portal for Will Bankhead's label last year that the tendency first started to actually show.
Whether by spoken or unspoken implication of the label's reputation, or as a result of oddball alchemic concoctions simply being guided into the right hands at the right time, we got a first glimpse of Anthony Naples' template for ruff house music as infiltrated by some new, heady presence that took to slurring, slowing or generally dismantling the framework in search of the drive. Admittedly the scorched snap-shot of Fleetwood Mac's "Dragonfly" at the end of the title track was a bit naff – perhaps unfairly seared into my mind as a component of Hype Williams' vital FACT mix, and therefore now re-appropriated and smothered as some simulacratic totem of their addled mist of fear and bliss – but overall the impression was of a producer simultaneously honing his talents and loosening his control to create something impressive, and impressionistic.
Now, a year later, he returns to the label with Zipacón. And while it would be easy to slip into talking in descriptive tones about how warm and summery his kicks and chords still tend to be, how those dulcet tones prove easy to sink into and hard to escape from, or of the whole "analogue" thing, and whether we should care if it's a crock or not. I think I'll dodge all of that and say this: this is probably Naples weakest release so far. Sure, it's still enjoyable – but the certain joie de vivre often present elsewhere in his work seems strangely absent here. Where those individual elements begin to roll into some larger, more involving mass – greater than the sum of its parts – all the track here just kind of… amble along. If the aim was to produce a sequel to El Portal by extending its mood then it in part it is a success.
The differences and similarities of tracks like "Crazy Spirit" and "Zipacón" showcase an adventurous producer juggling multiple personalities and multiple tonalities – the latter a pleasant walk down the garden path of softly padded electro, the former kicking out with heavy thumps, driving pace, and barbed almost-melody. But still, that overall repetition of a tone and mood already found on El Portal brings about a sense of unwelcome inertia to a label more frequently known for evasion and surprise.
Zipacón might actually be more generally indicative of the interesting crossroads that The Trilogy Tapes now sits at – where the blow-out success of the last few years could now lead to a solidification of sorts, with existing ideas being revisited more often than new ones are presented. As I say though – it's not like The Trilogy Tapes doesn't have a long and colourful history for throwing any and all expectations, so we'll see.
Matthew Kent
Tracklisting:
A1. Perro
A2. Zipacón
B1. More Problem
B2. Crazy Spirit