Cómeme add fuel to the fire with Gasoline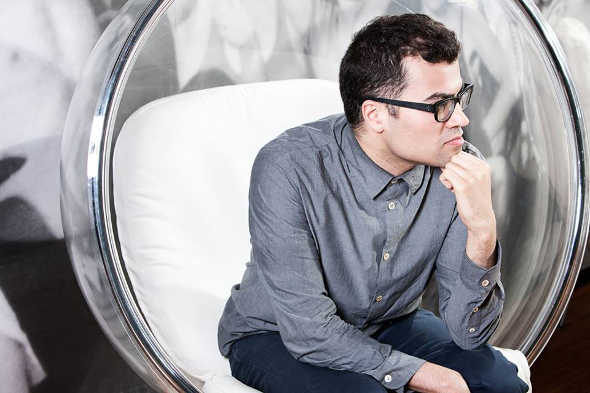 Matias Aguayo's label return with a dancefloor focused various artists double pack called Gasoline.
Following albums by Philipp Gorbachev, Colombian artist Sano and label owner Matias Aguayo's 2013 full length The Vistor, Cómeme will release a nine-track 12″ double pack that features a blend of label regulars and new names. Of the latter, it's the London-based Auntie Flo (pictured above) that will be most familiar, with the self-styled GlasGoan taking up ranks on Matias Aguayo's label following a clutch of well recieved releases for Huntleys & Palmers, Permanent Vacation, Mule and Kompakt Extra. The presence of Mexican duo Zombies In Miami, Portuguese 'Bachelor House' advocates Voxels and Chileans Vaskular and Valesuchi suggests Cómeme's A&R skills for uncovering new talent remains as keen as ever.
Fans of the label will be pleased to see that Ana Helder contributes the title track, whilst Argentinean selectors Djs Pareja appear twice with one track a collaboration with fellow Cómeme mainstay Alejandro Paz. Recent label debutants Carisma turn in a remix of the unheralded Rous, whilst homegrown Cologne talent Christian S teams up with Bryan Kessler (not to be confused with the Hawaiian singer songwriter) for the track "Nebel Dance". A detailed press release from Cómeme states Gasoline promises to "provide Southern hemisphere grooves and cutting rhythms to make people dance in more surroundings than just the club".
Cómeme will release Gasoline across a double LP on August 11.
Tracklisting:
A1. Auntie Flo – Jas
A2. Christian S & Bryan Kessler – Nebel Dance
B1. Ana Helder – Gasoline
B2. Vaskular feat. Valesuchi – Black Jesus
C1. Djs Pareja & Alejandro Paz – Cógeme
C2. Zombies in Miami – El Rito
D1. Rous – A Bailar (Carisma Remix)
D2. Voxels – K-Hauz
D3. Djs Pareja – Si Señor