Voiski returns to L.I.E.S.

The French techno producer will grace Ron Morelli's label with a second three-track 12″ next week.
At a glance, the L.I.E.S. release schedule this year might not live up to the 'Non-Stop' activities that characterised the label's output throughout much of the past two years. Spend some time thinking about it however, and Ron Morelli and co. have issued albums from Low Jack and Jorge Velez, introduced new additions in Person Of Interest, Inhalants and NGLY, slipped out more material from Gunnar Haslam, Florian Kupfer and Daywalker + CF as well as digging out an extended hardware jam from an (alleged) obscure late '90s German trio. With news of a debut release from certified New York legend Adam X still fresh in our minds, details have now surfaced of a second  L.I.E.S. drop from Frenchman Voiski.
The only label Voiski has released with outside of his native France is L.I.E.S., and considering label head Morelli now resides in Paris, news of a return visit makes natural sense. Voiski does so with the Culture To Trash 12″ which sees the producer deliver another three gritty techno jams executed in a manner similar to IAI Movement, his much loved L.I.E.S. debut last year which strayed away from the sleeker productions the Frenchman released for Construct Re-Form and Syncrophone. You can get an idea of what to expect with the ten minute lead track "Wax Fashion" which is available to stream below.
L.I.E.S. will release Culture To Trash by Voiski on June 15.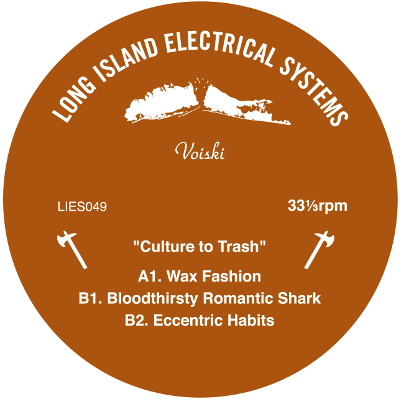 Tracklisting:
1. Wax Fashion
2. Bloodthirsty Romantic Shark
3. Eccentric Habits