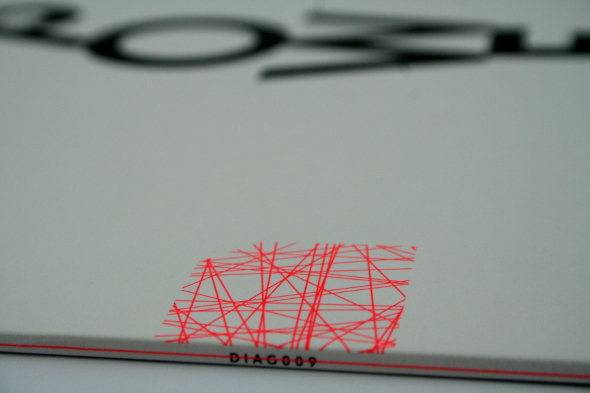 Powell's last record for his own Diagonal Records was called Body Music. It's a name that sums up the wry sense of humour at the heart of the producer's creaky take on techno; although his sound is visceral in its own way, it's less down to the kind of throbbing, gut-punching basslines you'd expect from traditional EBM, and more due to the wire wool scrubbing his scratchy post-punk textures give your ears. For Powell, the notion of "Body Music" was one whose frequent forays into a 150bpm tempo zone were more inclined to invoke a loss of bodily control rather than create a physical sensation internally, positioning him outside of the concurrent wave of producers making far more conventional techno of an industrial influence.
Although Powell has since released records on The Death Of Rave and Liberation Technologies, both of them felt very much like subtle tweaks on the formula he had been perfecting since his 2011 debut, The Ongoing Significance of Steel & Flesh. It's hard not to see Club Music as a name consciously chosen to act as a proper sequel of sorts to Body Music, and that's exactly what you get; while the name is still very much steeped in irony – especially given the fact these three cuts would likely clear all but the most open-minded of dancefloors – it's the most explicitly that Powell has conceded to the rules of the club in his productions, signalling something of a new chapter for the producer.
Whilst each of the three tracks utilise tempos more in keeping with the range of standard DJ sets, if anything, Club Music is even more abrasive than anything he's made before. Opening track "So We Went Electric" might be underpinned with an uncharacteristically robust combination of sinewy bass and steady drums, but the ambient synth buzz and sampled guitar licks that surround it feel like Powell at his most visceral. There's even a "drop" of sorts, in which a cascading feedback loop and Evol-inspired synth line snap back to the regularly scheduled programming in a manner that's not just a nod to convention, but also quite likely to induce mania in the right club setting.
"No U Turn" offers Powell a chance to flip his tried and tested formula inside out, taking his frenetic drum loops and dropping them to half-time, with an oscillating bass that shakes under the foundations of the track's rickety frame. It comes across like a naive fusion of no wave and dubstep's low-end frequencies, and whether intentionally or not, further underpins the record's seeming intention to throw a cheeky wink at the club. Surprisingly, considering it's a collaboration with noise veteran Russell Haswell, it's "Maniac" that offers perhaps the poppiest Powell track to date. Although still coated in searing noise tones and constructed out of an angular mix of sampled and synthetic drums, there's something about the underlying funk present in the bass and guitar that makes it as much N.E.R.D. as it is no wave. Powell's sound may still be as jet black as some of his peers, but it's clear he's having a lot more fun with it.
Scott Wilson
Tracklisting:
A1. So We Went Electric
B1. No U Turn
B2. Maniac (feat. Russell Haswell)