Larry Heard's Loosefingers material to be reissued

The veteran digs further into his vaults for a further two 12″ reissues on his Alleviated label.
Since the label's hook-up with Clone Distribution was announced last March, Chicago house legend Larry Heard has reissued material from two of his old projects through his Alleviated Records imprint, in the form of the two EPs of raw house recorded under his Gherkin Jerks alias and the more futuristic sounds of the Alien LP from 1996. With that latter work hitting shelves just last month, the label has wasted no time in revealing the next piece of vintage Heard material to receive the remastered reissue treatment, two EPs under the Loosefingers name originally released in 2003.
Originally the name Heard used prior to adopting his most widely know alias, Mr. Fingers, the Loosefingers material mainly saw Heard in soulful deep house mode, with occasional use of his own vocals. Although this more serene mood is the dominant one across the Glancing At The Moon 12″, When Summer Comes 12″ was more notable for containing two acid-led tracks on the B-side that were in stark contrast to the romantic notes of the rest of the Loosefingers material. Alleviated will release both in remastered form as Loosefingers EP1 and Loosefingers EP2, both of which are available to preview below.
Alleviated Records will release Loosefingers EP1 and Loosefingers EP2 on 12″ vinyl in early July.
Loosefingers EP1 tracklisting:
A1. Glancing At The Moon
A2. Lamentation
B. Deep Inside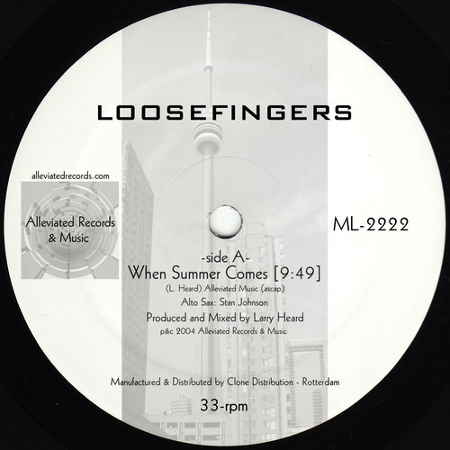 Loosefingers EP2 tracklisting:
A. When Summer Comes
B1. Acid Bounce
B2. Transmission X