A Circular Sound: An interview with Sigha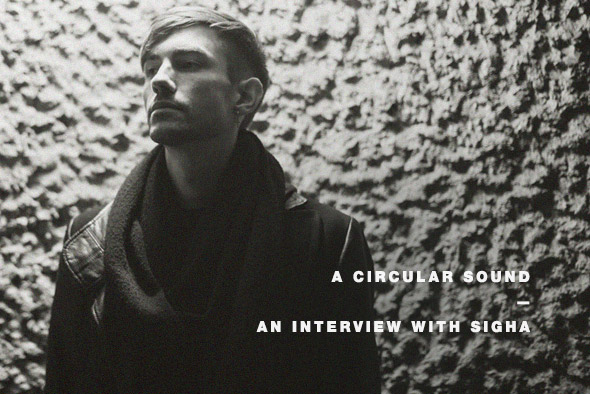 With his Our Circula Sound label hitting its stride and an increasing number of aliases taking his sound in different directions, Scott Wilson meets James Shaw to discuss his approach to techno.
"It's something that I've always been really drawn towards, and it goes back to that kind of interest in the hypnotic – I guess "trance-inducing" for want of a better word – elements of not just techno specifically, but house, and other sorts of electronic music," James Shaw explains of what has long been an obsession for the UK-born, Berlin based producer. "I guess the loop in techno represents that perfectly."
For someone so interested in the purity of the techno loop, it's perhaps unsurprising that Shaw's latest material as Sigha should be titled The Purification Loops. As well as being a reference to his longstanding interest in ritual – purification rituals especially – Shaw sees the EP as also reflecting "the catharsis you can get, not just from writing techno, or loopy electronic music, but from experiencing it."
Even back in 2010, when Shaw was closely associated with Scuba's Hotflush's label, before he relocated to Berlin and was working in Soho's famed Black Market record shop, Shaw's output felt like it was exploring ways of release in more subtle ways. Compared to the breezy melodies of Mount Kimbie, and Scuba's early steps into the world of big room house and techno, his material as Sigha was formed of something more subtle, progressing throughout his career from fragile, stripped back dubstep and garage influenced rhythms to something straighter and more rigid, but still equally as transcendental.
Shaw's sound may have evolved deftly since then, edging closer to the darker sonic terrain inhabited by labels like Downwards and close friend Shifted's Avian label, and even he may admit that the tracks on this new six-track EP are "not really that loopy", but there's a clear link between the clicky, fast-paced rhythm of 2009's "Hold Your Head Up To The Light" and the almost weightless construction of The Purification Loops that shows Shaw's interests have always been somewhere between stern Berghain-type rhythms and a realm more experimental than so-called 'industrial techno'.
It's telling that Shaw's most direct flirtation with the more industrial brand of techno which has been so prevalent of late – on two 12″s released anonymously under the name A Vision Of Love on Avian last year – is something that doesn't quite seem to have stuck. Although the theme of the two Lessons In Hate 12″s on Avian – described as "S&M techno tools" – may have called back to track titles and themes seen in earlier work like his Living With Ghosts album, whose track titles included "Dressing For Pleasure" and "She Kills In Ecstasy", Shaw's move into harsh industrial beats and savage textures seemed the antithesis of his comparatively austere productions as Sigha. Although Shaw is a producer who seems increasingly happy to slip into other identities of late, each one seems to fit somewhere within his overall sonic universe – something not quite so readily apparent with the A Vision Of Love tracks.
There was a slight disconnect too, with the imagery used for what was a series of tracks with BDSM undertones arguably less racy than that of Living With Ghosts, suggesting he was reining things in slightly following some minor controversy on the comments section of the Resident Advisor review for the album. But Shaw is someone who seems very clear on every artistic decision that he makes. "The ideas I had for the AVOL artwork were originally way more extreme than say the Hotflush album," he explains. "I've definitely not been put off by any sort of negative reactions to any artwork in the past. To be honest with you I think if you do something and there's not a certain element of people hating on you then I think you're doing something wrong, genuinely. If you can really stand behind what you do and say 'I did this for a reason, and I agree with that reason of doing it, artistically" and then you get a strong reaction – even if it's a negative reaction – you've done something right I think there," he says firmly.
"For now the AVOL project has kind of been put to bed simply because I kind of lost interest in that kind of side of techno," he explains. "There are so many people doing that right now, and I've heard it so much… there are people who do it really well, and I'm not taking anything away from them – I'd go and see them play, and I like what they do, but for me personally, to sit down in the studio and make that kind of stuff doesn't necessarily excite me any more."
Despite the fact that he doesn't rule out a return to this kind of sound in the future, Shaw's move away from this aesthetic makes sense given that it doesn't particularly seem to reflect either his fragile productions or his softly spoken, humble demeanour. The Purification Loops represents his debut proper as Sigha on Avian, and although it may surprise those used to his sleeker work on Hotflush and Our Circula Sound, feels much more a part of his universe. Despite being made up of six very coarse and brittle tracks, each feels equally as intricate in their construction as the material on 2009's Rawww EP for Hotflush, displaying a combination of organic fleet-footedness and gravelly heft that sound like early Surgeon tracks whose components are vibrating just out of sync.
Listening to these tracks gives one the impression that Shaw is entering a new phase in his career, but it's something that he's keen to downplay. "I think it's definitely more distinct, I think that's true, but I don't know if it necessarily is me entering a new phase, so to speak. I mean Guy (Shifted) keeps saying that but I'm not so sure." Shaw may be modest regarding this shift in tone, but he details a new production setup that at the very least has seen him enter a new phase in terms of how he makes his music. While previous production was all done in software, The Purification Loops is his first attempt at moving to hardware – something evident in the raw nature of the six tracks, created with a stripped back setup of what he describes as "a really crappy drum machine" and some guitar pedals.
Although this approach may tie in with the increasing trend for techno produced with hardware, Shaw is keen to stress that creative freedom is what has prompted this move rather than simply following dominant trends. As someone who grew up playing guitar, and studied the instrument at music college, the hardware approach has offered him a chance to return to his roots. "For me, that's kind of the distinction between what I'm doing now and what I've done in the past," he explains. "I'm not one of these people that has made the change because I'm a complete hardware and analogue purist, but somewhere along the way, when I started making electronic music I kind of forgot about the enjoyment you could get from having something so interactive involved in the music making process. I think there is maybe an element of a new phase there, but I think maybe it's on a more basic creative level for me personally than a whole new kind of sound."
This hardware method is something that feeds through to his other new project, which will see its first EP released on Avian sub-label Mira later this month. "I wanted to explore things other than just techno, because that's not where my musical interests start and stop," Shaw explains, "and so for a long time now I've kind of been thinking about embarking on a project that was maybe more synthwave-orientated." Going under the name Faugust, the project debuts next month with Devotions (1984 – 2006) – the lead track of which, "Penitence", can be streamed below – and has personal significance to Shaw, who describes it as a "homage" to his late mother, adopting her maiden name for its title. As he explains quite simply: "It's music that I think she would have liked."
Although not immediately apparent, the influence of shoegaze – which Shaw has mentioned many times as a formative musical interest – is present across his production, be it in subtle textural detail or the longer, ambient tracks that featured on his Living With Ghosts album. Faugust however, will finally give Shaw a chance to explore those roots more fully. "It's definitely got elements of synthwave in there, of bands that I listened to a lot when I was younger, like Joy Division and My Bloody Valentine, and I guess there's elements of what I've been doing in the past musically production-wise." Shaw explains, "I guess it's a bit of an amalgamation of sounds, but it fits into that kind of slightly more hooky bracket rather than that of austere techno." Despite buying a new guitar for the project, Shaw admits to not having picked it up, utilising an Arturia Minibrute for the majority of the textural detail.
The Faugust project may seem even more unexpected a project for Shaw to undertake than The Purification Loops, but it's one that fits comfortably within the sonic universe he seems to be slowly assembling around himself, a world that has as much influence from outside stimulus as music itself. One of Shaw's icons is fashion designer Gareth Pugh, whose clothing is something of an inspiration; Shaw cites a video created in 2008 in collaboration with Nick Knight, in which Pugh's clothing is presented in a very singular aesthetic world as an example of how he feels inspired to present his own art. Indeed, it's this very personal response to aesthetics in a wider sense and how those relate to his music that separates Shaw from the hordes of faceless techno producers doing similar things – even it means receiving a negative reaction, such as in the case of his Living With Ghosts cover.
"I think if you do something and there's not a certain element of people hating on you then I think you're doing something wrong, genuinely."
"For me something like that becomes really inspiring because it's basically a distillation of everything that I kind of take in a broader sense – not just from Gareth Pugh – but designers like that," he explains. "It's hard to describe – it's just the vague feeling that they give you inside, that there's these designers creating a world that they want to see, and they're making it reality. That world they're creating is something that I like, a lot. And so I guess when I say I'm inspired by that, it's me making music that I like to think would slot somewhere within this sort of realm, basically. It's difficult to be precise about it, because you're dealing with very vague feelings and emotions if that makes sense. And what something is making you feel, and then you're churning it up and spitting it back out."
Given his outlook, it's easy to see how Shaw's music seems to exist in a distinct world of its own. Although much of Shaw's music fits a distinct category in techno, it also has a similarly ethereal quality as Pugh's designs. Like the video, where spectral colours are contrasted with earthy make-up, the music in Shaw's world is earnestly polished yet shot through with underlying grit. It's this tension between the two that seems to be a consistent theme across his sound. "I think you can over-polish something, but I think you can leave it far too unpolished as well," explains Shaw of his approach. "I'm always trying to find is that middle ground, where something's still got the character that it gets from leaving an element of rawness to the sound, but you're still got interest from some detail, or a melodic element giving it something beautiful on the top. It's that kind of juxtaposition that I generally find interesting when I'm sitting down making music."
This juxtapostion is something which bleeds into the music he picks for release on his Our Circula Sound label, which has felt increasingly like a distinct extension of Shaw's own musical personality over the past 12 months. All the design, which employs a minimalistic, monochromatic approach, is handled by Shaw's flatmate, under specific direction from Shaw, adding to the consistent aesthetic. Recent releases from Arcing Seas and Positive Centre meanwhile have seen the imprint find its niche musically, hunting out other purveyors of Shaw's brand of fragile techno; Positive Centre's glacial approach is reminiscent of an icebreaker ploughing its way through frozen waters, while Arcing Seas' debut offers its own frayed take on Shaw's type of brittle club techno. These are artists Shaw is evidently keen to work further with; later this year OCS will release an album from Positive Centre and another 12" from Arcing Seas.
Concurrent trends in techno seem to make little difference to Shaw, who is eager to walk his own path with his own music and his label. "I think really, all you can do is put out music you believe in and that you like," he explains passionately. "In terms of viewing it in a certain way in relation to what other labels are doing, I genuinely really try and avoid looking at anything that I'm involved with in those kind of terms. I think it's really counterproductive to be honest. So long as I like the music enough to release it, that's enough for me." However, he does admit to having a valuable second opinion in close friend Shifted, who have been trading music for many years. "I think very quickly we just became each other's sounding board, which is an incredibly valuable thing to have, because it's not easy to be objective." Having already contributed two 12"s to Our Circula Sound, Shifted will return to the label with another record resurrecting his Relay project, a dubbier moniker last seen on a Naked Index 12" in 2011.
With Shaw's sonic universe seemingly expanding ever wider, and indeed closer to the kind of sounds he first appreciated before discovering techno, does he see himself finally picking that guitar up again and making some music with it? "It's funny, my flatmate asked me the same question last night. I think so. It was such a massive part of my life, and I miss it to be honest, but what stops me is when I do pick up the guitar occasionally it's so depressing how bad I've got man," he says with a laugh. "I was up to a fairly decent standard, and now… man, it's appalling to be honest. I guess the advantage is that the sort of music that I like tends to be leaning towards the more – I guess not necessarily simplistic from a listening point of view, but musically, when you strip apart the individual elements it's not overly complex. I suppose I could put something together without depressing myself too much."
Interview by Scott Wilson
Photographs by Tom Medwell