A Fresh Take: René Audiard and Blank Slate

Oli Warwick dials up Soren Jahan, the producer known as René Audiard, and driving force behind the Blank Slate label.
"If there's one time to be over-stretched it's in Berlin," enthuses Soren Jahan. "I don't necessarily have to be here working this job in this record store but I think it's exciting and I love soldering. It's something to pursue and I have just enough presence of mind to try to do it."
Soren is certainly not short of ventures to pursue. As we link up through a typically cranky Skype connection, the 25 year old producer from Boston, USA is meandering through cult Berlin shop Recordloft to find a space quiet enough to sit down and be interviewed. As he passes by the counter he waves his laptop camera towards two men hunched over work benches, soldering irons in hand. While they work away on building a rotary mixer based on original Bozak designs, Soren has been spending some time building mini amplifiers to connect turntables directly to headphones, re-kindling a love for electronics that originally manifested in building tube amplifiers back in high school.
We're not here to talk about circuit boards and sound modules though, as Soren has fingers in many more music-related pies, from a rich spread of production aliases to involvement with at least three different labels. Out of these, Blank Slate has been the project that has started to cement both Soren's reputation and that of the other artists released on the imprint. The first release may have only dropped in late 2012, but already Blank Slate 006 has been released, with plenty more lined up. The label is a collaboration between Soren and Kamal Naeem, borne out of their mutual love of electronic music as fostered in Ithaca, upstate New York, during their college years.
As a leafy student town with severe licensing hours, Ithaca didn't exactly provide either Soren or Kamal with many opportunities to hear or play the music they loved, and so much time was spent carting a 500lb PA system to house parties, trying and not always succeeding to evade the ire of local law enforcement. As is the case with so many music fans in these times, the majority of Soren and Kamal's education came through the remote portals of internet forums and file-sharers.
"The amount of places you can go out to see this music given that the drinking age is 21 are really limited," says Soren, "so it was pretty much a home bedroom dreaming kind of situation." Having already progressed from entry level Deep Dish mixes and Global Underground compilations, it was the discovery of the wilder frontiers of minimal house and techno that set Soren down his musical path. "Between Murcof, Sistol and Villalobos it pretty much just blew my world open," he enthuses. "I really nerded out on the fact that it was focused on rhythm and texture."
It's clear when you listen to the music that Soren makes that the stripped down aesthetic of those experimental pioneers inspires him to this day, even if trends and fashion have perhaps moved on to more accessible climes. Either way, as any internet-based devotee of the sound discovers, the allure of Berlin was hard to ignore. While Soren set about guiding himself towards the end goal of moving to Germany after graduation, Kamal managed to land himself an eight month stint in the techno mecca as part of his studies.
"I wanted to have some kind of a label and some kind of releases under my belt if I was going to go because I was well aware that Berlin had long been this magnet for every dreaming, up and coming bedroom DJ coming from America," Soren admits. After one weekend getting a taste of what the city had to offer, Kamal reported back via email with confidence that there could be a place for them in the crowded scene.
"Soren asked me straight away, 'so are you ready to start a label?'" recalls Kamal as he sits back in his student halls back in Ithaca, and that was how Blank Slate came into being. While Kamal was still based in Germany for his course, Soren took the plunge and committed to his longing to be on the other side of the Atlantic.
"To have the balls to do what he did…" Kamal chuckles, shaking his head at the impulsive nature of his cohort. "He took out his entire savings account in cash, and shows up in Berlin with a suitcase, a record bag, another record bag and a backpack!"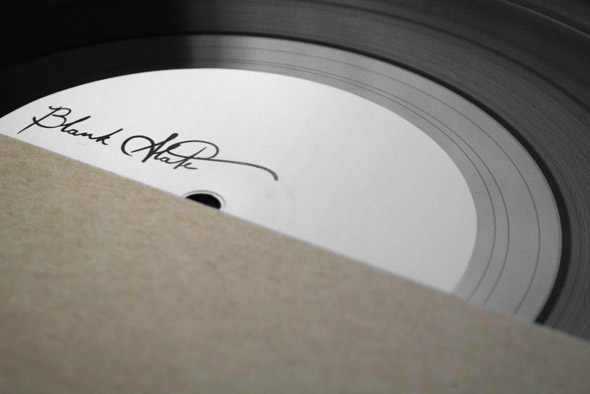 Blank Slate began life with a various artists 12" that drew on demos that had been offered up for Soren's other label, Supply. Drawing on the submissions that were a little too far out there for the intended imprint, Kamal and Soren ended up bringing together some hitherto unfamiliar artists that all shared in a more experimental vision of house and techno. Catching that indefinable buzz that sees some debut releases attain cult status almost instantly, it made for a promising start to the label, with a little help from a tenacious Kamal.
"So I'm at Panorama Bar on my second week," he starts, "and Levon Vincent is playing. He wasn't even supposed to play, 'cause there was this snowstorm, everything was shut down for four days, so he plays [his own track] "Speck's Jam", and while he's playing that I hand him Blank Slate 001. He puts it on the turntable, he's listening away to it, and he ended up playing it right then and there!" The track in question, North Lake's "Griswold", even received a special mention in the Resident Advisor review of the event, leading to a dedicated write-up of the record.
"I was well aware that Berlin had long been this magnet for every dreaming, up and coming bedroom DJ coming from America."
From those auspicious beginnings, the label quickly took shape with an EP from Soren in his most prolific guise, René Audiard, while subsequent EPs followed from Arnaldo and Mirko, who had both featured on the initial various artists release. It's a format that Kamal and Soren have been keen to return to, showcasing one track from a lesser-known artist and then inviting them back to deliver a full EP that better showcases the range of their sound.
"My idea is DJs like more than one kind of music," says Kamal, "and producers make more than one kind of music. On any release, we're not saying, 'we want a record in this genre', so I feel like we give a little more freedom to the artists."
Certainly there is already a wide range to the music you can find on Blank Slate. From full-bodied, machine-driven techno through to sparse, Eastern-infused minimal, there is no limitation of a perceived 'Blank Slate sound' that is being adhered to. Both Soren and Kamal discuss the music they deal with in terms of DJing and dancefloors, although not with concepts as limiting as 'functionality'. While they might not share a great deal in terms of style, Kamal in particular looks up to Ron Morelli and the way he operates his label.
"We're not going in with the expectation that everyone who likes us is going to buy every record," he says. "Everyone was talking about L.I.E.S. last year like, 'oh he puts out 30 records a year, I can't keep up'. I feel like that's almost a collectors mentality. So you need to have every release?"
While they may be a little way off the scale of operations Morelli has managed to attain, the pair have already raised eyebrows when they mention that they have had the first ten releases on the label planned since 2013. Kamal evidently has a handle on this structure for the label as he reels off the logistics of pressing and distribution, and even Soren is the first to admit that the pair have a polarised dynamic that helps push the label forwards.
"It just made sense to start a label with Kamal especially since he has a lot more of a head for actually strategy and organisation and logistics than I do," Soren admits. "I tend to be more of the crazy stay up all night making music person."
Indeed, as you talk to Soren you realise it would be difficult for his label ventures to succeed without other input as he enthusiastically reels off idea after project after plan. His first wax venture was Supply Records, and that was already well under way by the time Blank Slate started thanks to the input from Boston DJ and producer John Barera (pictured above with Jahan). After being introduced by a mutual friend Soren and John started jamming together, eventually forming the B-Tracks collaborative project that kicked off Supply in 2011.
"I was just beginning to feel my way around Reason when I started working with John," says Soren, "and John taught me how to use Ableton from the ground up, I literally knew nothing."
With the fuller, housier sound of B-Tracks teaching Soren a lot about swing and groove in his productions, it took until his own LP as René Audiard to display what he was capable of on his own terms. Pechorin was undoubtedly influenced by contemporary dub techno, with its languid reverb decays and hazy chords, but unlike that most identikit of genres Soren was displaying a kink in his craft that made the music jump out of the generic boundaries and belie a talent that ran much deeper than soundalike styles.
"I guess you could say that it's not that classic dub techno," Soren meekly agrees. "You don't find so much of those thumpy kicks and sedated shakers that seem to be a real trend. There's not many productions that I feel fit into that canon and yet are individual enough that they stand out."
Meanwhile the Mekaniker alias revealed a tougher, techier side to Soren's output, while there are also mysterious anonymous releases he alludes to while being careful not to give the game away. "He doesn't have those aliases so he can be pretentious," Kamal is keen to point out. "He has the different aliases because he wants to do a lot of things."
Of those many different things, Düve has been one of the most startling. It only debuted recently as Blank Slate 005, although the roots of the project stretch back to those formative years in Ithaca. Ali Cakir was part of the music-themed residents building at Cornell University where Soren was studying, and the two of them joined forces to meld Soren's electronics with Ali's Turkish and Middle Eastern instrumentation. Around the time that Soren was graduating they worked on some recording sessions in a dusty basement that have formed the Düve material to date, creating a well-travelled sound that combines the hooky rhythmic patterns of minimal with haunting organic musicality for a truly distinctive end result.
"Working with Ali has been so inspiring to me," says Soren. "It opens up a lot of doors in terms of textures that I'm using and also the sensibility of the track structure and also even in terms of the metre. I love the challenge of trying to produce in 9/4 instead of 4/4."
With Ali knee-deep in theoretical maths studies in Gothenburg at present, the chances to get together to record more material are limited, but already there is a release due imminently on Pluie / Noire, and more waiting in the wings from those initial sessions. Already though the exotic tones that inhabit Düve have started to infiltrate Soren's work as René Audiard. Moving away from the dub techno styles of Pechorin, the two EPs on Blank Slate have sported tricky time signatures and Eastern sound sources, and it feeds into the intentions both Soren and Kamal have for the label.
"I like the idea of people discovering one release and then maybe drifting to the others," Kamal muses. "Maybe you like "Cywilizacja Pt 2" and then you decided to check out Düve, and then suddenly you're into Turkish music. Or the other way round, you're into Turkish music and now you like minimal techno!"
While the possibilities feel wide open for listeners and followers of Blank Slate, clearly those at the controls have a better idea of what is just around the corner, even if they don't adhere to any notion of a label 'sound'. In Blank Slate 006 they have opened up a new salvo of artists to zoom in on, with Michal Wolski the first in line to move from the various artists release to a stand alone EP. There can be no doubt that much of the music represents a resurgence in minimal electronics powered by imagination and creativity as opposed to formulaic trend-following, and Soren is the first to acknowledge that the wider dance music climate is perhaps not crying out for such music.
"I get the impression once minimal stopped being in fashion, the scene cleared up a bit," he states. "The bottom line is that when you step back and look at these trends, the real lesson is to not stress about it, and just keep on making the music you're most passionate about."
Interview by Oli Warwick

Soren Jahan photo courtesy of David Day
B Tracks photo courtesy of Susie G
Header Image by Ilaria Pace