Furfriend make Perc Trax debut on Endless September

The "eyebrow-raising" vocal techno duo's next release will follow up a string of Killekill hits with a release on Ali Wells' label.
The Furfriend duo of Dingo Tush and Das Uberdog originally surfaced on Berlin label Killekill's Megahits compilation back in 2012 with "Geck", a track marked out by its deadpan vocal delivery, explicit lyrical content and industrial beats. However, what really stuck in our minds was the duo's bestial masks and colourful backstory, in which they were found at an animal shelter in Antwerp and rescued by their recently deceased foster mother MUM who used them as sex slaves, supposedly having to "fulfill all her sexual desires in order to get a bit of food." The duo have since made their full debut with Prayers For Perversion, an EP whose track "Fist Fuck" made explicit yet tongue-in-cheek reference to the sexual practice of its title, and more than lived up to the duo's own description of their music as "feral techno with a taste for perversion".
Given Perc Trax boss Ali Wells' love of techno that doesn't always feel the need to take itself too seriously, news that the duo's next release will be arriving courtesy of the UK producer's label makes perfect sense. Entitled Endless September, the label describe the title track as "a foundation of chest beating kicks and subbass" which also happens to be "their most politically charged release to date," with the ongoing fight for LGBT rights among the topics covered. The release also features a number of remixes, with Wells himself reworking the track, and Avian and L.I.E.S. artist Shawn O'Sullivan adopting his Vaupateen alias to create two new versions, which build "two completely different analogue environments" around the original vocal. Digital and 12″ versions will be available, with the former also featuring an instrumental and a dub mix of Wells' remix.
Perc Trax will release Endless September on 12″ and digital formats in mid May.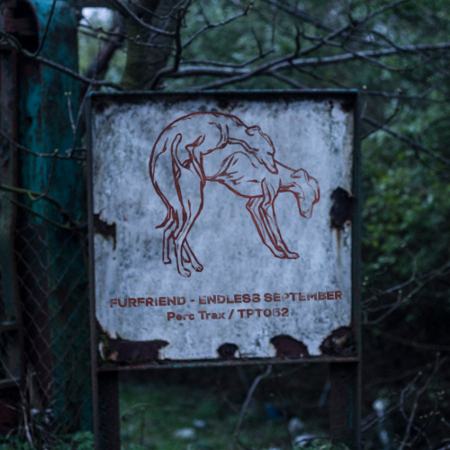 12″ tracklisting:
A1. Endless September (Original Mix)
A2. Endless September (Perc Remix)
B1. Endless September (Vapauteen Interlocking Mix)
B2. Endless September (Vapauteen No News is Good News Mix)
Digital tracklisting:
1. Endless September (Original Mix)
2. Endless September (Perc Remix)
3. Endless September (Vapauteen Interlocking Mix)
4. Endless September (Vapauteen No News is Good News Mix)
5. Endless September (Instrumental Mix)
6. Endless September (Perc Dub Mix)