Five Records: Daniel Avery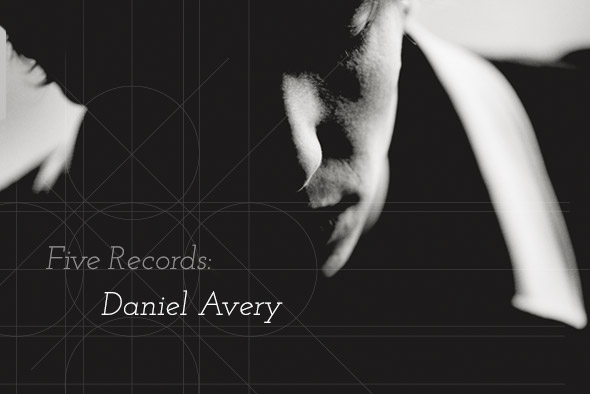 Daniel Avery selects tracks by Legowelt, Primal Scream, Moon Duo, Junior Boys and Recondite.
"The discovery of new sounds or exciting records never feels like anything less than a privilege to me. It's something we should never take for granted."
The above statement confirms Daniel Avery remains excited by new and unfamiliar music, unfettered by the lack of adventure that can sometimes afflict producers and DJs of stature. Over the course of this feature being conducted, Avery appeared to struggle with the restrictions of choosing just five records, taking his time to finalise choices whilst contending with his duties as a celebrated DJ and producer. Despite his best intentions, it appears Daniel Avery is experiencing an increasingly less quiet life, with a recent commission for the venerated Essential Mix series the latest reflection of his growing status. Last year's debut album Drone Logic has naturally played its part in this state of affairs, widely celebrated as a collection of slow reveal, acid-drenched techno that takes its cues from Avery's musical heroes and plays out like a perfectly executed hour long trip through his own DJ sets.
Spend some time with Avery and you'll discover he regards himself as a DJ first and foremost, despite the accolades afforded to his output as a producer. This is undoubtedly down to the fact he's been behind the decks on a Friday or Saturday night for over a decade, coming a long way since his teenage debut in the nightclubs of his home town of Bournemouth. Schooled in the art by his friendships with Erol Alkan and Andrew Weatherall, Avery has honed his craft as a selector through his residency at Farringdon behemoth Fabric, and he now finds himself wedged in the weekly routine of DJ booths, hotel rooms and flight terminals, as well as an established regular on the broadcast schedules of Rinse FM.
It's not surprising that music remains Avery's preferred means of escapism, and the notion of getting lost in the moment seems to connect all five of his choices for this feature, which take in classic Two Lone Swordsmen material, Legowelt, a celebrated Carl Craig remix, Recondite and Sacred Bones pair Moon Duo.
Primal Scream – "Stuka (Two Lone Swordsmen Remix)" (Creation 1997)
Andrew Weatherall is obviously a big influence on you and there are probably untold remixes you could have chosen, so what made you go with this remix?
That era was a turning point in my life. I first heard it on Richard Fearless' Live from the Social mix CD at a time when I was discovering a whole new world of electronic music that really meant something to me. It perfectly embodies the "zero fucks given" attitude of the Swordsmen: that idea of ripping up the original and taking it in an entirely new direction. Keith Tenniswood's production is huge but, at the same time, totally raw. Their album From The Double Gone Chapel was another early inspiration; it came out at exactly the point I started DJing and I would play something from it every week.
What about Primal Scream, were they a big part of your musical youth?
Not until I found Xtrmntr. I was too young to have experienced Screamadelica's full impact so never took much notice but when I first started going out to good clubs and hearing tracks like "Swastika Eyes" and "Kill All Hippies", it really hit me in the face. The production is so relentless and intense. Having Kevin Shields in your band is always going to help with that. I was the perfect age for it. They were like a modern day Stooges, full of all that turn-of-the-millennium nihilism. Records like that made up my mind that I would eventually end up in London.
Did you ever check Echodek, the album of dub versions of Vanishing Point that Adrian Sherwood did? "Wise Blood", the version of this track "Stuka" is crazy.
Yeah it's a great, heavy record. I'm really into that idea of handing over an entire album to someone else and letting them do what they want with it. No restrictions.
If you had the chance to do something similar with Drone Logic, who would you hand it over to?
I wouldn't want a club record back. Ricardo Tobar has remixed a track of mine from the album and it sounds like it comes from another planet. I enjoy music where I don't recognise a single process within it.
A lot of people draw on the fact you have bridged the gap between indie music and club music – Weatherall really set the template didn't he?
I'll admit that I feel uncomfortable whenever anyone says that to me as the idea is so easily misconstrued. When I'm in a club, I'm a club DJ. I like to think that my love of psychedelic [guitar] music comes through in the techno records I play but I don't actively try and bridge any gaps; that gap should remain intact. The reason I value figures like Weatherall, Erol, Ivan, Mary Anne Hobbs and Fearless so much is that they have always presented electronic music in an interesting way. The barrage of shit nightclubs I was subjected to as a teenager made me think that I didn't even like 'club music' for several years. These DJs represented an alternative to what I had known before. They came at it from an entirely different angle and their reference points resonated with me.
You've spent quite a bit of time in Weatherall's Bunker studio, how important has that been for you?
It's an inspiring place, constantly full of creativity, the sharing of ideas and just the general consumption of music. In the most positive sense of the term, there's a really supportive gang mentality down there.
Junior Boys – "Like A Child (Carl Craig Remix)" (Domino 2007)
I tend to find everyone who knows Carl Craig's music has formed an emotional attachment to one of his remixes specifically. For a lot of people it's the "Relevee" remix or the Theo Parrish remix, and for me it's his take on Incognito's "Into The Storm". What is it about this one for you?
It came out just as I was moving to London and it played a part in some significant nights out. It's a lesson in patience on the dancefloor. Take a small pool of simple but effective ideas and repeat, that's the classic Carl Craig way. That unapologetic repetition is key here. It's the same reason the best krautrock records work, its music to get lost inside if you're willing to give yourself up to it.
How long did it take you to develop the style and confidence to play this sort of track?
It's evolved on its own. That sounds trite but I have never made a conscious decision to develop a certain style. I guess the way I play now started to become fully realised around two years ago but I've been DJing for a decade this month and every one of those years has had an impact on what I do.
Have you explored some of Carl Craig's work under his other aliases such as Psyche and BFC?
It's a humbling back catalogue. Tracks like "Elements" and "It's A Shame" are about as hypnotic and beautiful as electronic music can get. There's a dream-like atmosphere to all of his stuff and, even when he hammers it harder, there is never any aggression involved as it's never necessary. That's a common theme in much of the Detroit sound. A track like the Omar S remix of "578" on FXHE can make a club erupt if played at the right moment but it does things entirely on its own terms in way of tempo, mood and lack of anything to crowd-please in any obvious manner. It's an inspiring statement: "you can come with us if you like, it's going to be amazing, but this is how it's going to go."
Can you think of a better example of finger snaps in a music production?
It's the best. Hand claps/finger snaps > snares.
Legowelt – "U Can Fly Away From The Hood" (Self-released 2011)
Given how vocal you are about Oni Ayhun's "OAR003-B" I'm surprised it isn't amongst your selections, but this Legowelt track is just as beautiful. How often does it make it into your sets?
There are a lot of similarities between Oni and Legowelt; they both make pure electronic music for the soul. I play this track as often as I can. Those blissful moments in the middle of a DJ set are very important to me. The track "Moon" by Iori falls into the same category.
What is about Legowelt that you love specifically?
He's a singular artist, oblivious to any current trends. He has created his own world of sound but, within that, is always pushing himself, always opening up new parts of his mind and constantly improving.
I've been doing a lot of Legowelt research for various reasons, and it seems like The TEAC Life (the album this track features on) was the point that a lot of people became more aware of his genius, when he became more prominent. Was this the case for you?
He has always been great but a lot of his ideas really came together on this album. It was a true Legowelt statement. It seemed like a natural progression from tracks like Swimming Cat Spa; an entire album of that hazy beauty he has made his trademark.
Moon Duo – "Killing Time" (Sacred Bones 2009)
In the context of the rest of your selections this seems quite odd; can you tell me why you chose it?
It's something I would always put on in the studio whilst making Drone Logic. Obviously the music is different but the atmosphere it creates is enveloping; simple melodies, swathes of droning noise and relentless repetition. It levels my head out whenever I need to reset my thoughts.
The idea of allowing yourself to get lost in music seems to be pretty strong with all the tracks you have chosen here?
It's everything. It's what attracts me to the music I like the most.
To my ears it's the sort of track you'd hear Erol mix with electronic music back in the Trash days.
Yeah, possibly. Erol was able to get away with some pretty brave moves at Trash.
Do you think clubbing has become too linear in this respect? People just expect a night of straight up house or techno mixed without error? How do you counter that yourself?
No, I believe linearity is important when it comes to DJing. The thing with nights like Trash and Optimo Espacio is that, whilst many genres were played, every record was related in some respect. A line could be drawn throughout the entire night and that's a real skill. Anyone who can tap their foot in time with music can be taught how to beat match but selecting records is a different thing altogether. The best DJs – house, techno or otherwise – are the ones who can.
Who would you put in that 'best DJ' bracket now?
Barnt is the most impressive emerging DJ I've seen recently. He is totally unique. Helena Hauff has something about her too. Obvious choices aside, Roman Flügel and James Holden are still the reigning kings in my eyes.
Recondite – "Felicity" (Acid Test 2012)
What's your reason for choosing this track?
There have been several moments in clubs recently where I've heard a record that has stopped me in my tracks. They have all been by Recondite. Whilst I love walls of noise, minimalistic music can be just as powerful in the right hands. Recondite's stuff reminds me of early Aphex Twin in its ability to fill a club with an almost otherworldly presence.
From reading the interview with him on Resident Advisor last year, it seems a lot of the serenity in Recondite's music comes from his connection to nature and the outside world. How much part does the surrounding environment play in your own work?
I don't know how to define it but London as a city has a large part to play in the sound of my music. It's a place I always knew I wanted to live and, right now, I can't imagine being anywhere else.
Have you followed the Acid Test series as a whole?
It has been amazing. Pepe Bradock's last year was something else and I love everything Tin Man touches. That Donato Dozzy remix nearly made it into this list.
How much time do you spend on digging for music? You used to work in Pure Groove, so I guess that process of spending some time in the racks will never get tiring right?
I've never found the term 'digging' and its connotations with hard, manual labour that good a fit. For us in this game, we all immerse ourselves in music every day and, whilst it obviously does require true dedication, the discovery of new sounds or exciting records never feels like anything less than a privilege to me. It's something we should never take for granted.
Interview by Tony Poland
Header image used courtesy of Steve Gullick