Scratching the Surface: Holographic trax, grimy techno and bassline pop
Scott Wilson takes the current temperature of UK-centric and UK-inspired club music in this month's column, with Celestial Trax, Acre, Beneath, DJ Q and more discussed.
It's not often that the month sees such a strong selection of music released which can be arranged quite as thematically as it is in this month's column, but it speaks volumes about the quality of the music rearranging the hardcore continuum that's been released in the past four weeks alone. In fact, I can hardly remember a time when things were looking quite so good for the more twisted end of UK-centric club music. The last time I looked at what we were then somewhat quaintly calling "bass music" in detail was the end of 2012, when the first seeds of the jungle revival had been sown, and more critical attention began to be paid to the small group of producers putting their own stamp on instrumental grime. Looking back that year felt like the end of one age and the beginning of another; artists featured in that column like Slackk and Logos have both gone on to start the Boxed night in London with Oil Gang and Mr Mitch, giving instrumental grime a regular platform in the capital, with their style of music making increasingly larger ripples across the globe. Paul Woolford's Special Request meanwhile released one of the biggest albums of 2013, his hybrid jungle-techno sound capturing the imagination of critics and audiences across the board.
Although labels like R&S, Hessle Audio, Hotflush and Hemlock all still exist, the days when they all fed off each and collectively pushed club music forward so rapidly seem like a distant memory. Although their positions remain strong (especially Hessle Audio, who it must be said have never compromised in terms of the music they release or play in their sets) their relative position to one another has drifted considerably apart. Untold, once the most striking producers of the past five years, now makes music that you could easily categorise as techno, Scuba plays Ibiza, and the Hessle Audio show on Rinse FM can sometimes sound ordinary in comparison to the shows being hosted by Mumdance and BleeD. It now seems as if labels like Livity Sound, Local Action, Unknown To The Unknown, a renewed Tectonic and its Cold Recordings subsidiary, Keysound and even PAN that are the ones are leading the way with material taking the lineage of UK club music into exciting new places. One label has remained impressively constant: Night Slugs, who continue to push club music into places nobody else is even thinking of. A conceptual EP responding to an imaginary concrete studio environment filled with natural foliage? That'll be the next release from Bok Bok.
The legacy of bass music isn't all good though; the likes of Route 94, Disclosure, AlunaGeorge and Bondax might sound like they're making a chart-friendly type of dance music a million miles away from anything that came out on Hessle Audio five years ago, but trace the ancestry of their music back and you can see weak traces of that period of experimentation in their musical DNA, flattened out, and turned into a pasty imitation of UK club music. Artists like these, and casually misogynistic YouTube channels turned brands like Eton Messy are the most disappointing legacy of the great post-dubstep experiment, a curiously British form of EDM that might lack the bombast of its American counterpart, but that's just as hollow on the inside.
Then again, for those happy to ignore it, this is no bad thing; with the UK bass chancers moving on to chase the chart-friendly deep house revival, the spirit of proper experimentation seems to have been rekindled, with the past year seeing the creation of some of the weirdest dance music since those early tracks from Ramadanman, James Blake and Untold turned everything upside down. The first few months of this year have seen a wealth of brilliantly music emerging, some innovative, and some just doing old stuff really well, and to be honest, the music collected below doesn't even begin to cover it; check out the Truants site (most specifically their Functions of the Now series), any Mumdance show on Rinse FM or one of the regular mixes or radio appearances from Slackk for a more in depth picture than this column could ever give.
Celestial Trax – Paroxysm EP (Rinse Recordings)
Although I enjoy a lot of Rinse FM shows, I tend to give anything released on their label a wide berth; with the exception of the odd gem, most of the music falls quite short of the mark when compared to their increasingly adventurous programming. Of course this is perhaps to be expected; Rinse operates at the fairly commercial end of the spectrum, and at the moment seems to primarily represent the house music which is so ubiquitous in London right now, something which makes its latest release – a six-track EP of experimental grime via the odd excursion into footwork – so pleasantly unexpected. Celestial Trax's Paroxysm EP doesn't necessarily do anything that hasn't been done by the Night Slugs family, Hyperdub, Visionist, Slackk or numerous other producers currently making instrumental grime hybrids, but there's an undeniable sense of immersion present across these productions that marks them out.
As you might expect from a producer going under the name Celestial Trax, that immersion comes in the form of a certain ethereal quality to the music which marks it out from the increasing number of producers doing similar things. "No More" is perhaps the most referential track on the EP; the gunshot samples, plucked synths and symphonic strings are all the kind of things heard on countless other instrumental grime tracks, but things get more esoteric as the EP progresses. "Wax Forest" pulls the tempo back to highlight the melancholic aura and glassy textures reminiscent of Fatima Al Qadiri's Desert Strike EP minus the more explosive samples, while "Blockx" actually does the impossible and makes a pitched vocal sample sound fresh amnogst its restrained pads and swampy bassline. The second half of the EP is where the producer really comes into his own; ramping up the tempo on "Sutekh"' he creates a spacious footwork track out of a minimalist palette of midnight sonics. Both "Sutekh" and "A Cross" reference jungle in their vocal samples and rattling snares, but again, it's his cold, glassy textures that shine through. The continual dot joining between different genres can get a little exhausting, but it's clear that Celestial Trax is still trying to work out just what kind of producer he wants to be. For the time being, this is as solid a release as Rinse Recordings has put out in a while.
Strict Face – Fountains/Highbury Skyline (Gobstopper)
Oneohtrix Point Never's R Plus Seven has been so firmly emblazoned on my synapses that I'm pretty much a sucker for anything involving a choral pad, especially one that sounds like it's been lifted from something that might be used to soundtrack an Oculus Rift menu screen. These kind of sounds have been seeping into dance music increasingly of late; most recently it's been heard in the music of Her Records artists Miss Modular and Sudanim, and in Holly Herndon's excellent "Chorus". It's hard to know exactly where this has come from; I don't personally think it has anything to do with R Plus Seven specifically, and I'd be reticent to suggest it has anything to do with the proliferation of so called "vaporwave" in the past few years. Whatever the reason, it's becoming increasingly obvious in contemporary grime spheres. Boxed resident Mr Mitch's The Room Where I Belong EP in February was an interesting example, pushing his sound outwards into the realm of abstracted downtempo, a collision of rhythmic grime signifiers and crystalline sonics which wouldn't sound out of place on Daniel Lopatin's Software label. It's unsurprising then that his Gobstopper label's latest release should be from an artist whose sound is even more high resolution.
Given that he hails from Adelaide, it perhaps isn't surprising that Strict Face doesn't just see grime as an influence, as this interview with Truants last year shows. In fact to call either "Fountains" or "Highbury Skyline" grime feels like a misnomer; the former may have those identifiable square wave leads and gunshot samples, but the whole thing floats on such a wave of synthetic bliss that it's hard to see it as the product of grime alone. "Highbury Skyline" might be a little more like the more straight up instrumentals of JT The Goon, but it still comes stripped of all its momentum and suspended in a stasis field of nebula dust. There's a fine line when it comes to music like this, one that can easily be crossed into gimmickry, but these tracks stay on just the right side.
Beneath – Vobes EP (PAN)
Although his output has been fairly sporadic since his excellent Keysound release at the end of 2012 (also highlighted in that aforementioned earlier STS column), those paying attention to the UK's ever-shifting bass diaspora over the past few years couldn't have failed to have heard one of Beneath's tracks. Like the output of the Livity Sound trio, Beneath's productions seem to appeal to DJs across the board, with a tempo and a skewed kind of swing that seems to cross the borders between more twisted UK dance music and straighter teutonic techno. It might seem initially baffling that Bill Kouligas has signed four of his tracks for the next PAN release, but considering he put out a pair of hardware techno bangers from Black Sites last year, four tracks from the arguably much stranger Beneath really isn't that much of a stretch at all.
Probably the most pleasing thing about the Vobes EP is that it seems the producer moving significantly outside of his comfort zone and taking his sound into unexpected places, augmenting his previously bass-heavy sound with glassy sonics and synth textures that sound like they've been inspired by early Detroit techno; where his earlier releases inspired the same paranoia as early dubstep, there's a strange kind of holographic futurism on show which is quite unexpected. This is most obvious in "Occupy", where the standard bass wobble seems to take on a sheen more like something you'd expect from an early Cybotron track, and the standout "Bored 2", where laser blast synths are panned thick and fast between the channels as a disorientating loop is swept up in a whirlwind of tin can percussion, metallic echoes and rising kicks. It's more like being embedded below decks in a space battle than dancing below ground in a basement club.
It's the moments where things get really odd that stick in the memory. "One Blings" may have the stuttering rhythmic backbone of his early work, but it's ornamented with cubist shards of melody that sound like being at the centre of a virtual reality windchime, while "Stress 1" comes to a climax of insectoid synths that sound like streams of raw data passing through copper wire. Even the snares sound like they're coated in porcelain. It all makes for a very interesting take on a very UK-centric sound which has rarely felt quite as tactile as it does here.
Hodge – Amor Fati/Renegades (Dnuos Ytivil)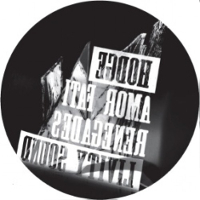 The Hodge releasing music now is almost a completely different character than the one releasing music back in 2011. Although shades of the darker, rolling sound that would come to characterise his solo productions started to manifest itself on his release for Deadplate in early 2012, last year's record for Punch Drunk was where everything really fell into place, containing a pair of dense techno mongrels with a clunk that was unmistakably Bristol in design. Hodge's sound is so in tune with that of Livity Sound that it seems bizarre that it's taken this long for him to appear on the label's Dnuos Ytivil sister imprint, and it may be the best on the sub-label to date.
There's what sounds like a distinct trace of the Skull Disco lineage present in the two tracks, but where the early work of Shackleton, Appleblim and Peverelist felt more delicate in design, "Amor Fati" combines that litheness of rhythm with blasts of heftier noise. It's got an almost industrial feel, but Hodge understands that letting kick drums fall like lead weights isn't always necessary in creating impact. Although the kick drums feel much more compressed on the B-side track "Renegades", it still maintains that same sense of balance thanks to the psychedelic melody swirling in the background. Despite having success as part of Outboxx as well, it feels like Hodge, as a solo concern at least, has swiftly risen to the position of one of the UK's most consistently exciting producers.
Acre – Burning Memories EP (Cold Recordings)
In an interview last year with Sonic Router, UK producer Acre revealed that the end of 2012 saw him lose three years worth of work in a hard drive failure. The experience, he revealed, although a "double-edged sword," encouraged him to make what he describes as "in my opinion some of my best music to date". Listening to Burning Memories, it's difficult to imagine Acre making music like this unless his hard drive had failed; each of the four tracks on this impressive EP feel very much the product of the past year's obsession with jungle, industrial techno and grime spliced into a new whole that comes refreshingly free of the usual tired formulas. Anyone who heard his Forgotten EP on Visionist's Lost Codes label last year will be particularly surprised at just how rough the whole thing sounds in comparison.
"Burning Memories" may be filled with jungle breaks, but they really only feel like window dressing for the disorientating sonic loops and blown out kick drums that really make the track. The devastating subs and square wave leads of "Switchblade" reference grime, but with a heaving weight that's more like industrial techno. It might be pumped more with ketamine than speed, but there's more in common here with Millie & Andrea's Drop The Vowels than anything else, especially on the shambling "Trace Loops", which pays no attention to dancefloor convention and creates a monstrous bit of half step techno whose pitched chords hang off its rhythms like decaying skin. "Northern Shadows"is probably the closest thing here to a proper dancefloor track, employing the same kind of morse code bleep and scattergun kick drum deployment as seen on Pinch & Mumdance's recent "Turbo Mitzi". It hasn't been immediately obvious until now, but it seems like Pinch is building something very distinct – not just with Cold Recordings, but across his own music as well – that promises to make good on his desire to bring the "dark menacing edginess" he feels has been missing from UK club music.
DJ Q – Ineffable/Trust Again remixes (Local Action)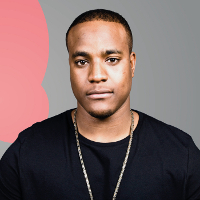 I'm not usually one to complain about review scores, but Resident Advisor's 2.5/5 rating for DJ Q's debut album on Local Action seemed a little unfair. The reviewer's position seemed to suggest the producer was in some way selling out by delivering an album closer to pop music than straight bassline. I'm no expert on bassline, but it's never seemed to me that the two things have ever been incompatible by any means, something also present in bassline's more classic UK garage roots. It's why Kieran Hebden regularly plays "Sweet Like Chocolate" in his DJ sets – the distinction simply doesn't exist in the same way that it does in other genres.
Ineffable certainly isn't perfect, but when it hits the mark, it feels like Quarshie is condensing 15 years of dance music into 40 minutes. "Let The Music Play" has the kind of Todd Edwards-inspired skip that makes it sound like it could have come from Daft Punk's Discovery, while "Trust Again" conjures up memories of Sweet Female Attitude given a bit more bassline muscle. The vocal jungle of "Through The Night" and "Closer" will probably prove the most divisive moments for some, providing some of the most straight up pop music of Local Action's career, but those who know anything about label boss Tom Lea's tastes won't find it too much of a surprise that he has been happy to let Ineffable push the boundaries of what people should expect from his label. Unlike the confused, flat efforts of Disclosure and their ilk who have tried to do similar things to pop and failed, DJ Q clearly has this kind of stuff running through his veins.
This pop sensibility is something that runs through the accompanying Trust Again remix EP. The international grime axis is well represented with Rabit, Inkke and Major Grave all twisting "Trust Again" into different shapes, but what stands out is the unwillingness to sacrifice any of the pop appeal of the original; even Rabit's version, whose bass and rhythms are almost cybernetic, lets the shiny vocal seep through at opportune intervals. However, it's Deep Medi alumnus Compa's remix that manages to create the collection's most perfect fusion of pop and underground UK club music. Melding the full vocal to a stark yet shiny 140 backdrop, it's the kind of track Magnetic Man were probably aiming at a few years back, but never quite managed to make.
Bok Bok ft Kelela – Melba's Call (deleted mix) (Night Slugs)
As mentioned before, Bok Bok's next full solo release for Night Slugs will be a conceptual one, and personally, I can't wait. Egyptrixx's similarly conceptual (and highly underrated) A/B Til Infinity album was one of my highlights of last year, and Your Charizmatic Self promises to be equally as boundary pushing in a similar way. In a recent interview with FACT, Bok Bok said: "I think that's the way to go, with us, to develop that relationship between the art and the music in tandem." While the Club Constructions series has been undeniably strong, that synergy between design and music which has been a cornerstone of the label since day one deserves to be explored much more fully than it has.
Taken from that forthcoming EP, the Kelela collaboration "Melba's Call" shows just how far Bok Bok has come as an artist over the past five years. Angular yet funky, it sounds like a cubist take on an Off The Wall era Quincy Jones production, but despite its sharper edges, it doesn't sacrifice that dancefloor functionality at the expense of some needlessly experimental window dressing. As great as it is, I've become more fascinated with the vinyl-only "Deleted Mix". As the name would suggest, it's considerably rougher around the edges than the cleaner original; there's an audible hiss that suggests the hardware has been recorded straight to tape. It offers a gravelly take on the Night Slugs sound, where rumbling bassline creates an undercurrent of John Carpenter horror, and its twitchy pattern and pristine Kelela vocal the only thing to stop you from mistaking it for a chopped and screwed version. Even in this oddly decayed form, "Melba's Call" shows just how far ahead of the pack Night Slugs are, and continue to be. One suspects that, even after almost six years in the game, the best is yet to come from them.
Scott Wilson