Various Artists – Uncanny Valley 20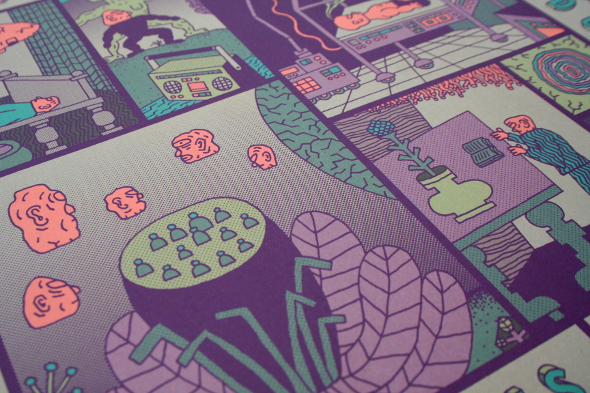 Collaboration, particularly within local scenes, has always been one of the more positive aspects of electronic music. Since the evolution of house and techno in Chicago and Detroit respectively, producers, musicians, label owners and party promoters have always joined forces to work together, put on events and showcase their sounds to the world. Chicago may not be the best example given the infamously cut-throat nature of the early house scene (feuds sparked in the early 1980s still rumble on to this day, in some instances), but there are others; the Yorkshire-centric feel of Warp during its earliest days, the Madchester evolution of Factory Records in the '80s and early '90s, and the friends-helping-friends vibe of contemporary North American labels like Future Times, L.I.E.S and Mood Hut springs to mind.
Then there's Uncanny Valley, a label whose very identity and approach to music has been shaped by its founders' wish to put Dresden's electronic music scene on the map. While the label's foundation back in 2010 was sparked by conversations between Jacob Korn and Albrecht Wasserleben, both soon realized the need to create a larger collective. They then spent time getting other local artists – the likes of Break SL, Cuthead, Credit 00, Sneaker and Scherbe – to buy into their vision, which included a series of "split" EPs, featuring tracks from a number of producers, with artwork designed by local illustrator Paul Waak.
Now four years old, Uncanny Valley continues to fly the flag for the benefits of collaboration. The label has forged a distinct identity – thanks, partly, to Waak's quirky cover illustrations – whilst retaining a refreshingly unpredictable approach to house and techno. It's this approach that makes Uncanny Valley releases so checkable; you don't know whether you're going to hear crusty analogue acid house, slo-mo wonkiness, shimmering deep house or something more experimental. Having come of age following four years in the game, they've decided to put together their first label compilation. Stretched over one CD, three separate 12" singles and a digital bundle, Uncanny Valley 20 is no great departure. Really, it's just their usual scattergun approach to releases on a grander scale. It is, though, as good as you'd expect from a label that rarely slips up. Furthermore, all the tracks are brand new.
Unsurprisingly, Uncanny Valley 20 hits hard straight from the off. RVDS and K'Alexi Shelby's rough Chicago jacker "The Art of The Track" sets the tone, immersing listeners in an intoxicating whirlwind of twisted acid lines, alien synths, bombastic drum machine percussion and a simple, booming bassline. It's the compilation's most startling moment, a feeling intensified by the inclusion of a moody spoken word vocal musing on the state of contemporary house music. While there are other acid-tinged moments – see DC Production's bouncy, fuzzy, jazz-tinged "In der Weltraumdiskothek" – the strongest feature of the collection is the eclectic and open-minded approach. So, you'll find the surging ghetto-house intensity of Sneaker's "remodel" of Optokoppler's "Function" nestling side by side with the deep, undulating, melodic micro-house of CV30X's "2×4", and the low-slung dub disco of Sandrow M & K Chico's "Space Dancer" snuggling up to the emotive, slo-mo electronica of Filbert's quietly impressive "My Time".
While the standard is impeccably high throughout, there are some genuine highlights. Chief among these is the thrillingly percussive "Puli Kali (Rooted Dub)" by Götterkries and Steve Kasper, whose dub techno chords and dubwise effects are laden with live bongos, congas and all manner of other organic drum fills. It's simply stunning. Almost reaching the same levels are Kornhead's "Sur La Plage" – a raw and distorted fusion of thumbing rhythms, woozy chords and repetitive chants – and Lounge 44's devilishly simple "Good4Soul", a perfectly executed exercise in loopy disco-house built around a killer groove.
It's a measure of the quality of the compilation's sequencing that such eclectic shifts do not seem out of place. House music has always been a broad church, but very few labels have the confidence to embrace its many subtleties and nuances. With Uncanny Valley 20, the Dresden collective has shown others the way. 
Matt Anniss
Tracklisting:
1. RVDS & K'Alexi Shelby – Art of the Track
2. Credit 00 – Obsessed
3. Optokoppler – Function (Sneaker's 'My Puss' 7er remodel)
4. CV30X – 2×4
5. Jacob Korn – Der Don
6. Götterkreis and Steve Kasper – Puli Kali (Rooted Dub)
7. Lounge 44 – Good4Soul
8. Kornhead – Sur La Plage
9. DC Production – In der Weltraumdiskothek
10. Scherbe – Nuthin Wrong Here
11. Sandrow M & K_Chico – Space Dancer
12. Filburt – My Time