Yves De Mey – Double Slit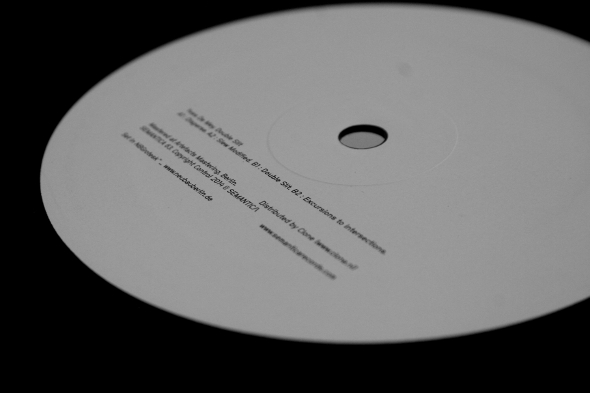 Like Peter Van Hoesen, his collaborator in the Sendai project, Yves De Mey follows an unconventional artistic path. Both producers trace their roots back to the art/experimental scene of Brussels. While Van Hoesen went on to gain recognition on techno dancefloors with bass-heavy warehouse tracks on his Time To Express label as well as for a number of other European imprints, most recently Tresor, before reverting temporarily to abstract compositon, De Mey decided to follow a more singular path. Arguably, this may have been a less rewarding approach in the short term, but it has yielded releases on Sandwell District, Opal Tapes and now Semantica.
Granted, Double Slit sees Svreca's label delve farther into the outer realms of electronic music than usual. There are no real dance floor tracks here and the final arrangement, "Excursions To Intersections", is an eerie soundscape featuring squealing, feedback noise in the background playing out over a dead pace shuffle. It's the most extreme moment in a release characterised by tonal and textural repetition. Like the best minimal techno, the changes on "Disperse" are tiny and gradual, its acid lines unfolding over a slowly evolving, crunchy filter and a siren going off at a snail's pace. It's like hearing noise-era Speedy J pitched down to infinity.
"Slew Modified" is set at a similar tempo, with the arrangement based on a grimy, acid-flecked rhythm that rumbles to reveal bursts of percussive noise followed by jarring riffs and as its denouement, a dreamy synth coda. Like "Disperse", it feels like carefully constructed club techno slowed way down, resulting in a blurry, viscous sound. Finally, there's the title track; centred on a morose bass, it's more stripped back than the other arrangements, resonating to the crackle of static hum and hiss, supported by steely, dubbed out drums. De Mey is unlikely to hold court in big room at peak time, but as Double Slit demonstrates, the slower journey is often more fulfilling.
Richard Brophy
Tracklisting:
A1. Disperse
A2. Slew Modified
B1. Double Slit
B2. Excursions To Intersections