Separate Mind: The Past is For Sale, But the Future Is Still Ours
Music from Specter, Delroy Edwards, Virgo Four, Vincent Floyd, Larry Heard and more is under discussion in Richard Brophy's latest Separate Mind column.
The past is for sale. More and more labels are dedicated to discovering and curating old releases, many of which have been forgotten about, never got the recognition first time round or have simply gone out of print. Some outlets, like Minimal Wave, Rush Hour, Mannequin and Dark Entries, are carrying out this task exceptionally well, reintroducing great music to new audiences. In some corners however, there are unsubstantiated mutterings about labels taking advantage of producers in dire straits. In a poignant post on his website last year, Luke Solomon voiced concerns that his close friend and former collaborator Gemini was not reaping the benefits of his records being reissued.
Is this a case of history repeating? Many of the original house producers signed bum deals or never got paid, and now it has been alleged that they are being exploited again. In the case of Chiwax, these allegations of malpractice appear to be unfounded. When contacted by Separate Mind for this article, Robert Dreher, the label's owner, said: "Why should I release on my label, which had already had a good reputation, without Gemini, Robert Armani or K-Alexi's permission? We have the rights on Swimming With Sharks and on all other Chiwax releases, we paid advances and royalties – like it should be. I would never re-release something without permission." Dreher also pointed out that he is organising benefit parties to raise funds for the Chicago producer. When contacted about what Dreher had to say, Luke Solomon, whose Classic label originally released Swimming With Sharks, declined to comment.
No matter what stance you take, there is no doubt that an appetite exists for reissues. Put it down to the fact that electronic music was edgier and wilder-sounding two decades ago, attribute it to normal cyclical shifts and new generations tuning in for the first time, or just some smart curation and distribution, but whatever the explanation, the new editions keep on coming. Strut Records has just put out a compilation of Dance Mania tracks, while Chiwax released the hard to find ghetto house record Get The Cash by DJ Milton.
The German label now follows this release with a new release from Virgo Four, E-Series Part One. The Chicago act, which resurfaced in 2010 with a reissue from Rush Hour, also attracted attention last year when Resident Advisor reported that Merwyn Sanders, one of the act's founders, had left the group in 2011. Going against Sanders' wishes, the other founder, Eric Lewis had continued to tour
with his cousin under the Virgo Four banner. All of this lends the E-Series Part One release on Chiwax an air of mystery, with no confirmation when they were recorded or by who, though they sound like a more polished albeit melancholic take on the timeless deep house that the act is known for. "Just Let Me Be" flows to the sound of liquid acid lines, brittle hi-hats and mellow Rhodes solos – but like a lot of Virgo Four material, the killer element is the vocal, ponderous and evocative, asking if he can 'take you back'.
"Superbass" is more mellow and in the absence of an acid element, it relies on jazzy keys to make its mark. It seems insignificant compared to "1986" though. There, a prowling bass reminiscent of early Kevin Saunderson is fused with spaced out filters and a semi-tragic vocal that staes 'I know they say you should love me, but that's alright, I know they say you should leave me, but that's alright'.  "Let Me Touch Your Soul" is in a similar vein, this time with spiky percussion and a warbling Octave One-style bassline – or is it the other way around, Octave One inspired by Virgo Four? – fused with sombre synths and doleful vocals. Put it down to years of touring or bum deals, but whatever the explanation, Virgo Four's house sounds positively bluesy.
In contrast, Vincent Floyd's Your Eyes on Rush Hour is celebratory. The Amsterdam label deserve kudos for re-releasing material that isn't populist; they helped to rekindle interest in Anthony Shakir with the excellent Frictionalism compilation a few years ago and have also re-released the debut Virgo album – confusingly, this was a pseudonym for Virgo Four – as well as the sole album that the Dream 2 Science duo released (in 1990). Floyd, who was a contemporary of Larry Heard's – the below photo posted online recently shows him playing keyboards with Heard at an unnamed venue – also specialised in sublime deep house, albeit with a greater sense of melodrama.
On the aptly named "I'm So Deep", soaring strings and dry claps underpin a camp male vocal asking 'how could I excuse you when you are such a part of me?' It's a smart meeting of the electronic and the soulful, and sets the mood for the title track. "Your Eyes", which features the mysterious Chan on vocals, starts with the kind of crashing wave effect you'd expect to hear in a high-end disco production and is followed by rolling conga drums and plaintive piano keys. What happens next really impresses though as Chan's vocals are brought in against the backdrop of a bassline that was undoubtedly the inspiration for Gat Décor's Passion and a million other UK house tunes. That Chan makes such firvolities like 'ooh ooh ooh' sound poignant is testament to the power of his voice and when the lilting Spanish guitar solo appears, it is clear that Floyd has made a near-perfect deep house track, influenced by gospel, disco and soul.
The other key release fuelling the house/techno reissue craze is Larry Heard's Alien album on his Alleviated label. Originally released back in 1996, the passage of nearly two decades has done nothing to dim its glow. Alien sees the Chicago producer at his most spaced out and elegiac; with titles like "The Dance of Planet X" and "Flight of the Comet", it has the same trip into the other/netherworld feeling as Journey of the Dragons or Transllusion's The Opening of the Cerebral Gate.
It also gives lie to the notion that Detroit producers hold the exclusive rights when it comes to introspective, out there electronic music. Indeed, the ten-minute "Microgravity" odyssey could be Heard's esoteric riposte to Carl Craig and Mad Mike, as high-pitched tones meet atmospheric synths before it ends in swirling, beatless textures. "Faint Object Detection" is just as atmospheric, with dramatic keys playing and spaced out melodies swirling like glitter thrown onto a black canvas. "Flight of the Comet" marks a return of sorts to Heard's house sound as beautiful jazzy piano playing out over mid-tempo beats, while the layered synths on "The Dance of Planet X" sounds like a Mr Fingers track performed from a pod travelling through the solar system. In the main however, this album bears little relation to the Chicago producer's dance floor work. Take a listen to the freeform "Galactic Travels Suite", which shifts from breathy ambience and star-shower chimes before edging into slo-mo cosmic disco in case you're in any doubt.
The sound of Chicago's less polished ghetto house sound also lives on, not just via the Dance Mania compilation but also on DJ Harlow's Waxwork for Delroy Edwards' L.A. Club Resource label. This whole project has a sleazy, illicit feel to it, from the picture of the banjaxed 4/4 on the inlay to the primal, under-produced sound. The phone number and no email contact on the flip are reminiscent of the time when record orders were made down the end of crackling connection to the States. The music is no different, with Harlow pushing the bass into the reds at any given opportunity and the near-distorted licks threatening to but never quite succeeding in engulfing the backing tracks. As for the rhythm tracks; the hats skip like the intro to Ron Trent's Altered States pitched way up, while the groove sounds like leaner, meaner take on LFO vs FUSE's Loop. The eerie synths on "Waxwork (Chord Mix)" sound almost insignificant when played next to the punishing "CP" and "SD" versions, where the pounding bass and drums double up on themselves and create a wall of gut-wrenching noise. This isn't polite dinner party soundtrack material, unless you want to lick leftovers off the floor of a crack den.
As for Edwards himself, he could have easily dropped a follow up to his L.A. Club Resource or L.I.E.S. releases, but instead he has opted for something much more left of centre. The US producer's latest project is the Teenage Tapes mini-album for The Death of Rave. Consisting of eight untitled tracks, it marks a radical departure. Half of the tracks are nothing more than brief bursts of feedback drenched noise, with "A4" in particular replicating the sound of a sadistic teenager scraping his nails down a blackboard. Elsewhere, Edwards tackles new wave with aplomb; "B4" has echoes of a track from a Silent Servant mix – maybe it's the L.A. connection – and sounds like a hybrid of early Pixies and Joy Division, the driving bass and tight drums cloaked with the requisite coating of gloom. Meanwhile the frenetic beats on "A2" and "A3" feel like electro 808s bashed out on a drum kit as doomy but atmospheric synths recall Bauhaus at their most obtuse. As for Edwards' love of banging, ghetto house rhythms? Only the "B2" has a connection, albeit a tenuous one, to his club tracks – but the acid is so grimy and mangled and the backing track so murky that only the bravest or most determined will follow.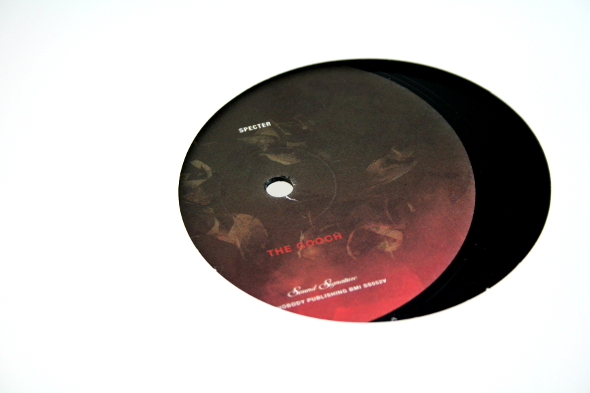 In a similar albeit less abrasive vein is Specter's The Gooch. Sound Signature followers will probably have been shocked by the grungy techno of  2011's Pipebomb release on the label. The follow up is just as visceral, even though it makes clearer references to older sounds. "Zodiak" is a mean and gritty acid track, its thunder claps and relentless 303 lines unravelling over a dense, bleak rhythm, in the vein of DJ Skull or Steve Poindexter. "Body Blow" is more inviting and playful and its matrix of lithe percussive patterns and understated 303s offer a lighter take on Specter's interpretation of heavy acid. But like Pipebomb, it's Specter's voyage into less charted territories that bears the most rewarding results. "The Gooch" is just that, a dense groove where it's hard to determine when exactly the churning filters end and the murky bassline begins. There's the remnants of a vocal in the background but it could just as easily be the howl of a tortured animal. Specter may as well have put up a sign proclaiming 'here be monsters' to ward off house traditionalists when he finished working on "The Gooch".
So while Specter, Edwards and DJ Harlow provide new perspectives of house and techno stateside, what's the view like from Europe? To get an understanding of where things are heading, Tape Sampler 02 provides some insights. Released on the Amsterdam Tape label, like the first instalment, it brings together work by new and upcoming producers. Berend & Jeroen's "Quintage Acid" is a finely executed Detroit techno track, its thundering drums and melodic bassline interwoven deftly with hushed pads, but aside from its impressive production techniques, it doesn't say anything new. Deniro's "Bobcat" offers more by way of a surprise, but this is largely due to the fact that it condenses the raw analogue house of Dan Bell and Baby Ford into an energetic three and a half minute burst. Interstellar Funk's "1999" offers a far more impressive alternative, thanks to its relentless jittery rhythm that chops in and out, a bass that's grainy but not aggressive and murky riffs that still shine with wild, hedonostic abandon.
However, the killer track comes from the most established producer; following his release on Dekmantel, Mark Du Mosch continues to explore new possibilities for Italo and techno with "Soulsearch". It unfolds over a tunnelling rhythm and hypnotic bass pulses, but when combined with high-end melodic ticks and spooky keys – in places reminiscent of the Halloween theme tune – it sounds familiar but daring, an unusual concoction of existing ingredients. The past may be up for sale, but as Du Mosch is surely aware, the future is still for the taking.
Richard Brophy