"I'm not very good at anything else": A discussion with Lord of the Isles

Lord of the Isles is riding the crest of a wave, thanks to a string of superb 12" singles in his trademark melodic, emotion-rich style. Yet despite this success, he's still partial to periods of self-doubt, as he tells Matt Anniss.
Sometimes mythology can enhance the listening experience. Certainly, it could be argued that the myths and mystery surrounding Neil McDonald's Lord of the Isles project have given his productions an extra air of excitement. The name is wholeheartedly Scottish – it's an ancient title used by the rulers of the Western Isles during the Middle Ages – but evocative enough to offer daydreaming listeners an opportunity to fill in the gaps themselves. Evocation is something that McDonald does better than most. While his productions over recent years have flitted between styles – from the shimmering, near Balearic electronic disco of 2011 single "Ultraviolet" and deep alien techno of "Egol", to the John Carpenter influenced analogue fluidity of "Year of the City" and stomping, dubwise electronics of recent Mule release "Kurve" – each is unflinchingly emotive and impressively cinematic.
Perhaps fittingly for a man who used to spend much of his teenage years painting and drawing, McDonald has the rare knack of being able to paint pictures with sound. Listen to any of his immaculate 12" singles, and you'll be daydreaming in no time at all. What you imagine is your business; like much electronic music in this style, it's open to interpretation.
If you knew nothing about McDonald, you'd be forgiven for thinking that he lives the island life hinted at by his favoured pseudonym, producing music while waiting for the wind to die down and the storm clouds to depart. Or maybe you've imagined him hunched over a bank of analogue synthesizers in a cold crofter's cottage, perched precariously on the side of some remote, secluded Highland hill.
The reality, of course, is somewhat different. McDonald has been a resident of Edinburgh for the best part of two decades – on and off, at least – and currently resides in the suburbs, where he makes music in his family home. "It's a great city to live in," he enthuses. ""I'm in the city, but the Firth of Forth is just down the hill from me. You walk for five minutes and you're by the water. It's brilliant. I love living here – even as a city it's very green, with lots of trees."
McDonald has become something of an underground hero over the last couple of years, but he's no overnight sensation. He spent "five or six years" DJing every week in an Edinburgh basement bar during the '90s, and took his first tentative steps in production with John Vick of Finitribe (under the long-forgotten Remote Control alias) at the turn of the millennium. After deciding to go solo, he spent the best part of a decade as a bedroom producer, simply making music to satisfy his creative urges. "I just enjoy making music," he says. "That's definitely been my approach over the last ten years. I spent years not sending demos to anyone – I just made music for myself, really. I very much connect music with painting. It's art, and I do it to enrich my life, not to get anywhere. Being creative is what I like to do. Making music or painting, that's proper creativity – you have real freedom, I guess."
With such a long apprenticeship behind him, it's perhaps unsurprising that McDonald's productions have a distinct voice – a unifying feel that resonates regardless of the style he's operating in, be it speaker-shaking club fodder (see the Detroit futurism rush of "A2B" on Unthank, or the bubbly analogue throb of "Ossain's Hall" on his own Little Strong imprint), or otherworldly ambience (the shimmering bliss of "Western Power" on his recent Permanent Vacation 12", or the becalmed warmth of "To & Fro" from the Pacific Affinity EP on Ene). Predictably, McDonald is not so sure. "Well, I think I've found my voice, yeah," he muses. "I don't know, to be honest. The thing is, I don't make a conscious decision to make a certain type of track. I'm always inspired by a sound or a synth, and I'll just play around and it will take me somewhere. I suppose finding a method and your own sound takes time. I know it's taken me time." He laughs nervously, as if he feels uncomfortable analysing his working methods and growing discography.
It was this nervousness about the quality of his productions that first drew him towards the idea of releasing music mysteriously. "I'd been considering using the Lord of the Isles name for a while, but I was never confident that I should call myself that," he admits. "When "Ultraviolet" was signed to Adult Contemporary I needed a name, and I didn't want anyone knowing who I was. I wanted to see what reaction it got. The positive feedback I got for that and subsequent releases gave me a bit more confidence – you know, to relax into it and do what I do. If you've done something and it's quite well received, it does give you confidence that other people might be into it, you know, rather than just me."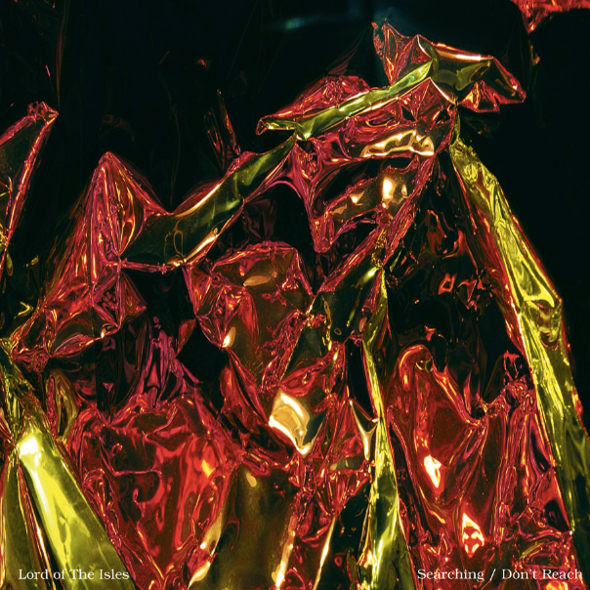 He really needn't have worried. Since first pitching up on Adult Contemporary and Japanese imprint Ene in 2011, he's become a man in demand ("I'm not so sure about that," he retorts, still seemingly unsure of his growing stature), with releases on a wide range of well regarded imprints, from Phonica and Mule Musiq, to Permanent Vacation and Cocktail D'Amore. That he's achieved all this whilst delivering music that doesn't fit into neat genre pigeonholes is particularly impressive. There's almost something pleasingly old-fashioned about his music, which prioritises mood and melody above rhythm and groove. That's not to say that his tracks don't have those in abundance, it's just that he's not hung up on fitting in with trends, making dancefloor hits or aping currently hyped producers. "I can't remember a time when a specific track or producer has inspired me to make music," he admits. "I mean, if something's incredible of course you're going to be influenced – I often hear things and think 'wow, I wish I'd done that', but when I sit down in the studio, I'll just take a sound or synth and see where it takes me. I've never been one for copying things. I don't see the point of that."
If comparisons can be drawn with particular producers or styles of music, it would probably be with those 'intelligent dance music' acts of the early 1990s – people who similarly prioritised melody, and melded influences from ambient, Detroit techno, early deep house and experimental electronica. It's a comparison that McDonald is pleased with. "Melodies are what I'm drawn towards more than anything," he agrees. "I very rarely start a track using percussion – it's normally melodies and music that provide the starting point. That usually sparks off an idea and then it runs, and hopefully goes somewhere." Ambient music of the late 1980s and early 1990s is a particular influence on the Edinburgh-based producer.
Even his more club-friendly material often features synth settings, sounds or melodies that evoke memories of the Orb, Pete Namlook and the KLF's two seminal ambient long-players, Chill Out and Space (a solo project by Jimmy Cauty, around the time of his involvement with The Orb). "Some of the most important music that's influenced me is ambient," McDonald enthuses. "Even when I was a kid, it was a huge influence. That was what I was really, really into – the early Orb albums and the two KLF ambient albums. I used to go to sleep listening to either one of those, every night for about 10 years. I'd just put them on and fall asleep. I used to go through phases – Chill Out for six months, then Space for six months."

There's genuine warmth in his voice as he recalls the music that made his teenage years. Memories of sticking ambient albums on the stereo while painting futuristic landscapes begin to come flooding back. "The Orb's Adventures Beyond the Ultraworld was a big one for me. I was fascinated by all the samples in it. I actually own a copy of the Flash Gordon soundtrack, which Alex Paterson sampled for "Earth (Gaia)", the second track on Ultraworld. I got the soundtrack album for Christmas in 1980, the day after I went to see the movie at the cinema. The soundtrack's got dialogue on it, which is where Alex Paterson got the Ming the Merciless samples from. Hearing that in a piece of music like "Earth (Gaia)" blew my mind when I was a teenager."
Other influences from McDonald's formative years still provide inspiration for his Lord of the Isles productions. "When I was younger, I used to paint and draw for hours on end, while listening to music," he recalls. "I was a big fan of electronic music then, but also classical music and science fiction – novels, movies, and particularly the artwork, with these fantastic sci-fi landscapes. Things like the paintings of Ralph McQuarrie, who did all of the conceptual art for the first three Star Wars movies. I used to paint mainly landscapes – some traditional and some otherworldly, imagined places." Ever since, landscapes – real or imaginary, and particularly those in Scotland's most northerly outposts – have remained a huge inspiration. "My dad used to take the whole family hill walking in the Highlands and Islands," McDonald reminisces. "I think I made a connection in my mind between these stunning places I went with my family, and the science fiction landscapes. Some of the scenery in Scotland is breathtaking – It has that otherworldly feel that I love. So when it comes to making music, I make a connection instantly between the feelings I used to get being up in the hills with my family, with whatever I'm doing creatively."
McDonald still feels a huge connection with the Highlands and Islands, hence his choice of pseudonym. He admits that he doesn't get "up North" as much as he'd like, but tries to get "up into the Hills" as much as he can."As I've got older, I've realised that going up there also gets me in the right headspace," he admits. "If I spend a day or two on my own out in the hills, when I come back and get in the studio I'm always in the right mind to make music. I like the solitude."
"I think I made a connection in my mind between these stunning places I went with my family, and the science fiction landscapes."
He'll soon be back "up in the hills", as he's booked himself into a friend's home in the Cairngorms for "a week to 10 days" to work in his next big project: the Lord of the Isles debut album. "I'll be up there on my own," he enthuses. "It'll be the first time I've taken the whole studio somewhere to work – I've done it with bits of kit, or done field recordings, but nothing like this. I'll be able to focus solely on making music. I'll go away, have some concentrated time, go out in the hills, come back full of oxygen and write music. Get myself in the right frame of mind, really. Indirectly I'll be inspired by being there, and living that life for a few days, but I won't be writing a track about a tree I saw that day or something."
Given the cinematic nature of his material, his love of melody and his knack for creating vivid soundscapes, the prospect of a full-length Lord of the Isles release is, for this interviewer at least, mouthwatering. McDonald, though, is a little bit more grounded. "At the moment I'm just working, collecting tracks," he says. "I've got tons of stuff, so the hard part will be molding it into an album, and deciding what to leave out. At present I feel like I could do a whole ambient album, and a whole 'non ambient' album. Just making it a cohesive whole is going to be tricky. Some people are just masters at making albums. Boards of Canada, for example – their albums are incredible. I'd also put Bibio on Warp in that category – his last album was fantastic."
Like many 40 year-olds, McDonald has a strong affinity with the album format, having grown up listening to old vinyl LPs. He still believes that albums should be listened to in their entirety, just as their makers intended. "It's a bit of a shame the way young people pick and choose individual tracks from albums, because often odd album tracks will grow on you. An album is only complete with all its parts. You have to listen to all of it to get the full context – you have to hear the full journey, rather than just bits of it. It's a little sad that this approach to consuming albums has been lost a little bit".
Before we get to hear the album later in the year, there's plenty more Lord of the Isles material to look out for. For starters, he has a new 12" due on Phonica's label in May, and he's also in discussions to take part in an ambitious project with a Scottish poet and a video filmmaker. "The idea is to do something bringing these three disciplines together," he reveals. "You know, to do something where all the art forms are inspired by the same thing: the natural world." The idea of creating music for film soundtracks is, unsurprisingly, also something that interests him. "I'd bite your hand off if you offered me the chance to do a soundtrack," he enthuses. "If it was the right movie, and I thought I could enrich it in some way, I'd definitely do it. As a kid, watching sci-fi movies, I was always drawn to the electronic soundtracks – stuff by people like Vangelis and John Carpenter. I remember sitting there in front of the TV, rewinding the end credits to Escape from New York over and over again, just to hear that music again. It's incredible. Doing the soundtrack to some weird little sci-fi movie would be good. I'm open to offers!"
If he continues to deliver the kind of spellbinding electronic music with which we've become accustomed, it can only be a matter of time before the offers start rolling in. If not, you get the impression it wouldn't worry him. McDonald is, after all, just as happy making music for himself as the masses. "I'm not very good at anything else," he muses. "I'm not very strategic. Being creative is just what I do."
Interview by Matt Anniss