Rhythmic Theory – Decadence Of Delay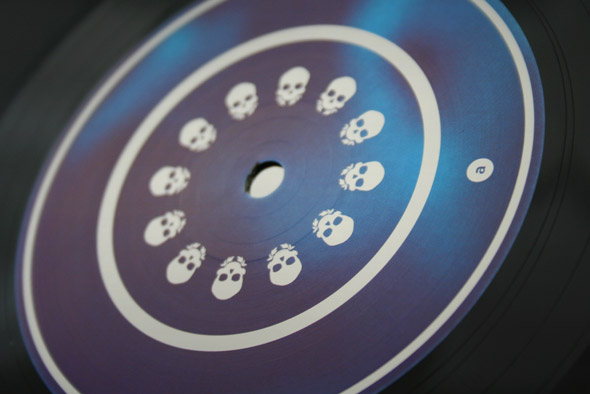 There's not much to report on Bristol's Rhythmic Theory when it comes to identity politics: Several releases on his/her/their eponymous label showcase spacey, enveloping wormhole techno cuts that will make Pev & Kowton fans perk their ears up, but we get nothing resembling a backstory or biography. Then again, when you're listening to the latest release on The Kelly Twins helmed Happy Skull label, you get the sense that context might be beside the point. Instead, the emphasis here is purely on the functionality of the tracks: two unexpected brutish surges of corrosive techno that come barrelling out of the darkness to smack the listener right in the cochlea.
"Decadence of Delay" begins with some unintelligible Lovecraftian chants whispered in your ear, probably alluding to something dark and horrible tucked away in the far reaches of the human mind. After sixteen disorienting repetitions of the phrase, a thumping acid line comes barrelling out of the gate, whirling and jagged and rusty and sharp and just waiting to draw some blood. The frayed drumline that keeps time in the track is reminiscent of one of the greatest parts of DJ Rashad's recent Double Cup LP, the Addison Groove-featuring "Acid Bit". While the BPM of "Decadence of Delay" is a little less happy hardcore-esque than Rashad, there's still a vigorous rhythm to the track that keeps it careening forward in a similarly exciting manner.
But B-side "Endocrine Creatures" ends up acting as a bit of a show-stealer. Sure, it begins with the standard clanking percussion and dystopian growling background noise that characterizes a lot of the factory-style analogue techno coming out these days… but halfway through, a barrage of 808 blasts light the track up like a firework show in the middle of summer, transforming something that began as cold and lifeless into a warm-blooded, ripping dancefloor stomper. And while it's annoying how the track cuts out at the four minute mark for a droney, incoherent monologue that lasts a few seconds longer than perhaps it needs to, it does set the stage for the track to sound even more brazen and confident when it comes back in, finishing the last minute with the kind of stamina that exhausted athletes can somehow summon right before crossing the finish line.
When the Kelly Twins spoke to Juno Plus last year about the name of their label, they filled us in on the gruesomely humorous image behind the label's name: the idea of exiting a bunker post-apocalypse and finding a grinning skeleton amongst the ruins. While Decadence of Delay is an admittedly dark affair, both sides remain explicitly danceable – a little grin at the end of the world.
Brendan Arnott
Tracklisting:
A1. Decadence Of Delay
B1. Endocrine Creatures