Walls meet Daphne Oram on Sound Houses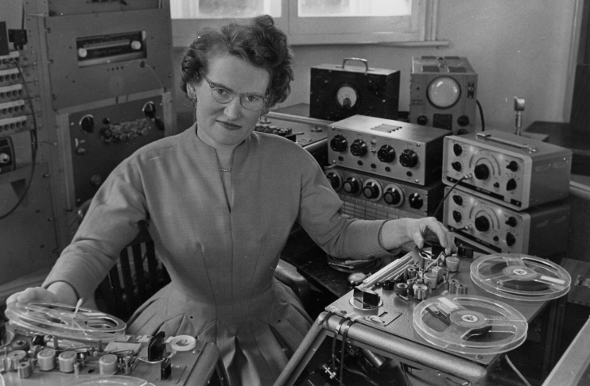 Kompakt artists Walls have been commissioned to work with the 'sonic-archive' of BBC Radiophonic Workshop founder Daphne Oram on a forthcoming LP.
Daphne Oram is one the foremost progenitors of electronic music, exploring primitive synthetic sounds, experimenting with tape recorders and designing her own filters as early as the 1950s. The term 'Oramics' was even coined for a technique of making electronic sounds she created which involves 35mm film strips, something akin to a prehistoric version of MIDI. The BBC, whom Oram famously worked for (before resigning after the music department's apparent 'lack of interest' in her research) have allowed Kompakt's kosmische and ambient-inspired artists Walls to work with some of Oram's recordings taken from her private sound archive, which the British duo describe as "otherworldly drones, alien FX and violin and cello-esque tones".
Due for release through the Walls duo of Alessio Natalizia and Sam Willis' own Ecstatic Recordings, the ten-track Sound Houses LP is said to have reshaped and sculpted many of these sounds with additional augmentation from new and old technologies. This included '60s drum machines, modular synths, violins, found-sounds and treated voices, all processed though various effects and pedals to create new pieces of music that "join the dots between 1960 and 2014," and combine "Walls' modern/vintage sound palette with Oram's 1960s futurism." The murky opening track "Extremely Long Corridor" is available to stream below.
Ecstatic Recordings will release Walls & Oram's Sound Houses on May 5.
Tracklisting:
1. Extremely Long Corridor
2. Orchards And Gardens
3. A Very Large Metal Box
4. Rendering The Voice I
5. Strange Lines, And Distances
6. Reflexions, Refractions, And Multiplications
7. Some Shriller, And Some Deeper
8. Rendering The Voice II
9. Reflecting The Voice
10. As It Is In Gems, And Prisms